Programmatic Advertising for the 2024 Election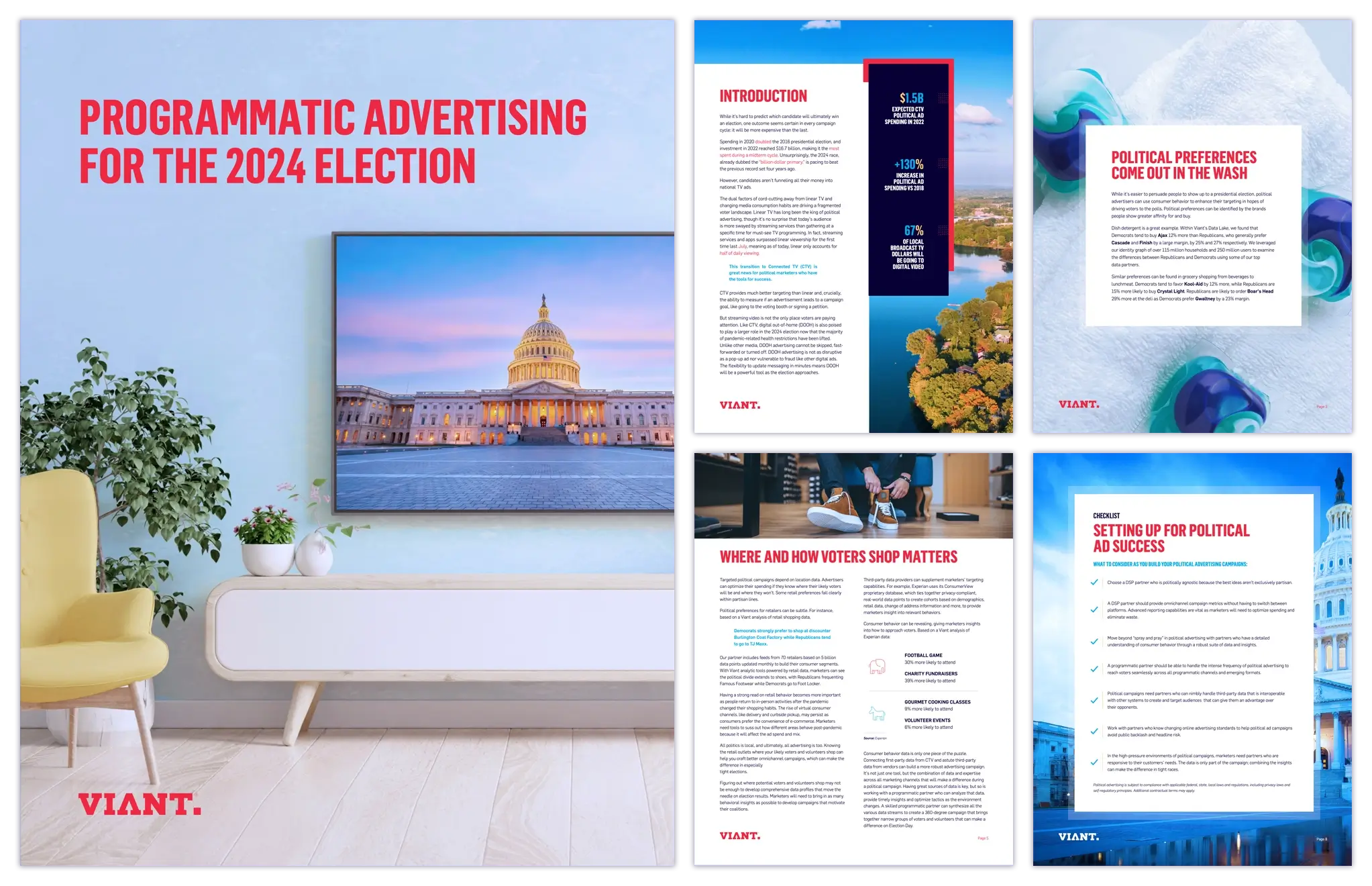 The 2024 presidential race is shaping up to be the most expensive election yet1. In fact, the amount of ad spend in 2023 alone is nearing historic levels2.
Yet today's changing media landscape means political marketers can no longer rely on traditional marketing tactics — even from the last election.
For example, the continued trend of cord-cutting shows consumers are moving away from linear television, the historic home of the campaign ad. Digital Out-of-Home (DOOH), effectively moot during the Covid-19 pandemic, has re-emerged as a compelling ad channel now that most health restrictions have been lifted. There's also the increasing availability to opt-out of third-party cookies, leaving marketers with limited availability to target their campaigns or even know how they're performing.
The transition to Connected TV (CTV) is great news for political marketers who have the tools for success.
Despite these shifts, there are ways for advertisers to navigate this new environment and make sure their messaging is reaching the right audience of voters in 2024.
In our latest guide, Programmatic Advertising for the 2024 Election, we examine the changes affecting political advertising and uncover the ways advertisers can leverage consumer data to reach the right audiences of voters. We also highlight why people-based advertising helps to provide the future-proof solution for marketers in the 2024 election and beyond.
Download Programmatic Advertising for the 2024 Elections to learn:
How to Make the Most of the Evolving Political Advertising Landscape
Major changes in media consumption habits are affecting where marketers are investing campaign spend. Explore the trends impacting this and future election cycles.
Ways to Understand Brand Preferences and Location Data to Enhance Reach
What detergent do Democrat voters prefer? Do Republicans predominately buy at discount stores? Discover how consumer purchasing insights can help marketers understand voting habits and improve the relevance of their messaging.
Why People-Based Advertising is a Future-Proof Solution to Help Reach Voters
Explore how people-based advertising allows marketers to move beyond cookies and help reach the voters of today across connected TV (CTV), mobile, desktop, DOOH, linear TV and more.
"*" indicates required fields
Note: By filling out this form, you agree to the Viant Privacy Policy and to join Viant's mailing list from which you can unsubscribe at any time.
STAY IN THE LOOP WITH OUR NEWSLETTER
Sign up to get Viant news and announcements delivered straight to your inbox.
Sign up to get Viant news and announcements delivered straight to your inbox.