Measurement Tactics for a Cookieless World
A 4-Step Guide to Proving the Value of Your Media Spend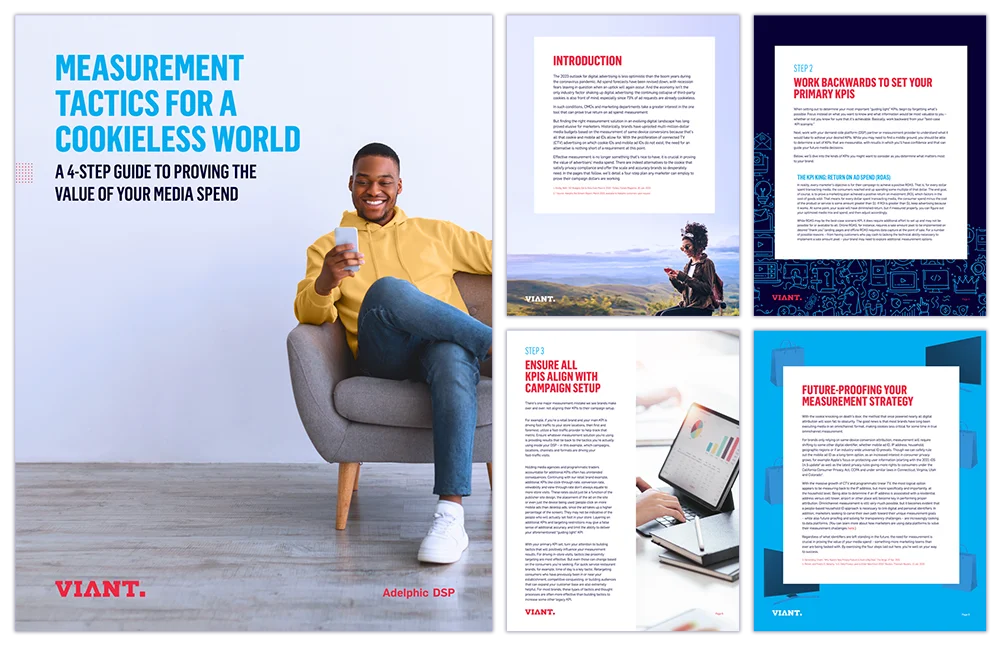 Validate Your Digital Ad Spend With Ad Measurement
There's never been more pressure to prove the value of your marketing efforts, which means measuring digital advertising success is no longer just nice to have – it's crucial. But measurement remains a challenge to many marketers who still struggle to tie media spend to real-world outcomes. This is especially true as the industry prepares for a cookieless future; it's never been more important to act now in determining your marketing objectives up front and with confidence.
In our new guide, Measurement Tactics for a Cookieless World: A 4-Step Guide to Proving the Value of Your Media Spend, we lay out an easy-to-follow plan that any marketer can employ to prove their campaign dollars are working. This playbook will empower you to understand the impact of your marketing efforts, regardless of your industry, business goals or budgets, and regardless of the cookie apocalypse.
The transition to Connected TV (CTV) is great news for political marketers who have the tools for success.
Download our digital advertising measurement white paper to learn:
Choose the Right KPIs for Your Digital Ads Based on Your Real-World Goals
After determining your overall campaign objectives, it's time to determine your "guiding light" KPIs – the performance indicators that will be most valuable to you. But there's one major advertising measurement mistake we see brands make over and over: not aligning their KPIs to their campaign setup.
For example, if you're a retail brand and your main KPI is driving in-store foot-traffic visits, holding your teams accountable for additional KPIs – click-through rates, perhaps, or conversion rate – may have unintended negative consequences. We'll show you how to ensure you're choosing the right KPIs based on your priorities and how to set up your campaign accordingly.
Why Incrementality in Digital Advertising Is So Valuable and How Best to Measure It
Any brand's true success metric is not conversion rate itself, but rather the incremental lift in conversion rate relative to a non-exposed control group – that is, the increase in conversion rate of those exposed to an ad versus the conversion rate of a group of people who weren't exposed to that ad.
But what's the best way to calculate incrementality? Confusion in the marketplace remains, which is why we're breaking down the fundamentals of incrementality testing, as well as exploring incrementality's key benefits you may not have considered.
Adjust Your Digital Advertising Measurement Strategy to Prepare for the End of Third-party Cookies
With the end of the cookie fast approaching, marketers are aware of the method that once powered attribution 100% will soon fall to 0%. We also know the mobile ad ID won't work as a long-term option, and iOS14's stricter user opt-ins for location tracking will also significantly reduce the measurable universe.
There's a silver lining, though, for most brands. Those who have been executing media in an omnichannel format may already be on their way to a future-proof measurement strategy for a cookieless future, and we'll break it down.
For questions on the report's research findings, or for press inquiries, please contact Viant's Growth Marketing team at growthmarketing@viantinc.com.
"*" indicates required fields
Note: By filling out this form, you agree to the Viant Privacy Policy and to join Viant's mailing list from which you can unsubscribe at any time.
STAY IN THE LOOP WITH OUR NEWSLETTER
Sign up to get Viant news and announcements delivered straight to your inbox.
Sign up to get Viant news and announcements delivered straight to your inbox.