How Marketers are Reaching Voters on TV in the 2024 Election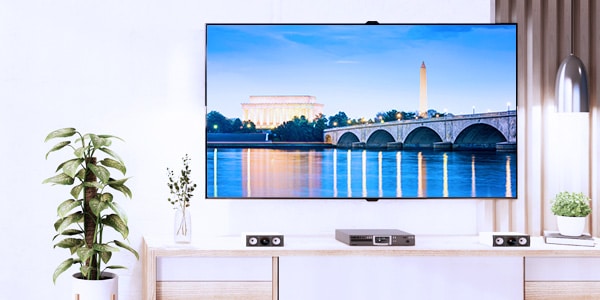 Television has historically been the ad channel of choice for political campaigns. Persuasive, provocative or a mixture of both, candidates have long used the sights and sounds of TV to reach a wide audience with a powerful message.
Now, as television viewing habits continue to evolve, political advertisers are leveraging the latest programmatic technology to connect with voters whether they're watching traditional linear TV or streaming over-the-top (OTT) content on a Connected TV.
We'll explore the new ways marketers are reaching voters on TV, as well as share how you can take advantage of this new and evolving programmatic technology in the 2024 election and beyond.
A Brief History of Political Advertising on Linear TV
Before our world was filled with mobile phones, tablets, laptops and more, linear television was the technology that held our attention. With that in mind, marketers could count on the whole family seeing an advertisement in the commercial breaks between their favorite show.
This reality wasn't lost on political campaigns.
Using Nielsen's designated marketing areas (DMAs), which divided the country into specific audience regions based on geographical location, political and advocacy groups would tailor their linear TV strategy to the specific congressional districts and battleground states they chose to invest in.
While this approach allowed for mass reach, it left little room for data-driven strategies and optimizations throughout the election cycle to drive voter turnout.
How Has Political Advertising on Linear TV Changed?
Over the years, there's been a shift in how marketers think about linear TV advertising — and an evolution beyond the traditional DMA-based approach.
Advances in programmatic technology — such as Addressable Linear, Programmatic Linear TV (PLTV) and OTT — have democratized linear TV inventory and allowed political media buyers to apply data-driven strategies in real time to get out the vote in the biddable ecosystem beyond standard cable and broadcast buys. The evolution of these solutions now provides the same benefits of other programmatic channels, i.e., addressable audiences and measurement tools, while maintaining the mass reach of linear TV.
As a result, campaigns today can move away from the broad and scattered DMA approach and focus on specific voter groups where their message is most likely to resonate.
For example, say you're a Wisconsin-based political candidate aiming to get people to vote for an initiative around environmental sustainability. Your target audience is undecided female voters across 40 zip codes in the state. With Viant's people-based software, you can seamlessly onboard these voters to a deterministic identity graph at unparalleled match rates and reach them in live linear environments, whether on broadcast/cable or streaming OTT content.
To close the loop, you can tie the goals of your campaign — like making an online donation — back to the linear ad exposure to understand success.
How Can Advertisers Reach Voters with Advanced TV Strategies?
In the era of cord-cutting, advertisers across all industries have been forced to find a new way to reach their target audience on the largest screen — the home television.
Advanced TV (ATV) has provided the solution.
With ATV tactics now available in centralized and addressable people-based technology like Viant's, political advertisers can move past the fast-expiring era of third-party cookies and embrace a people-based strategy on TV. Today, campaigns can reach voters whether they're watching live linear TV, viewing video-on-demand from their cable box or streaming content via providers like Hulu or Roku (CTV).
ATV also solves a common pain point for advertisers: frequency and reach.
Marketers, particularly those associated with political campaigns, have long wondered: are we messaging too much? Are we maximizing our reach against this file in all environments? In programmatic platforms like Viant, which leverages a proprietary identity graph of 250M consumers linked to 115M households across the country, voters are linked to a persistent ID across all their devices. Thus, political campaigns can manage how often their audience sees an ad across all channels inclusive of TV, optimize along the way and accurately measure the outcomes of the campaign.
How Can You Complement Your TV Approach?
New and evolving programmatic technology will likely allow TV — whether linear or CTV ­— to retain its status as the advertising channel of choice for political campaigns. But that doesn't mean it's the only way to capture the attention of voters.
Marketers today have a wealth of solutions to use alongside their TV campaigns. As mentioned, political advertisers can now tie ad exposure across all channels and devices by resolving omnichannel ad exposure back to a single voting household. This data can be used to plan, optimize and measure the voter journey regardless of what device they're on, as well as inform the most efficient media mix to get out the vote.
Connect with a Viant representative today to find out how you can plan your ad strategy in 2024 and future elections.
STAY IN THE LOOP WITH OUR NEWSLETTER
Sign up to get Viant news and announcements delivered straight to your inbox.
Sign up to get Viant news and announcements delivered straight to your inbox.