OTT vs. CTV Advertising: What's the Difference?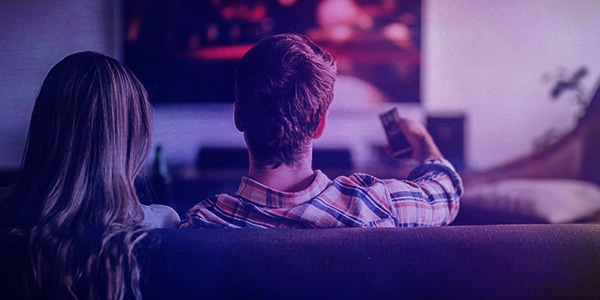 Updated: August 5, 2021
CTV refers to internet-connected TVs while OTT refers to video content streamed via the internet instead of accessed with traditional cable or satellite TV.
OTT subscriptions and CTV ownership are both growing exponentially, a huge area of opportunity for savvy marketers.
With Adelphic, marketers can reach target audiences exclusively on their CTVs or leverage OTT content to expand audience reach across all of their connected devices.
---
When you talk about connected TV (CTV), are you referencing the TV on which you're watching, say, Grey's Anatomy? Or are you instead referring to the fact that you're currently subscribed to half a dozen streaming services?
Likewise, when you use the term "OTT" in conversation, are you doing so in regard to the new internet-connected TV you've purchased, or the fact that you're watching an episode of Grey's via Hulu?
Many people – even marketers – use "CTV" and "OTT" interchangeably, which can be OK in casual conversation. But when it comes to putting together your omnichannel advertising strategy, it's important to be specific and to understand the differences and similarities between them.
What is CTV?
The IAB recommends using CTV when referring to Smart TVs or other TV sets that are connected to the internet via streaming devices – or, in other words, the device on which you're accessing video content (assuming that device isn't your phone, iPad or laptop)
In other words, when accessing video content via the internet whether the TV is connected via a Roku device or PlayStation or a Samsung Smart TV with built-in internet access, each are examples of what we're talking about when we talk about CTV.
What is OTT?
OTT stands for "over the top," meaning over the top of the "box" and refers to video content that is accessed via the internet instead of traditional cable via set-top-box (STB) or satellite TV. OTT shouldn't be used to discuss the device on which you're watching, which means you could be watching OTT content on a connected TV, but also on your laptop or tablet.
Netflix, Hulu, Disney+, Peacock and Apple TV+ are all examples of OTT providers.
What are the differences between OTT and CTV? What about OTT vs. CTV advertising?
These days, most OTT content is viewed via CTV. It's helpful to think of OTT as the method (or "pipes") for delivering video content and CTV is a device on which you're watching that content.
Both CTV and OTT ads generally appear before, during or after a movie or show a viewer is watching. Advertisers can target audiences in a number of ways depending on their platform of choice and access to data. Adelphic, for example, helps advertisers leverage first-party data to target viewers based on persistent, long-term identifiers.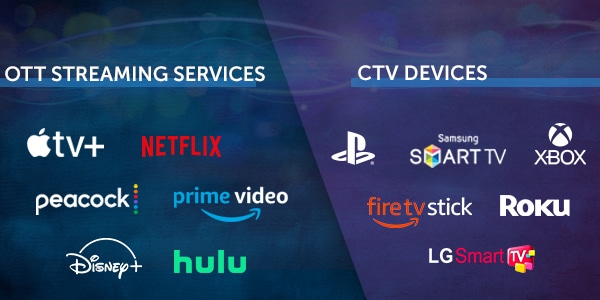 What are CTV growth trends? What about OTT growth trends?
Both CTV and OTT keep growing. As of 2020, 80% of TV homes – accounting for about 96 million Americans – have at least one connected TV. That's up from 57% in 2015 and 24% in 2010.
For the first time ever, according to eMarketer, Americans will spend more than an hour with subscription OTT content every day in 2020. That's an increase of 23% over 2019. It follows that OTT ad spend bounced back quickly during 2020's pandemic; heading into 2020, eMarketer predicted at least $9 billion in OTT ad spend.
What are the advantages of CTV advertising?
There are plenty of reasons why CTV advertising is growing in popularity. Here are just a few:
Engaged audiences: CTV viewers are engaged in the content they're viewing, and in many cases, cannot skip or fast-forward through ads.
Data-driven targeting: Opportunities to leverage addressable, first-party data help marketers reach their target audiences with much more certainty than with linear TV ads
Brand safety: The high-quality nature of CTV content means there are far fewer brand safety risks inherent to the medium.
Cost: CTV advertising helps brands reach audiences as costs far lower than traditional broadcast TV.
Measurement: CTV measurement is anchored in the cross-channel device graph allowing marketers to understand the effect CTV exposure has on driving conversions and measure the overall impact of their omnichannel marketing strategy.
Read our related post: Getting the Most ROI from CTV
What are the advantages of OTT advertising?
As you've probably gathered if you've read this far, OTT advertising is largely delivered on CTVs. OTT, though, because it refers to the way content is streamed (as opposed to the device on which content is viewed) allows marketers to reach audiences that don't have televisions in their home, enhance storytelling through sequential messaging as well as extend reach of premium content viewers across all of their devices.
What do marketing executives need to know about OTT and CTV advertising?
CTV viewership has been accelerating in recent years, and shows no signs of slowing down. That's caused excitement in the marketing world around the potential for CTV as an ad vehicle. But at the same time, it's raised questions and caused some confusion in the marketplace. For that reason, we've broken down five key things CMOs need to know about CTV advertising now, a guide that will help provide clarity and clear up common misconceptions.
STAY IN THE LOOP WITH OUR NEWSLETTER
Sign up to get Viant news and announcements delivered straight to your inbox.
Sign up to get Viant news and announcements delivered straight to your inbox.