Advanced TV Encyclopedia: OTT, CTV and Beyond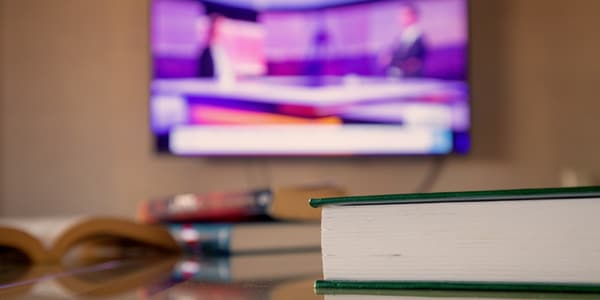 If you find yourself struggling to keep up with the many new terms and acronyms of Advanced TV advertising, you're not alone! Another medium to add to your omnichannel strategy, Advanced TV advertising (also sometimes called Addressable TV advertising) and all the advertising software that's required to reach your audiences is complex – and so is its related vocabulary.
To help, we've compiled the top terms you need to know when exploring today's TV advertising landscape.
ADVANCED TV
Advanced TV is a blanket term for any television content that has evolved beyond traditional linear TV delivery models. An umbrella term, Advanced TV includes Interactive TV (iTV), Connected TV (CTV), Smart TV and Addressable Linear, as well as Video-on-Demand (VOD) Addressable.
AVOD
Short for "advertisement-based video on demand," AVOD refers to streaming video-on-demand services that are supported by advertising (e.g., Hulu, Crackle, XUMO).
CTV
Short for "Connected TV," a CTV is a TV set that is connected to the internet via over-the-top (OTT) devices, Blu-Ray players, a streaming box or stick or gaming console, or has built-in internet capabilities. With CTV, viewers can access a variety of long- and short-form streaming content, as well as browse video content on the web. Marketers can use the medium to echo the look and feel of traditional TV advertising while leveraging advanced targeting and measurement capabilities. 
Read our interview: Arm Candy CEO John Lods explains how to get the most ROI from your CTV advertising
CORD CUTTERS
Cord cutters are TV viewers who had traditional cable or satellite subscriptions within the past five years, but ended those subscriptions in favor of streaming services like Netflix or Hulu. 
Read our blog post: Audience Insights: How Hulu viewers differ from Netflix viewers
CORD NEVERS
Cord Nevers are TV viewers who have not had a traditional cable or satellite subscription within the past five years.
CORD SHAVERS
Cord Shavers are TV viewers who reduce their cable or satellite subscriptions in order to add streaming services they pay for, like Disney+ or Netflix.
ADDRESSABLE LINEAR
Addressable Linear TV gives marketers the ability to target audiences based on household-level data and segmentation and to serve ads during live linear TV programming – for example,  inventory from DirecTV, Dish and Cablevision. Addressable Linear differs from Programmatic Linear TV, for which data is not available at the household level. 
Read our interview: What marketers need to know about Programmatic Linear TV advertising
OTT
Short for "over the top," OTT content is video that's broadcast via the internet. OTT content can be viewed via connected devices like laptops and tables, as well as CTVs – Netflix is a perfect example. OTT is immensely popular; the number of subscribers to online streaming services is expected to reach 1.1 billion worldwide by 2021.
MVPDS
for "multichannel video programming distributor," MVPDs are services that provide multiple television channels, like cable or satellite TV services, including Comcast, DirecTV, DISH, etc.
VOD
Short for "video on demand," VOD is content that is controlled, enabled and consumed whenever a viewer wants after its official release date or original air date and time. VOD content can be found on set top boxes, OTT devices, mobile web, mobile apps and streaming services.
VOD ADDRESSABLE
VOD addressable refers to addressable ads inserted into cable programs within the VOD content accessible through a cable provider set top box (e.g., Comcast's addressable inventory is VOD addressable).
VMVPDS
A "virtual" MVPD that distributes live and on-demand content via the internet for a subscription fee. These services are comprised of many apps, often called "skinny bundles" – for example, Hulu with Live, Sling TV, etc.
Learn more about getting the most ROI from Connected TV advertising or explore what today's marketers should know about the differences between Advanced TV and programmatic linear TV advertising.
STAY IN THE LOOP WITH OUR NEWSLETTER
Sign up to get Viant news and announcements delivered straight to your inbox.
Sign up to get Viant news and announcements delivered straight to your inbox.