Podcast Advertising Fact Sheet: Everything to Know About Podcast Ads in 2021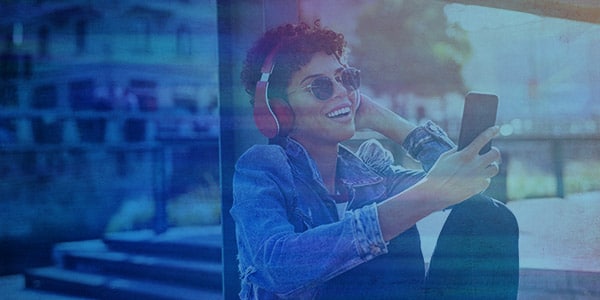 In a year where everything turned upside down, podcasting offered a consistent presence. We listened during home workouts, while learning how to make bread and sometimes even discovered new podcasts instead of binge-watching The Office again.
More people are realizing podcasts provide a special comfort. Last year, 116 million people — 41% of all Americans — listened to at least one podcast per month.
That's introduced major opportunities for marketers through podcast advertising.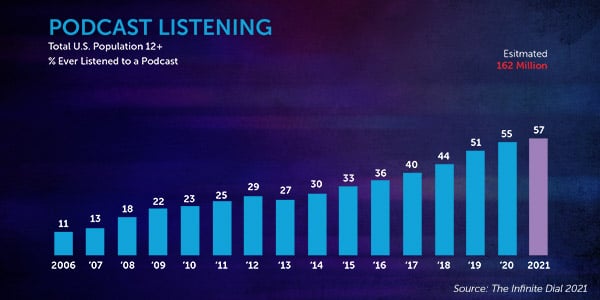 Why is podcast advertising growing in popularity?
The rise of podcast listening correlates with podcast advertising growth. Marketers are finding new ways to reach customers; podcasting is at the top of the list.
Advertisers are also learning podcasts provide a more diverse space — 43% of the U.S. monthly podcast audience is non-white. Listeners are finding shows that speak to them, giving marketers a chance to join the conversation and have their brands associated with content with which viewers feel a connection.
Learn more about the growth of podcast advertising in our recent Q&A with AdsWizz.
What are the benefits of podcast advertising?
Podcast advertising puts your brand in front of enthusiastic, rapidly growing audiences, allowing you to reach more people.
What's more, podcast ads reach consumers wherever they are. They may be on the go or not watching a screen, but you can still share messaging with them.
Podcast listeners also bring a fierce loyalty. They're hearing their favorite shows every day or week, spending hours with the hosts. When that show runs an ad, it's an endorsement that really resonates. Those are just a few of the benefits of podcast advertising.
What are the different types of podcast ads?
There are three main types of podcast ads:
Pre-roll ads are typically 15-30 seconds long and run before or after the show's intro.
Mid-roll ads last 30-90 seconds and occur about halfway through an episode.
Post-roll ads are usually 15-30 seconds and play just before or after the closing credits.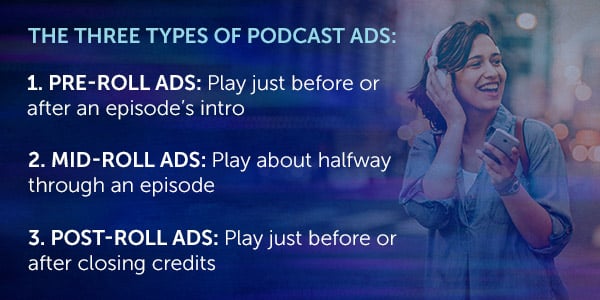 When you buy podcast ads programmatically, you can run all types of podcast ads. However, you also have access to inventory across multiple publishers. So, for example, you're not limited to just podcasts produced by Spotify or iHeartRadio.
How do you measure podcast ads?
That depends on your goals. Marketers will want to pay attention to completion rate, the percentage of podcast ads played to completion, as well as the number of audio ad impressions, ads played at a volume above zero for at least two seconds that are filtered for invalid traffic. You can learn more about podcast advertising metrics in our white paper, Digital Audio Advertising: A 101 Guide.
On a more macro level, driving a direct action — like a purchase — is one of the most common objectives. You can add a checkout promo code, build a custom URL or include a feedback survey at checkout asking how customers discovered you to get a sense of the effectiveness of your podcast advertising. These methods provide tangible metrics. You can see how many customers entered in a code, visited a page, or said they heard your podcast ad.
With the right demand-side platform (DSP) partner (more about this below), you'll be able to understand on a deeper level the effect your podcast ads have on your goals, whether you're looking to increase sales or drive brand awareness.
Should I use a DSP to buy my podcast ads?
Yes, if you want to get the most out of your ads! Purchasing spots through a DSP offers unique benefits, providing the ability to leverage data for optimization, targeting and measurement in one place.
You likely have audience personas or target listeners. A DSP ensures the right people hear your content, thanks to features like audience segmentation capabilities. For instance, a sneaker company could purchase blocks on a basketball podcast directly from the podcast's producer. That might target some core audience listeners, but they could go deeper.
When you purchase podcast ads through a DSP, however, you're agnostically accessing inventory across podcasts and streaming music publishers. Instead of using third-party cookies, DSPs like Adelphic are people-based, empowering marketers to know with confidence that they're reaching the right audiences.
The sneaker company could leverage user data to target customers across whatever they're listening to, whether it's a basketball podcast, a murder mystery podcast or any other type of podcast.
What are Adelphic's podcast advertising capabilities?
With Adelphic, you can access more than 90% of available programmatic inventory for audio and streaming podcasts. Through data-driven execution, non-skippable inventor, and effective measurement, you'll know who's hearing your ads — and finally understand how they're driving sales.
Ready to uplevel your advertising with programmatic audio? Learn more about Viant's solution.
STAY IN THE LOOP WITH OUR NEWSLETTER
Sign up to get Viant news and announcements delivered straight to your inbox.
Sign up to get Viant news and announcements delivered straight to your inbox.