Growth in Programmatic Audio Advertising: An Interview with Anne Frisbie of AdsWizz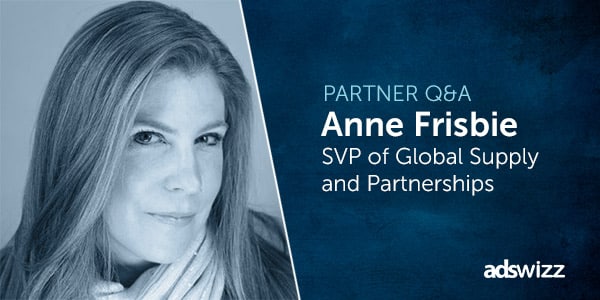 Programmatic audio advertising is fast becoming a key part of an advertiser's omnichannel campaign. The astronomical growth of available digital audio content combined with advancements in programmatic technology have created a huge opportunity for brands. But those looking to leverage digital audio know it isn't without its challenges – before getting started, advertisers need to understand who benefits most from digital audio advertising, how it compares to traditional AM/FM radio and whether buying digital audio ads programmatically makes sense for them.
To dig into these and other vital questions, we turned to Anne Frisbie, SVP of Global Supply and Partnerships at leading digital audio solutions provider AdsWizz. In her role, Frisbie brings 20 years of experience, overseeing strategic partnerships with major broadcasters, news services, podcasters and DSPs.
Q: Who are the advertisers best served by digital audio advertising?
Much has been written about advertising bombardment, advertising clutter and banner blindness. With that backdrop in mind, it is very easy to see that audio advertising presents a novel way to engage consumers. Most advertising today (display, video, social, TV, OOH, direct mail, print and search) is visually driven. Audio advertising enables brands to engage consumers in a unique way and in new moments. Brands can speak more intimately and capture ear time.
The power of audio can be seen in its strong advertising effectiveness around purchase intent and ad recall, and in how consumers consider audio ads to be more informative than other forms of advertising. Audio offers strong advertising opportunities for branding to direct response and for both local to national advertisers. Audio is a great addition to advertisers' overall advertising mix because it is so unique from other forms of advertising and has proven to be highly influential. (For more on whether your brand should investigate digital audio advertising, read our recent 101 guide)
Q: How does programmatic audio advertising compare to traditional radio advertising?
Listeners in general can't tell the difference between traditional and digital audio advertising when they hear an ad, which is a good thing. But digital audio advertising brings unique features, like the ability to cap the number of times a listener hears the same ad or the same category of the ad. For example: A listener might not want to hear the same car commercial more than three times and an advertiser might not want a listener to hear the commercial of two different car brands in the same ad break or the same podcast episode. Digital audio also allows for targeted ads to be delivered to different listeners listening to the same stream.
Traditional radio advertising is still extremely valuable and represents a big portion of audio advertising since people still listen to FM/AM radio in their cars. But digital audio advertising is growing as more cars have access to internet and as more people listen to online content, especially podcasts.
Q: Digital audio ads are valued because they offer brands the ability to connect with highly engaged audiences, but what are some other less obvious benefits of the medium?
Digital audio has some of the same benefits as video and display advertising, which includes targeting, reporting and brand safety. Some features unique to audio ads are that they can be non-skippable, and people don't mind that as much for audio because the ad can play in the background while the listener continues to do whatever they were doing. Also, many audio ads are less likely to be blocked by ad blockers that might catch display or video ads.
Q: Why buy digital audio inventory programmatically?
We support all methods of transactions, but we have seen growth in programmatic buying – in fact, within in our platform there was a 37% increase from January to July of this year. We expect to see more growth in programmatic buying because it offers more flexibility and simplicity. Everyone looks for more automation with buying and selling inventory since this means more time left to focus on other important areas. (Learn more about how to buy digital audio programmatically with our Quick Start Guide)
Q: Do you expect the COVID-19 pandemic to have any lasting impacts on digital audio advertising?
Podcast listening continues to grow at a rapid pace with more of that listening happening at home versus in the car. Audio advertising seems to have done pretty well even during the pandemic. We saw a drop in buying from March to April, and a pretty big bounce back to "normal" in May and June. The advertising mix did change with less travel and brick-and-mortar retail ads to more ads from internet services. In terms of long-term impacts, I'd say that the importance of brand safety may be even higher than it was as we saw more advertising though this may have more to how divided the country is politically than with COVID-19. I'd also say contextual targeting will continue to be important in audio advertising, especially considering the changes with Apple's IDFAs.
Q: What stands out about AdsWizz's partnership with Adelphic?
Buyers using Adelphic's platform have access to the biggest part of digital audio and premium publisher inventory through the AdsWizz integration. This includes radio, pure players and on-demand audio inventory, like podcasts. Also, we can provide buyers with advanced targeting such as contextual (genre, location, device type), demographic (age, gender) and behavioral (custom audience segments). All of which are available at full scale and can be used with DMPs.
STAY IN THE LOOP WITH OUR NEWSLETTER
Sign up to get Viant news and announcements delivered straight to your inbox.
Sign up to get Viant news and announcements delivered straight to your inbox.