Programmatic Audio Advertising: A Quick-Start Guide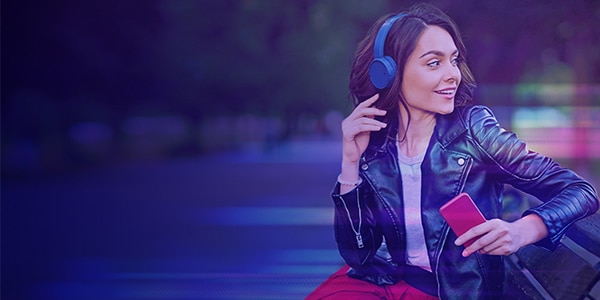 "Programmatic audio" refers to the automated buying and insertion of ads during digital audio content.
To buy digital ads programmatically, you'll need a demand-side platform with access to audio publishers.
Adelphic 101 Guide to Digital Audio Advertising breaks down everything you need to know, and can be downloaded here.
---
No matter where you are, there's a good chance someone nearby is listening to some kind of digital audio.
They may have headphones on as they listen to a podcast on the subway, be singing aloud to a Pandora station as they drive to work or listening to a Spotify playlist on a smart speaker while cooking dinner at home – but no matter where they're listening, they're engaged.
That's one reason why digital audio is an increasingly appealing channel for brands of all kinds and all sizes. But in order to understand how to run programmatic audio ads, you need to have a foundational understanding of digital audio as a whole. Keep reading for a sample of what you'll find in Adelphic's Digital Audio 101 guide.
What is Digital Audio Advertising?
As you've probably already figured out, when we talk about digital audio, we're referring to streaming audio of multiple types – generally, music, podcasts or digital radio. Digital audio advertising can refer to the ads that run during a listening session, as well as sponsorships (e.g., when the host of a podcast announces an episode is sponsored by a specific brand).
For the purposes of this quick-start guide, though, we'll focus on programmatic audio, which refers to the automated buying and insertion of ads during digital audio content. Buying audio ads programmatically allows brands to access inventory from multiple publishers, while also leveraging data and real-time optimization capabilities.
Why Digital Audio?
Popularity aside, there are a number of reasons digital audio ad spend will reach $3.72 billion this year, according to eMarketer. You can learn more about the key benefits of the medium in our guide Digital Audio Advertising 101, but here are three of the top reasons brands are running digital audio ads:
Digital Audio Reaches Consumers Where They Are
Digital audio reaches consumers no matter their location, even if they're on the go – at the gym, commuting to work, on a run, in their car and so on. That's particularly key today, as consumers are oversaturated with visual advertising; digital audio helps brands reach consumers even when they aren't looking at screens.
Digital Audio Lets Brands Align with the Right Content
With digital audio, brands can connect with consumers when they're in highly specific situations or frames of mind. To use the gym example from above, a nutritional supplement company might run an ad during Spotify's "Power Workout" playlist. Or, perhaps an investment app's ad might play before a financial planning podcast, which is sure to have a tuned-in, relevant audience.
Digital Audio Helps Marketers Eliminate Waste
There's no such thing as an unserved digital audio ad, because ads are only played when a user is listening to music or a podcast. Whereas with digital advertising, there are frequent occurrences of unviewable inventory, that's not the case with audio, as you know for certain listeners are streaming whenever an ad is played.
How Do I Buy Digital Audio Inventory?
To buy digital audio ads programmatically, you'll need a demand-side platform (DSP). A DSP with access to diverse audio inventory will allow you to reach consumers even if, for example, they switch off Pandora and open their Spotify app. In fact, the right DSP will allow you to reach consumers seamlessly across their devices, while they're listening to digital audio, certainly, but also when they're watching TV, commuting to work or catching up on the news on their phone, without having to switch between platforms.
As an omnichannel DSP, Adelphic can help you buy audio ads and understand the effect they have on your goals. Learn more about Adelphic's programmatic audio solution.
What Else Do I Need to Know About Digital Audio Advertising?
While digital audio is similar in some ways to other kinds of digital advertising, it's unique in others. In order to get the most value out of your digital audio ads, you'll want to make sure you understand how to find the right DSP partner (or DSP mix) and how to measure your audio advertising success.
In Digital Audio Advertising 101, we break down everything marketers contemplating extending into this medium need to understand, from the main players in the field, to the kinds of brands best served by the medium, to key terminology. Download our in-depth 101 guide now.
STAY IN THE LOOP WITH OUR NEWSLETTER
Sign up to get Viant news and announcements delivered straight to your inbox.
Sign up to get Viant news and announcements delivered straight to your inbox.