Getting the Most ROI From CTV: Q&A with Arm Candy CEO John Lods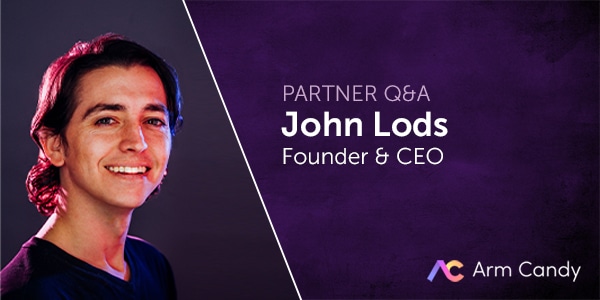 By John Lods, Founder and CEO, Arm Candy
Today's Q&A is with John Lods, founder and CEO of boutique digital agency Arm Candy. A digital marketing expert with a passion for connected TV (CTV) advertising, Lods has dedicated his career to demystifying cross-channel marketing measurement technologies.
We asked Lods to explain what marketers need to understand about today's CTV best practices, incorporating cross-channel data and balancing CTV strategies with traditional TV strategies.
Q: What helps you qualify CTV as a smart channel recommendation?
Connected TV units are arguably the most quality form of advertising in 2020. The ad units can be engaging and reliable, and they're delivered in a format in which the end user is comfortable seeing ad placements.
And, there are a few things it does extremely well.
First, there is no better platform to deliver high-quality longform video views completed in full. You can expect $0.01-$0.05 cost per 30-second completed video view views depending on your publishers, which Facebook, YouTube or any other quality video-based platform cannot compete against.
Second, as it's delivered programmatically, you're able to leverage data in order to be prescriptive in your targeting and audiences planning. If you can think the audience, you can target the audience via high-quality TV placements.
Q: As streaming options proliferate and audiences continue to cut the cord, how should marketers balance their CTV strategies with their traditional TV strategies?
When identifying which TV strategy brands should leverage, they need to understand whether they're more likely to succeed via scale or via quality. If the product or service is consumed by the masses, oftentimes scale is the better option. If it's not, then a more surgical approach may be required. But just because you can target an audience, doesn't mean you should.
Understanding your existing customer base is a great way to understand which TV application to leverage and what the allocation between those mediums should be. Leveraging an identity management platform (IMP) can help paint a clear picture of your audience and break down their specific viewing habits and the behavioral and psychographic traits to determine the specific networks and programming for both CTV and traditional TV executions.
If I determine I need a niche audience, or leveraging lookalikes and other CRM-based segments is more beneficial than scale, then I'll lean CTV strategies; but if I feel comfortable that the large increase in scale via more traditional TV placements offsets the higher conversion rates of a defined audiences through a CTV solution, then I'll lean traditional.
Oftentimes, an effective strategy requires both. Leveraging ACR (Automated Content Recognition) technology can help you ensure you connect the dots between traditional and CTV applications by creating audience pools exposed via traditional channels that can be activated via CTV.
Q: How can marketers incorporate data from other channels – for example, audio, mobile or digital out-of-home – as they seek to measure the effectiveness of their cross-channel campaigns?
Cross-pollination of audiences and collection of data points across channels is incredibly important, as the product or service being advertised increases in value. Typically, the larger the ask (buy a car, enroll in this university, etc.) the longer the purchase journey. For these types of campaigns, it is critical to have a well-designed customer journey that allows everyone exposed to your campaign, regardless of channel, to be nurtured via a systematic chain of touchpoints.
A campaign is only as good as its measurement and attribution. Ensuring the dots are connected and the feedback loop is immediate, prior to a campaign running, allows you to optimize based on actual KPIs and unique conversion events to accomplish your goals.
Q: What does Arm Candy look for in an omnichannel programmatic partner?
The service.
DSPs are all very similar these days, but a clear point of differentiation for our preferred partner, Adelphic, is the people behind the DSP. Fewer and fewer campaigns can be successfully delivered via a standard DSP implementation and when campaigns require a more customizable application, you need a partner that can help create custom tailored solutions. Whether its unique audiences, third-party attribution partners, creative solutions, unique partner integrations, etc., Adelphic helps us get first-of-its-kind campaign ideas implemented and executed.
Q: Finally, having executed millions in CTV media, what's a key learning you'd recommend advertisers follow?
Do not just serve CTV impressions and forget the audiences.
So many times, we've seen CTV executions that run and are forgotten after the campaign ends.
What CTV does not do successfully is drive immediate action, so you need to remember to re-engage CTV audiences that you've driven exposure to via a more direct-response channel.
Build an audience of all the people you exposed to your CTV efforts and leverage that same audience via an omnichannel solution. Having done this numerous times, we see this audience consistently outperform other audiences being tested and blow any benchmarks out of the water.
It's not rocket science. You have built quality connections with those consumers through your CTV efforts, now ask them to take the action you want them to take via a channel that has a much more direct path to conversion. We guarantee you will finally see your CTV efforts pay off.
STAY IN THE LOOP WITH OUR NEWSLETTER
Sign up to get Viant news and announcements delivered straight to your inbox.
Sign up to get Viant news and announcements delivered straight to your inbox.