Q&A with WideOrbit's Programmatic Linear TV Expert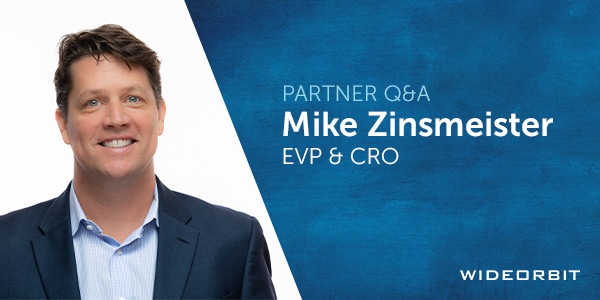 Our Q&A series shines a spotlight on the biggest challenges, questions and trends in the programmatic marketplace with commentary from industry experts, clients and partners.
Today's Q&A is with Mike Zinsmeister, Executive Vice President and Chief Revenue Officer at WideOrbit, a technology solution that connects advertisers with linear television audiences.
We asked Zinsmeister to break down the benefits of programmatic linear TV, the kinds of agencies and brands that should leverage it and what the future of the medium might look like.
Q: What benefits does programmatic bring to linear television?
For TV stations, programmatic reduces the number of people and resources required to transact, which reduces the time it takes and the potential for error, which ultimately also reduces costs. Instead of going from person to person to person, with back-and-forth manual negotiation and inputting of orders, etc., the entire transaction happens system-to-system, eliminating the need for re-keying that often leads to errors.
Automation also opens the door for new advertisers who haven't used linear programmatic before. There are many digital-first organizations that would love to buy TV, but they don't have the experience or the buying systems in place. Programmatic linear tools can intuitive, very easy to use, and make TV accessible – for the first time, for many advertisers.
Traditional, direct brands can now use TV as reach extension for their digital campaigns. Instead of only doing hyper-targeted, addressable digital advertising, they can couple it with the broad reach and brand-safe frequency of television (and radio), and at a much more efficient cost.
Q: Who should consider adding Programmatic Linear to their media plans?
Who can benefit from programmatic linear? Well, you name it. Direct brands can use it. DSPs can use it as reach extension for their digital. People who have been buying other forms of media – local print ads, bus stop ads, whatever – but who always wanted to get into TV, well, now they can.
And that opens up the whole market. It also creates an opportunity to offer multimedia campaigns, to package TV spots with digital ads for on-demand video, for example. Certain media forms or outlets do certain things really well. Television and radio are great at reach and frequency. Here's the right message, to the right people, the right number of times. People buy after they see or hear that ad four, five, six times. That's really expensive to do if you're doing it with an addressable, targeted ad. But it's relatively easy, a much more cost-effective, to do using television.
Q: What stands out about WideOrbit's partnership with Adelphic?
Adelphic is ahead of the curve. WideOrbit has partnerships with a handful of DSPs but they target primarily large agencies. The Adelphic DSP is great for small-to-medium sized agencies as well, representing brands who can realize huge benefits from improved access to local TV advertising.
Look at it this way – anyone can buy a network TV ad. If, for example, you're McDonald's, you've got restaurants in every city in the United States. When you want to advertise Big Macs, you can simply buy advertising on one of the national networks. You pay a lot of money, but you hit the entire country.
Now, let's look at a restaurant group with franchises in just 75 or 100 of the 208 Demographic Metropolitan Areas (DMAs). If they go with the fastest way and buy network advertising, then half the markets that they're advertising in don't have a restaurant. They're just wasting their money.
But if they try to negotiate local TV in the 100 markets that they want, and let's say there's an average of five television stations in every market, that's 90 x 5 = 450 television stations. That means negotiating the rate, getting an order together, sending the order, etc., 450 times. It can literally take months to manage that on the local level.
Advertisers are left with two options: throw away half their money on network advertising or spend months and months on individual buys at the local level.
Programmatic through Adelphic provides a third, much more viable option. An advertiser or agency can go in and say, "these are the stations we want, these are the time periods we want, and those correlate with these specific programs that index well with our target demographic." They know those stations and programs reach their target customers, so they place the order. The ad runs, they get the results, they get the invoice, all in a fraction of the time and much more cost-effectively.
Q: Looking ahead, how do you see the future of programmatic linear TV changing?
As buy-side and sell-side systems of all sizes collaborate more openly, we'll radically truncate the entire process, increasing transaction speed but also improving the speed at which results are returned. In the not-too-distant future, you'll be able to get the same programming, but you'll be able to target it better, buy it faster and you'll see faster results, making it less expensive overall. And when a catalyst like COVID-19 is added to the mix, people start working harder to figure out how to buy and sell advertising more efficiently and do it remotely.
As a result, I think you'll see programmatic buying beginning to catch fire very soon. It won't eliminate traditional buying, but it will become a significant segment, especially as primarily digital advertisers catch on to the ease and effectiveness of programmatic TV buying.
To hear more from WideOrbit about what marketers need to understand programmatic linear TV, click here.
Learn more about Adelphic's programmatic linear TV solution here.
Learn more about Adelphic's integration with WideOrbit here.
STAY IN THE LOOP WITH OUR NEWSLETTER
Sign up to get Viant news and announcements delivered straight to your inbox.
Sign up to get Viant news and announcements delivered straight to your inbox.