What Hot Dogs Can Tell Us About Reaching Target Audiences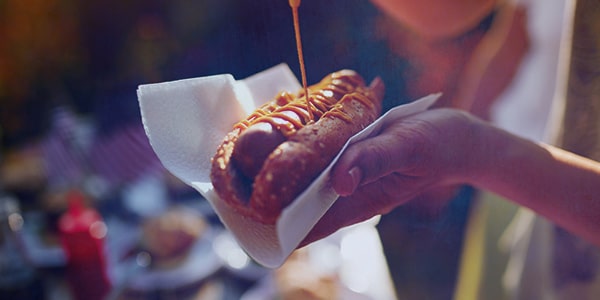 Adults with children in their households are significantly more likely to be hot dog purchasers
Beer is more popular with hot dog eaters than hard seltzer, which marketers should keep in mind when building audiences
People-based data helps marketers deliver personalized customer experiences across users' connected devices
---
July 4 will look a lot different this year, as gatherings remain small and many bars, restaurants and other attractions stay closed because of COVID-19. One Independence Day tradition will continue on, however, albeit with some socially distanced alterations: the famed Nathan's Hot Dog Eating Contest on Coney Island.
While this year's event will be held without spectators, it will still be broadcast on TV – and many of those watching will be home grilling up some hot dogs of their own. For marketers looking to target the right audiences, these hot dog eaters can provide a perfect example of how much we can learn about consumers by leveraging people-based data.
Our People-Based Insights
Using Viant's Total Graph, powered by a database of over 250 million registered users, we gleaned some insights about hot dog purchasers to demonstrate how marketers can use Adelphic's strategic data integrations to reach consumers.
Here's what we found:
Forever Young
We started out by looking at purchasers of some of the top hot dog brands on the market: Oscar Mayer, Nathan's, Hebrew National, Hillshire Farms and Ball Park, as well as generic store brands. Unsurprisingly, segments purchasing each brand look quite similar – about 52% of purchasers of each brand are male, while about 47% are female. Meanwhile, adults ages 25-35 are most likely to buy these brands compared to other age groups.
A strong predictor of one's likelihood to buy hot dogs? Having children. Adults with two children between the ages of 6 and 11 in their homes are three times as likely to buy hot dogs (no matter the brand), while those with at least one child under the age of 18 are about twice as likely to have hot dogs on the grill.
A Cool Drink for a Hot Dog
While the 'dogs are grillin', hot dog buyers are likely to be enjoying an adult beverage or two. Chief among those beverages is Bud Light, which they're more than twice as likely to buy as the average consumer. Other beers are popular with hot dog eaters as well, including Sam Adams, which they're 44% more likely to drink, and Coors Light, which they're 42% more likely to buy.
Worth noting here is that, despite its trendiness, hard seltzer isn't that popular with hot dog eaters. As a group, they're 4% less likely than average to enjoy a can of White Claw. The sole exception here is Hebrew National buyers, who are 43% more likely to pop open a can of White Claw.
Salty and Sweet
Hot dog buyers, per our analysis, don't just have a sweet tooth or a penchant for salty snacks – they buy both kinds of treats significantly more than the average consumer. There's a very good chance you'll find these consumers serving up potato chips with their hot dogs, and a few brands lead the way. Hot dog buyers are more than twice as likely to buy UTZ, Lay's or Wise brand potato chips. Interestingly, another popular brand, Cape Cod, doesn't resonate with hot dog buyers, as they're 12% less likely than average to bring home a bag of these kettle-cooked snacks.
When it comes to dessert, Skittles are the most popular candy for this group, as hot dog buyers are almost 2.5 times as likely to buy the rainbow-colored treats. They're also more than twice as likely to pick up a pack of Starburst or a Hershey's bar.
Interested in learning more about how the Adelphic omnichannel DSP can help solve your retail advertising needs? Read more about our onboarding capabilities or industry-leading consumer targeting – or get in touch with an Adelphic rep, who can take you through the platform today.
STAY IN THE LOOP WITH OUR NEWSLETTER
Sign up to get Viant news and announcements delivered straight to your inbox.
Sign up to get Viant news and announcements delivered straight to your inbox.