The CMO's Guide to Demand-Side Platforms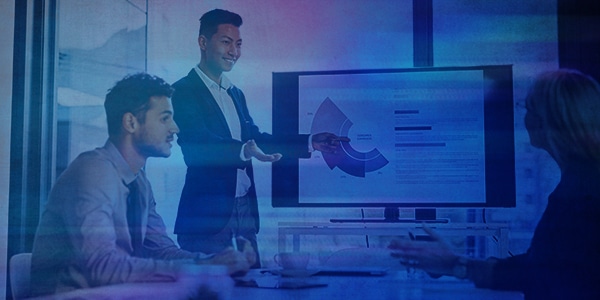 Are you a digital marketing director looking to get buy-in or sign-off from your chief marketing officer to onboard a new demand-side platform (DSP)? You'll want to read on.
Your CMO may or may not fully understand the value a DSP delivers to your company, especially when it comes to accessing high-quality, omnichannel advertising inventory and understanding the value of your ad spend. Some CMOs have a high-level understanding of how DSPs operate, but they may not understand the factors that differentiate the technology used by various platforms.
This complete guide to a DSP for a company's chief marketing officer can help you justify the cost of a DSP like Adelphic that combines people-based advertising capabilities and true omnichannel execution. If you are the chief marketing officer in your organization, you'll find this handy guide can help you work with the rest of your team to make the right DSP decisions for your business.
What To Know About DSPs
A DSP is a software solution designed to streamline and automate the programmatic advertising process for media buyers. It enables marketers to purchase, organize, manage and measure the performance of ads across a variety of devices and formats – everything from smartphones to connected TV to digital out-of-home and beyond. It uses data and technology to analyze audiences and help marketers create ad campaigns and understand their effectiveness.
Learn more about DSPs and DSP advertising in our in-depth blog post
Cost Efficiency and Savings Provided by a DSP
DSPs offer a multitude of advantages over manually bidding and purchasing ads. Not only does a DSP automate the process, it offers greater efficiency, leading to cost savings and more effective marketing campaigns to increase your ROI. Measurement and reporting capabilities can help media buyers inform their CMOs exactly what their team is getting for its advertising efforts.
Understanding ROAS
Simply put, CMOs need to know what they're getting for their money. With a DSP, marketers are able to truly understand their return on ad spend – that is, the amount of revenue made for every advertising dollar spent. Adelphic, for example, has myriad in-platform reporting capabilities that can help you understand how your marketing tactics effect real-world outcomes. These kinds of measurement capabilities allow you to gain a better understanding of your audience while optimizing your campaigns as needed and growing your brand.
Leveraging Data to Deliver ROI, Reach, and Visibility
DSPs such as Adelphic use a wide range of technology and data integrations to ensure you are reaching your audience across devices and media platforms, including CTV, linear TV, laptop/desktop and mobile, digital out-of-home, digital audio and more.
The right DSP software for your needs will leverage a highly accurate identity graph to help pinpoint your audience and deliver the right messaging at the right time. A variety of programmatic ad targeting techniques work together for better results, as well. Targeting tactics may include but are not limited to:
Audience targeting
Behavioral targeting
Cross-device targeting
Retargeting
Advanced techniques do not rely on cookies for accurate results, but instead reach users via other methods while preserving customer privacy. You'll want to make sure any DSP you're working with has a strong identity resolution offering.
Proof That Your Marketing Tactics Are Working
The right DSP also helps you track and measure advertising results so you know you're not sending your marketing content into a void and wasting valuable advertising dollars. A particularly effective measurement tactic that DSPs like Adelphic are using is called incrementality testing, which can offer proof that your marketing campaigns are working. Incrementality measures the effectiveness of an ad by comparing metrics between two similar demographics, where one group had the opportunity to see the ad and the other did not.
But working with a DSP also offers plenty of other ways to understand the effectiveness of your advertising. Adelphic, for example, offers a full slate of advanced reporting features to help marketers know with confidence whether your advertising drove consumers to visit your stores as well as the ROAS on your TV advertising – just to name a few.
Of course, you'll need to identify your key performance indicators (KPIs) to get the most out of these features regardless of the DSP you choose, whether that means the ad viewer making a purchase, tuning into a TV show, going to a store or simply visiting your website.
Executing Real-Time Campaign Optimization Through Your DSP
Once you've identified your KPIs and have begun to keep tabs on performance, you can make modifications in real-time, on the fly, through your DSP. In traditional advertising, changing an ad would require submitting new content and then waiting for the publisher to switch your ad. If you wanted to change the ad frequency or placement, it might require renegotiating the contract, creating further delays.
A DSP enables you to make real-time changes to campaigns based on new targeting data, or to change ad timing, channels or platforms, or even the ad content as new analytics become available.
How to Choose a DSP
If you're a chief marketing officer looking for a better DSP, or to introduce programmatic advertising into your marketing strategy, it's important to know what to look for in a DSP.
You want a DSP that has sophisticated, in-house identity resolution capabilities, as mentioned above, for more accurate targeting and measurement, which can help increase your ROI while improving efficiency and providing cost savings. In addition, an identity graph will allow you to target customers based on their purchases, locations, online activities and more leads to a strategy designed to deliver results.
Finally, seek out an omnichannel DSP that will offer the means to reach your target customers where they spend the most time. The most successful DSP software can help you understand consumer behaviors across devices and channels and then use sophisticated targeting techniques to deliver the right ads at the right time.
Interested in learning more about how Adelphic can help you reach your programmatic advertising goals with one of the most sophisticated DSPs available? Reach out today for a demo.
STAY IN THE LOOP WITH OUR NEWSLETTER
Sign up to get Viant news and announcements delivered straight to your inbox.
Sign up to get Viant news and announcements delivered straight to your inbox.