How Video Gamers' Media Habits Changed During Quarantine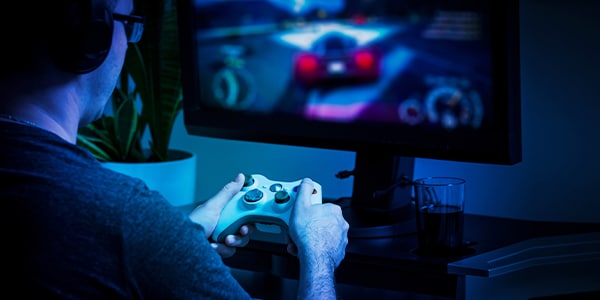 As COVID-19 spread across the globe and many in the U.S. were directed to shelter at home, people's media consumption habits changed significantly. Most listened to fewer podcasts but watched a lot more TV, for example – especially streaming services like Netflix, Hulu and Prime.
But one group in particular, video game enthusiasts, typically referred to as gamers, had a unique behavioral response to the virus outbreak that we decided to investigate further. By leveraging our ACR capabilities, which are made possible through our parent company Viant's partnerships with Gracenote and Inscape, we were able to analyze gamers' TV consumption and game-playing time before the COVID-19 outbreak and compare it to what happened after.
Here's what we found:
TV Time Out
Before COVID-19 was officially declared a pandemic, video game enthusiasts watched a lot of live TV; according to our analysis, between Feb. 20 and March 11, they watched an impressive 1.6 billion minutes of television. As video game players are also often sports fans, they watched a lot of ESPN's SportsCenter, as well as live sports like the NBA, NCAA basketball and PGA golf at high numbers.
However, that soon changed. Between March 12 and March 29, video game players' viewership of SportsCenter dropped by 28%, and total minutes watching live TV dipped to 1.1 billion. However, they began to stream more OTT content, especially movies.
Gaming Growth
It won't come as a surprise that gamers have spent more time playing since the COVID-19 pandemic began. One title has led the way: Fortnite. Video game enthusiasts increased their time spent playing Fortnite by an incredible 475% between March 12 and March 29.
In addition, a number of sports titles jumped in popularity immediately following the cancellation of the remainder of the NBA season and the March Madness tournament. Most notably, play of NBA2K increased almost 30%, while more than 40,000 households re-engaged with NBA2K18. FIFA 20, a game popular with soccer fans, also saw its playing time rise significantly.
Get to Know Gamers
Our data analysis shows that, in addition to being sports fans, video game enthusiasts also spend a lot on food (especially fast food), frequently download music (mostly hip-hop) and watch horror movies at high rates.
Through Adelphic, marketers can reach gamers by activating across different types of publishers based on their current consumption habits and stay connected with them across all of their devices as their attention shifts. Adelphic's people-based audience segmentation further enhances targeting capabilities and granularity.
Interested in learning more about how to target and reach video game enthusiasts with the right messages at the right time? Request a demo today.
STAY IN THE LOOP WITH OUR NEWSLETTER
Sign up to get Viant news and announcements delivered straight to your inbox.
Sign up to get Viant news and announcements delivered straight to your inbox.