Shopping Trends: Online and Offline Consumer Purchasing Behavior Q&A with Contobox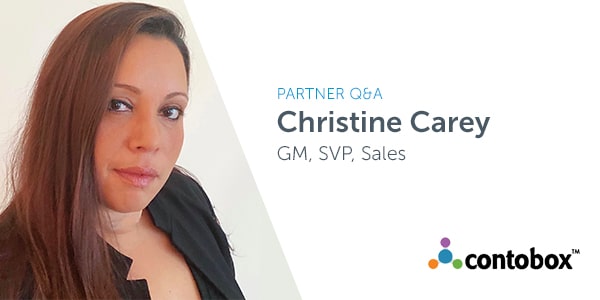 Our Q&A series shines a spotlight on the biggest challenges, questions and trends in the programmatic marketplace with commentary from industry experts, clients and partnerships.
Today's Q&A is with Christine Carey, GM and SVP of Sales at Contobox, which offers an engagement management platform that empowers marketers to develop, launch and analyze interactive digital display and video campaigns.
A veteran of the advertising software industry, Carey is responsible for identifying and securing new partnerships, managing partner integration efforts and helping brands effectively use data-driven creative technology in their businesses.
Q: How important is it to simplify the online shopping process for consumers so that it's more in line with expectations set by Facebook, Instagram and Amazon?
Experience is becoming more important to consumers, which is why we're starting to see some form of shoppable ad units on every major platform. Facebook and Instagram offer shoppable posts, Pinterest has "shop the look" pins and Google added shoppable ads to their image search results earlier this year. At Contobox, we developed shoppable ads that can be run programmatically, giving consumers the opportunity to discover new products, compare them and add them to their online shopping cart from wherever they're browsing on the open web.
In a time-crunched world, where people have more options than ever, using tech like this to remove the number of clicks to purchase couldn't be more important. People are spending more and more time considering their purchase, whether that's browsing or reviewing products, which means brands need to find more creative ways to drive them to conversion. Ad units that showcase more of your offering and give consumers an easier way to check-out can definitely help. Based on the campaign data we've collected at Contobox, shoppable ads can have a big impact on a brand's ROAS, so I would say it's extremely important.
Q: More and more people are shopping on their mobile devices, but the amount of money spent via desktop continues to increase as well. What does that tell us about today's consumers?
It really just reaffirms what we already know: People are busier than ever, and busy people want convenience. As more brands work to enhance their digital offerings through innovations like shoppable ads, more people are realizing that they're going to find that convenience online.
Even those who prefer to shop in stores, either for the experience or simply because they need to see the item in person, are starting to rely more heavily on digital. We're seeing more people reach for their phones rather than connect with in-store associates to gather product information, compare costs or search for deals and coupons.
Q: What kinds of shifts in consumer purchasing behavior and shopping trends have you seen?
P&G's 2005 "Moment of Truth" model describes the customer's decision-making process based on three "moments" – buying the product, experiencing the product and then becoming a loyal customer. The rate of online shopping, both on desktop and mobile, has risen dramatically since 2005, and that's resulted in a huge shift in the way consumers interact with brands. Not only has it given people more product options than ever, it's also made it easier for them to browse. Perhaps not surprisingly, then, people tend to be a lot less loyal to brands than they once were. That increasing search for convenience also means that experience is becoming a bigger factor in people's decision-making process.
In fact, we know based on recent research from Salesforce that the majority of customers now consider experience as important as a brand's products or services — and as more people move online, a better customer experience is a better digital experience. That's what's really going to help your brand stand out. It may not matter how much time your competitor spent building brand equity and trust if you're able to provide a more helpful and convenient experience.
Q: Many consumers conduct research or search for coupons on their phones while in brick-and-mortar stores. How do interactive ads benefit both brands and consumers in this situation?
Interactive ads can track a lot more consumer information, and that can help brands understand their audience's buying behaviors in a much more detailed and nuanced way. They can also provide consumers with all of the product information and potential savings they're looking for directly in the ad unit, so they don't need to click through. No matter where your target audience is shopping, or how they plan to make that final purchase, being able to showcase more of your offering — wherever they happen to be browsing — is going to help your brand stand out and give you a huge advantage over the competition.
Q: What stands out about Adelphic's partnership with Contobox?
Adelphic's client-base is used to receiving best-in-industry data offerings in conjunction with cross-device and cross-format executions, and partnering with Contobox has allowed them to build on these strengths. They can now offer clients more advanced creative capabilities that can be delivered at scale across the open web. Our formats provide consumers with the full eCommerce experience, which helps enrich Adelphic's already incredible data offering with engagement data, giving brands even deeper insight into their customers' buying behaviors.
Q: Looking ahead, what do you see as big shopping trends for the holiday season?
Speed, flexibility and convenience are what matters most to consumers, especially during a hectic time like holiday shopping. The best way to accommodate those expectations is through true personalization and truncating the purchase cycle, and nothing makes it easier for brands to achieve those goals than shoppable ad units. Unless of course we're talking about our new Virtual Wallet feature, which allows consumers to save special offers promoted in display and video ads directly to their Google Pay or Apple Wallets well in advance of prime shopping periods to help them prepare.
STAY IN THE LOOP WITH OUR NEWSLETTER
Sign up to get Viant news and announcements delivered straight to your inbox.
Sign up to get Viant news and announcements delivered straight to your inbox.