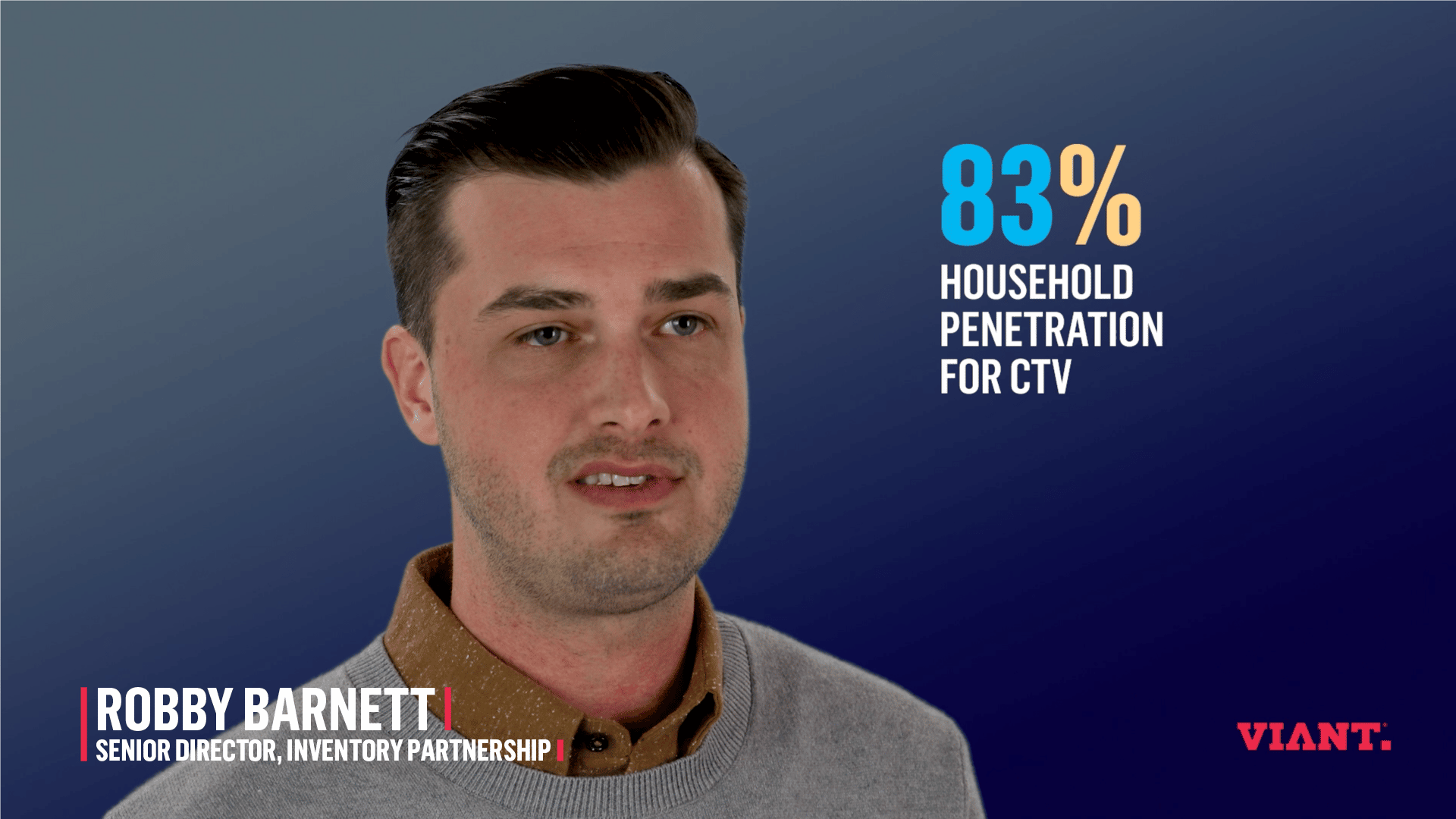 Exploring the Renaissance Moment in Television Advertising
You might be surprised to hear that in the era of cord-cutting, television advertising is ascendant. In fact, it's booming like never before.
We'll explain.
Since its introduction roughly 75 years ago, television has been the premier medium for advertisers to reach consumers with powerful, emotion-driven stories. Over time, connecting with a target audience on TV has become easier thanks to increased distribution, more data and higher-quality content. Now with the rise of connected TV (CTV), streaming services, online video and new linear TV technology, television is flourishing as never before.
But there is a downside, according to Robby Barnett, Viant's senior director of business development.
"Consumers are deluged with subscriptions right now, and as CTV becomes the primary way we watch high-quality video, that's going to get even worse," explains Barnett. "Consumers don't want that. Not only is it expensive — really expensive — consumers are already growing fed up with juggling multiple subscriptions."
That's where programmatic advertising offers alternatives.
TELEVISION ADVERTISING IN THE AGE OF STREAMING SERVICES
Most video streaming services currently offer customers a choice: pay for a subscription or see advertisements while watching a show. Television audiences have historically watched commercials to access or pay for content, so it's likely they'll choose to view ads rather than pay.
But there is a crucial difference between the classic television advertising model and the one developing for emerging video content channels like CTV — programmatic technology.
"A large and growing share of television advertising is bought programmatically, giving marketers unparalleled control over targeting, reach and frequency," highlights Barnett. "That helps make sure that the consumer's advertising experience is as enjoyable as the content that experience supports — keeping consumers from getting frustrated and going back to subscription models."
Barnett points to streaming live events as a great example of the power of using programmatic technology for television advertising.
Digital viewing experiences — like a large swath of sports fans joining star quarterbacks in a virtual living room to watch a football game — provide marketers a massive opportunity to reach consumers with personalized ad experiences seamlessly within the viewing environment.
MAKING EMERGING TV CHANNELS MEASURABLE
It's widely believed that not only CTV but also television is impossible to measure because these channels do not use third-party cookies. However CTV, linear television and emerging video content channels are measurable.
That is, as long as marketers are working with the right partner.
Viant's omnichannel DSP Adelphic provides better ad targeting, control and transparency for television advertising — without relying on cookies. To achieve this, Viant embraces a people-based approach focusing on the household, allowing marketers to control how often all household members see an ad across each of their devices, including television.
"The future of TV is advertising-supported video on demand," concludes Barnett. "With Viant, marketers can choose the streaming services they want to buy and measure the outcomes that matter to them — sales, downloads, reach or something else entirely."
To find out more about Television's Next Move, watch the video above.
Learn More About Viant & The New Open Web
"*" indicates required fields
Note: By filling out this form, you agree to the Viant Privacy Policy and to join Viant's mailing list from which you can unsubscribe at any time.
STAY IN THE LOOP WITH OUR NEWSLETTER
Sign up to get Viant news and announcements delivered straight to your inbox.
Sign up to get Viant news and announcements delivered straight to your inbox.