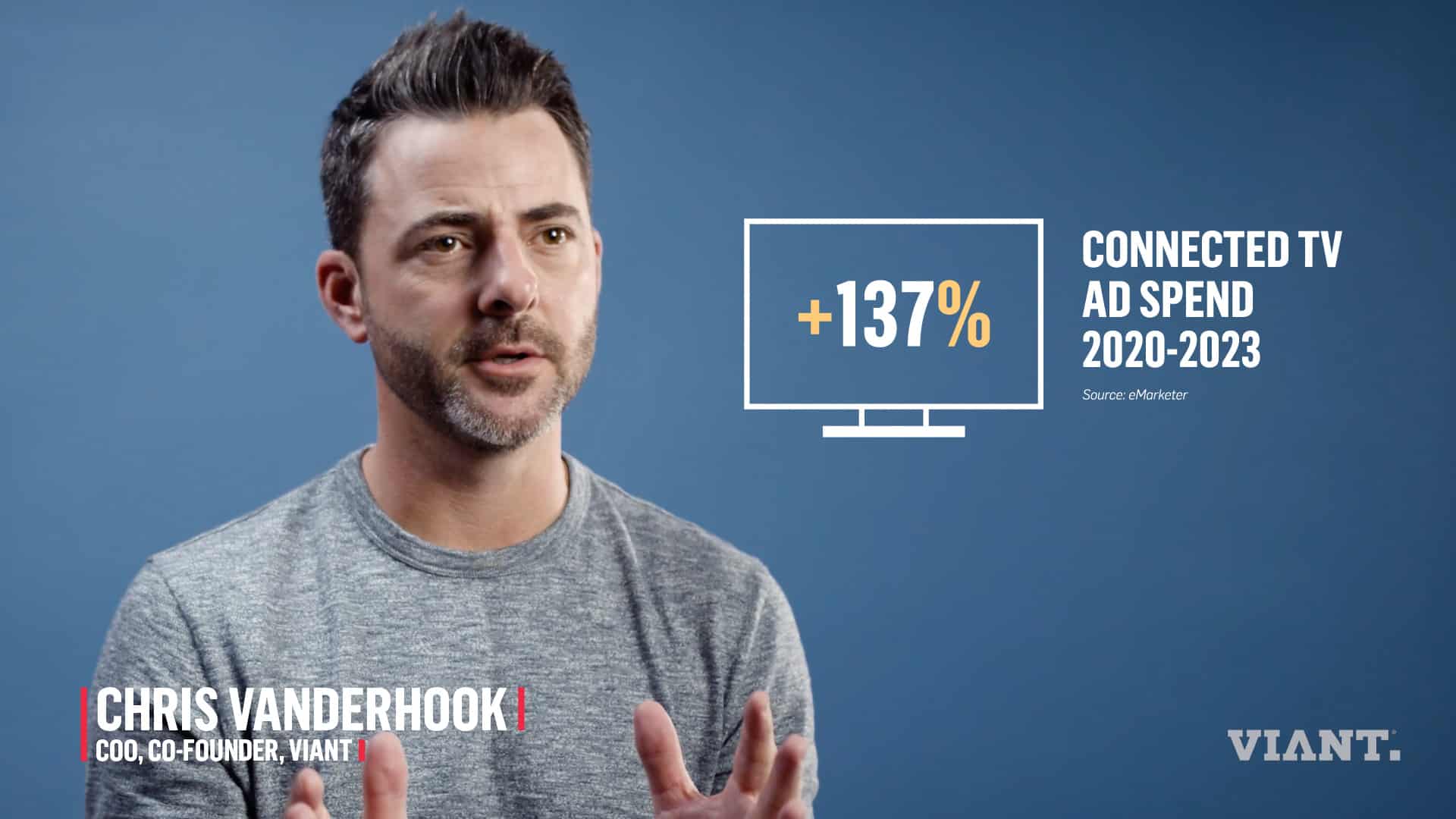 The Future of Storytelling
The way we watch TV has changed, but our love for great storytelling and compelling content hasn't. That's why, even in our digital-first world, Super Bowl ads are highly anticipated and sell out fast – and why they rake in millions.
Today, however, marketers are charged with more than just the creation of persuasive ads, on TV and anywhere else. These days, it's critical to be able to prove the value of media spend, by understanding just how effective ads are at achieving a desired result.
"That's why marketers are turning to connected TV," said Chris Vanderhook, COO and co-founder of Viant.
Where connected TV (CTV) excels is in marrying the sights and sounds of the TV screen with the targeting and measurement capabilities of digital. Understandably, marketers are responding.
Vanderhook pointed to the record spend that's now pouring into CTV ads and driving massive growth for the medium. In fact, according to eMarketer, CTV is one of the fastest-growing channels in all of digital advertising, with ad spend projected to surpass $21 billion by 20231.
In order to make the most of the power of CTV however, marketers must understand how to get started with the medium and work with partners who make scalability and measurability a reality.
WITH THE RIGHT PARTNER, CTV IS  MEASURABLE
It's often said that television – even CTV – is hard to measure. After all, consumers aren't making purchases directly from their smart TVs … at least, not yet. When someone in a household is exposed to a CTV ad and then makes a purchase, they're doing so on their laptop, tablet or phone, or perhaps in person at the store.
So how can marketers attribute the success of a CTV ad if the final click or purchase doesn't come directly from the ad itself?
This is where partners like Viant come into play. Viant's DSP, Adelphic, allows marketers to understand which of their efforts are nudging audiences toward purchase. Reports like Adelphic's multi-touch attribution help marketers understand the impact of touchpoints across channels and devices along the pathway to purchase.
Viant's technology enables marketers to understand if a member of a household has seen an ad and whether that ad resulted in a conversion. The Adelphic software helps marketers to engage target households while linking exposures that occur within them to sales.
"Simply put," Vanderhook said, "better measurement means better analysis, which can lead to expanded reach and improved ad frequency. This is the playbook to drive results in your business."
CTV IN THE NEW OPEN WEB
Today, marketers poised to lead successful CTV strategies are those who understand the concept of the New Open Web, and how to make the most of it. The New Open Web is, at its core, an internet that works for everyone – where consumers have the privacy they deserve and marketers can create the best possible ad experiences, on CTV and all other channels.
And in this New Open Web, Viant is leading the way forward.
With Viant's CTV offerings, marketers can ensure they're not overmessaging consumers or reaching households with irrelevant messaging. And, as noted above, they can measure the true impact of their CTV ad spend, ensuring they're doing everything possible to minimize wasted spend.
It's the upgrade marketers – and consumers – deserve.
"Viant and the New Open Web can leverage connected TV to deliver the emotional punch that turns customers into advocates," Vanderhook said, "while unlocking never-before-seen power in great commercials built for today's digital age."
Learn more about Connected TV in the video above.
1 https://www.emarketer.com/content/ctv-still-among-fastest-growing-channels-digital-advertising
Learn More About Viant & The New Open Web
"*" indicates required fields
Note: By filling out this form, you agree to the Viant Privacy Policy and to join Viant's mailing list from which you can unsubscribe at any time.
STAY IN THE LOOP WITH OUR NEWSLETTER
Sign up to get Viant news and announcements delivered straight to your inbox.
Sign up to get Viant news and announcements delivered straight to your inbox.