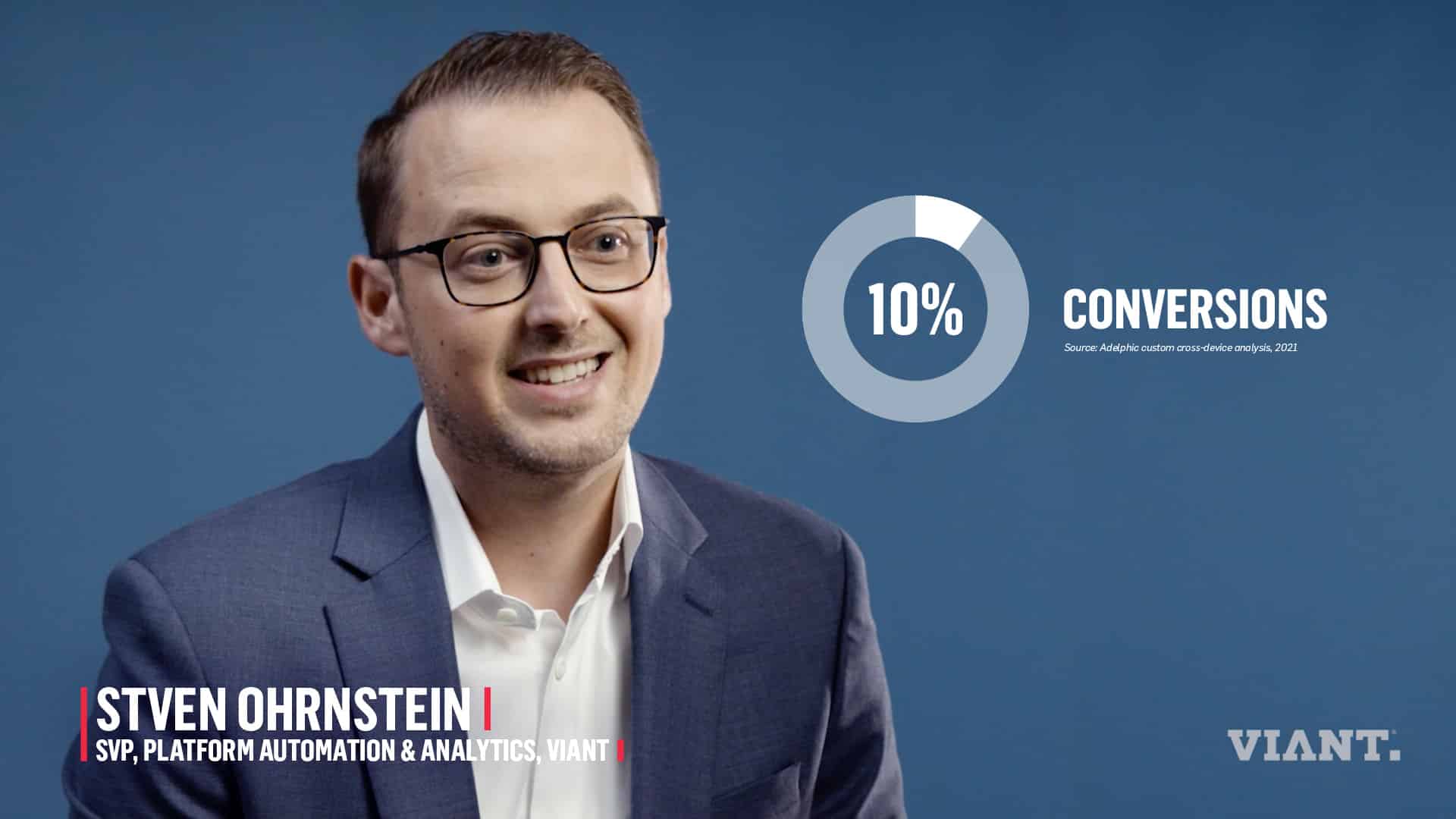 Making Programmatic Scalable, Addressable and Measurable
Imagine having to hire a new employee without seeing their resume, or buying a house based solely on the color of its front door.
You wouldn't, right? Which is why it's wild to think that the status quo in programmatic is for marketers to make big, often extremely expensive decisions based off of limited data.
And yet, the reality is that few conversions happen on the same device on which an ad was shown. Chances are, for example, you're not going to buy a product you just saw an ad for on your TV directly from your TV. More likely, you'd order it on your phone or even pick it up in person at the store. Today, many sales attributions go undetected thanks to a whole host of reasons, from the inability of some technology to track conversions across devices to the declining presence of digital identifiers like third-party cookies.
All of this means too many marketers are making multi-million-dollar decisions based on small data sets that don't paint an accurate picture of what's really happening.
The good news is, there's a smarter method.
THE BETTER MEASUREMENT APPROACH
A smarter approach to measurement starts with a people-based standard, according to Steven Ohrnstein, senior vice president of platform automation and analytics at Viant.
People-based advertising, noted Ohrnstein, doesn't rely on the cookie – and that's a good thing. While cookies are set to be officially moonlit in 2023, many environments are already cookieless. These include (but aren't limited to) connected TV, browsers like Safari and Firefox as well as mobile apps. This means savvy marketers should be able to conduct their advertising without cookies now. Learn more about the presence of cookies and other identifiers in the programmatic bid stream in Viant's live dashboard.
"If you're still relying on cookies, you're missing out on reaching and measuring your customers," Ohrnstein said.
Viant's people-based approach doesn't need the cookie to track conversions and help marketers measure the effectiveness of their media spend. Instead, it uses a range of persistent identifiers to resolve the identity of individuals and households. That means marketers can understand which ad impressions lead to conversions or sales – no matter where those ads were shown or where the conversions took place.
And the advantages don't end with more robust measurement.
"A people-based approach has another benefit," Ohrnstein said. "Tailoring your reach to individual households."
WHY SPEAK TO THE HOUSEHOLD?
As smart TVs increasingly become the focal point of the connected home, and as one-to-one marketing loses favor, targeting the household has emerged as a strategy worthy of a renaissance.
With Viant's DSP Adelphic, marketers can tailor their reach to individual households by targeting multiple connected devices within the same home thanks to Viant's people-based approach and the Viant Household ID.
"When you know which devices belong to which people, and which people live in the same household, you can stop hammering every device with the same message," Ohrnstein said.
This enables marketers to better manage reach and frequency (or ad repetitiveness), as well as reduce wasteful spending. In tests through Adelphic, marketers working with Viant to run ads across display, video and CTV were able to able to reach 40% more households while reducing frequency by 28%1.
"Most importantly," Ohrnstein added, a household approach "keeps you from turning off a potential customer by bombarding them with messages."
A cookieless, people-based strategy helps marketers unlock audience insights, build brand affinity and discover new audiences. At the same time, it helps marketers prioritize the customer experience – helping consumers feel less like they're being tacked around the web and bombarded by the same stale messaging.
"That's exactly what the New Open Web is about," Ohrnstein said, "making the web work for customers, marketers and everyone."
Learn more about The Cookieless Future in the video above.
1 Based on three WWC beta advertisers who met the criteria of at least two million impressions served pre vs post software adoption. Results may vary, reach out to Viant representative for more information.
Learn More About Viant & The New Open Web
"*" indicates required fields
Note: By filling out this form, you agree to the Viant Privacy Policy and to join Viant's mailing list from which you can unsubscribe at any time.
STAY IN THE LOOP WITH OUR NEWSLETTER
Sign up to get Viant news and announcements delivered straight to your inbox.
Sign up to get Viant news and announcements delivered straight to your inbox.