XUMO's Colin Petrie-Norris on How OTT Has Revolutionized Content Consumption and What Marketers Need to Know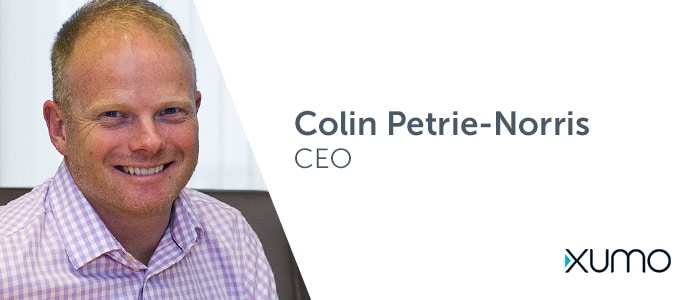 Adelphic's Q&A series shines a spotlight on the biggest challenges, questions and trends in the programmatic marketplace with commentary from industry experts, clients and partners.
Today's Q&A is with Colin Petrie-Norris, CEO at XUMO. A joint venture of Viant and Panasonic, XUMO is an over-the-top (OTT) content service provider that was founded in 2014.
As CEO, Petrie-Norris has partnered with the world's largest television manufacturers to combine Linear TV with OTT content and revolutionize the way TVs are programmed.
Q: ATV, CTV, OTT … there are a number of acronyms in the space that can create confusion. What do marketers really need to know?
We like to distinguish between CTV – which is connected television and denotes content consumed on the big screen through internet-connected smart TVs, Rokus, Apple TVs, etc. and OTT – which is long-form video content consumed over the internet rather than over cable. OTT might include multiple screen sizes, but is still the high-quality full episode-type content.
OTT has revolutionized how people consume content. Marketers should really know three things:
1. It's here to stay, and it's where the audience is. A recent report from eMarketer notes that 71% of internet users now stream OTT content, and that growth is expected to continue apace in the coming years. Plus, the cord cutting trend has gained traction with many types of viewers who are both young and affluent, which has great appeal to marketers
2. The targeting capabilities of OTT give marketers the opportunity to capture audiences that they're not able to reach through a traditional TV buy. Instead of buying against traditional shows or dayparts, OTT ads can be purchased to match demographic or lifestyle traits. Data can be collected about which shows viewers watch, when they watch them and the amount of time they watch them.
3. Lastly, OTT advertising is completely measurable, allowing marketers to leverage the data to quantify outcomes and gain further insights into behavior, something that historically has been limited with traditional TV buys.
Q: The last year has seen rapid growth in OTT video ad spending, a trend that shows no signs of slowing down. Why are advertisers attracted to OTT content?
The rise in OTT is a game changer for advertisers because it offers them powerful features they get from digital, including unique first-, second- and third-party data, segmentation and planning, measurement, insights, and attribution blended into traditional TV. With 71% of internet users utilizing at least one OTT service, they have access to incredibly large audiences via the largest screen in the home. The addressability of OTT presents them with the opportunity to build rich user profiles and engage highly segmented audiences in a brand-safe premium environment, and with closed loop multi-screen attribution, measure the outcomes and optimize their approach.
Q: Given marketer requirements to advertise in brand safe and fraud free environments, how should CTV/OTT fit into marketers' media allocation?
In XUMO's case, the premium direct content partnerships we have, our partnerships with brand safety vendors and our ability to target the right ads to the right user at the right time assure marketers their advertisements will be running in a premium, brand safe, and fraud free environment. Marketers should feel at ease making OTT a prominent part of their media allocation.
Q: Are there any trends among OTT viewing audiences that stand out to you?
In terms of viewership, one interesting trend we've noticed with our users is the way in which they discover content. There seems to be a preconceived notion in the digital world that discovery happens by typing into a search field, for example, which can be classified as a "lean in" action. In XUMO's case, we've found that most of the content discovery on our platform happens in the channel up/down environment, which is a much more "lean back" action to take. To us, this signals that although consumers have shifted to consume more content via OTT, their behavior within the OTT environment is still very traditional, and that the opportunity to have a linear, lean-back entertainment experience is still of value to a viewer.
Q: What makes XUMO unique in an increasingly popular streaming scene?
Our key differentiator is our native integrations with almost half of the smart TV market. Through strategic partnerships with LG Electronics, Hisense, VIZIO and Panasonic, we've developed one-click access for consumers to stream over 140 free channels. These native integrations bring XUMO front and center on the largest screen in the home, and provide advertisers the best of both worlds:
1. Access to targetable, quantifiable audiences
2. Brand safe, premium environments in the living room
Q: You recently announced a partnership with the PGA TOUR. What does that entail, and do you see this as the early stages of a move to more live sports content?
The addition of the PGA TOUR channel marks the first ad-supported TOUR "OTT channel" available on smart TVs and provides viewers live and VOD programming, featuring highlights/recaps, player interviews, tournament previews and LIVE Featured Holes coverage from PGA TOUR LIVE. Live sports is important to any OTT platform, so we certainly recognize the value and are constantly looking for ways to expand our live content offering.
STAY IN THE LOOP WITH OUR NEWSLETTER
Sign up to get Viant news and announcements delivered straight to your inbox.
Sign up to get Viant news and announcements delivered straight to your inbox.