Personalizing CTV and Video Ads to Drive Engagement: A Q&A with Taylor West of Clinch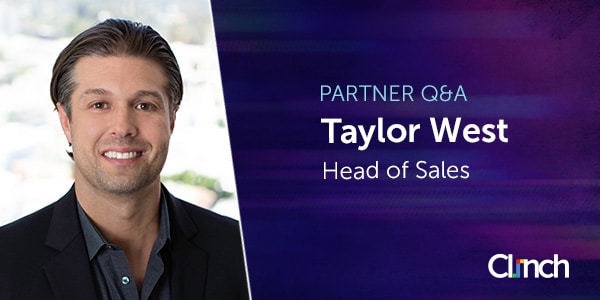 By Taylor West
Head of Sales, Clinch
As Forbes reports, CTV and digital video ad spending are expected to continue to grow in 2021, in great part because consumer viewing habits that shifted during the height of the COVID-19 pandemic show no sign of slowing down. For marketers, those spending increases underscore the importance of standing apart from the crowd.
To learn more about what marketers can do to differentiate their CTV and digital video advertising and capitalize on this valuable medium, we spoke to Taylor West, head of Sales at Clinch. Integrated into the Adelphic software, Clinch is an AI-powered creative personalization provider that delivers consumer-facing ad experiences across all channels.
Q: Connected TV (CTV) and digital video ad spending have both continued to increase significantly over the last year. In your opinion, what makes CTV such a quality form of advertising?
Sight, sound and motion still captivate audiences, and nothing beats the big screen. This year, people have spent more time at home due to the pandemic, and more and more content has become available through premium streaming services, such as Peacock, Hulu, HBO Max, Netflix, Amazon, etc. Along with the increase in content, there has been an increase in capabilities for VAST and VPAID, which creates new opportunities for personalization and interactivity to generate awareness and drive consumer engagement.
 Q: Clinch's focus is on bringing personalization to digital ads – but when you talk about "personalizing" ads that run on CTV or over-the-top (OTT), what exactly do you mean? (Learn more about the differences between CTV and OTT.)
Having the ability to personalize ads in real time is a huge benefit and really a necessity in today's world. The pandemic has changed consumer behavior, and in turn, drastically altered the way advertisers need to communicate with their customers. In the past, advertisers would run the same national TV spot across all CTV/OTT environments. Now, they have the option to factor in weather, time of day, product inventory, store location and more, all in real time.
An example: A retailer has 5,000 store locations. We can take one national TV spot, and personalize it to each one of those stores, thus creating 5,000 personalized ads with the click of the button, which can run across any CTV/OTT platform (as well as social, display, mobile, video, DOOH, etc.).
Q: Digital video, too, is growing. But with the current shift to ecommerce, it's also becoming an increasingly crowded space. What advice do you have for brands looking to stand out?
We see a huge opportunity with video, particularly within ecommerce. No longer is video just an awareness tool, but it can now be leveraged as a lower-funnel performance driver. We recently launched "shoppable videos," which bring personalized product feeds into the video based on consumer preferences, inventory availability, etc. So far this holiday season, these shoppable video units have outperformed display retargeting on click through and conversion rates, which is game changing. Based on the performance we've seen, my advice to clients get out in front of the market and use video as a performance driver for their ecommerce strategy in 2021!
Q: What's unique about Clinch's integration with Adelphic?
We have a great partnership with Adelphic and are integrated into their first- and third-party datasets that can be passed to us via a macro to decision and serve personalized ads. This not only drives incredible performance, but also saves media teams a ton of time as they no longer have to set up hundreds of audience placements.
Q: When you look ahead to 2021, how do you see the digital video and CTV spaces evolving?
Looking ahead to 2021 digital video and CTV will only grow in consumer media consumption, percentage of overall media budget, and importance in general. This increase will also pressure CTV/video specific platforms to build out new capabilities that support advertising and e-commerce across these channels. Brands that can best leverage these new capabilities will be poised for success, and will likely gain market share over their competitors.
STAY IN THE LOOP WITH OUR NEWSLETTER
Sign up to get Viant news and announcements delivered straight to your inbox.
Sign up to get Viant news and announcements delivered straight to your inbox.