Measurement Strategies Across the Marketing Funnel: 5 Mistakes to Avoid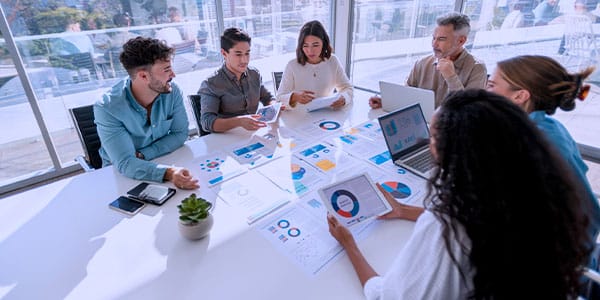 The cookie apocalypse isn't happening tomorrow, but it edges closer every day like a doomsday clock. At least it does for anyone still reliant upon third-party cookies. Cookies have become a constraint in an omnichannel ad world.
For instance, if you're conducting attribution with some measurement partners, you cannot tie an ad on a desktop to a mobile phone. Some partners only count same-device conversions where the ad appeared. Meanwhile, omnichannel conversion measurement needs are becoming more sophisticated and apply to personal and digital identifiers, online or offline. Why does this matter? Marketers don't want to sell their campaign effectiveness short.
There is no world without measurement challenges, but marketers can make it easier on themselves by tracking the right metrics to understand the impact of their digital advertising.
Marketers should consider changes to their benchmarks and KPIs like conversion rate and return on ad spend. A smooth transition to a cookieless world requires determining whether your KPIs align with your advertising goals and evaluating if historical benchmarks are still relevant. 
But, as marketers know, there are many moving parts when it comes to achieving this alignment between advertising objectives and actual benchmarks. Here are five significant mistakes to avoid as you embrace the cookieless future.
Mistake 1 — Ignoring Incrementality
Some reporting options will tell you whether someone saw your ad, clicked and converted. But for a deeper understanding, always examine a baseline: would they have converted anyway? Incrementality allows you to see your baseline — how your ad performed — and if you can optimize in-flight, you'll have a more effective campaign.
You may learn that your current plan is driving purchases, but it's not driving incrementality — anything extra. You don't just want sales — you want higher net sales. Ideally, you'll establish a comparison against a control group or a baseline to prove that this revenue or conversion number is incremental. This baseline analysis demonstrates that advertising impacts consumer behaviors and that you're making more money than you would have anyway.
Mistake 2 — Relying on Cookies
The world is moving to cookieless targeting and measurement. Cookies deprecate quickly, and there can be disconnects and data loss, producing probabilistic results. If you go with cookieless targeting and measurement, you can effectively and efficiently reach your audience and minimize data loss, allowing for a deeper understanding of your marketing efforts.
In a cookie world, if someone sees an ad, that's the only device you know has been exposed and the only device where a conversion is measured. When you target and measure the household, you'll get a better sense of your campaign effectiveness. For example, let's say my 7-year-old sees an ad for his favorite theme park and asks if we can go there on our next trip. If you measure same-device conversions, you won't see it, but if you look at the household, you can see that the ad influenced the trip. 
Mistake 3 — Relying Only on Legacy Last-Touch or First-Touch Attribution
Omnichannel campaign measurement must be consistent across multiple channels and measure cross-device conversions. Most people don't convert on the same device where they viewed an ad, so limiting yourself to first touch or last touch measurement does not provide a clear picture for omnichannel campaigns and has the potential to skew your optimization strategies. What happens if someone sees a pizza ad while streaming content on their TV, but then orders it from another device? If you relied solely on last-touch, you may not have any insight into whether or not your CTV ads were effective in driving sales and you may be giving too much credit to another channel for driving conversions. Using partners who provide cross-device omnichannel attribution for first-, last- and multi-touch attribution allow marketers to view their customer's journey to conversion, and ensure they are optimizing to meet their goals.
Mistake 4 — Not Defining KPIs and Measurement Alongside Planning
Defining your goals, success metrics, and measurement plan up front is critical to successful campaign management. When the success metric remains undefined or measurement slips through the cracks, marketers are left guessing about the success of their campaign. You also need to set up your measurement to begin when a campaign starts. This is especially true if you are measuring incrementality or lift. To obtain an accurate comparison, ensure that your control group/baseline group has not seen your campaign. If you wait to set up measurement after a campaign launched, it's possible that your comparison group has already seen your ad and converted, lowering measurable incremental lift. 
Mistake 5 — Relying Solely On End-of-Campaign Reporting
Some measurement methodologies provide results two to three months after a campaign concludes. While these reports definitely have a place, marketers need in-flight data for optimizations or planning cycles. Look for partners who offer both in-flight and end-of-campaign measurement or you'll sacrifice the ability to optimize and measure incrementality in flight. 
So if those are the mistakes, what's the right path forward? By now, you've guessed cookieless. But rather than take my word for it, run a cookieless campaign with measurement. You may not want to wait until the cookie deprecates to set new benchmarks or primary KPIs.
We're big believers in figuring out your best-case KPI scenario and figuring out how to get there – if ROAS is not a viable option for you, consider KPIs for conversions, in-store visits, along with reach and frequency across omnichannel media buys.
To learn more about this topic, check out our free guide, Measurement Tactics for a Cookieless World and cookieless benchmarks.
STAY IN THE LOOP WITH OUR NEWSLETTER
Sign up to get Viant news and announcements delivered straight to your inbox.
Sign up to get Viant news and announcements delivered straight to your inbox.