Cross-Device Targeting and the Best Strategy for Real-Time Location Data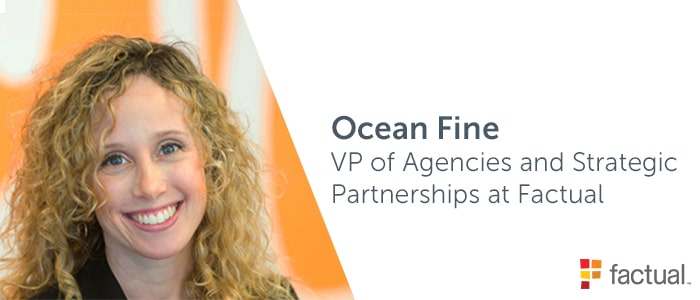 Adelphic's new Q & A series will shine a spotlight on the biggest challenges, questions, and trends in the programmatic marketplace with commentary from industry experts, clients, and partners.
Our first piece in this series features Ocean Fine, VP of Agencies and Strategic Partnerships at Factual. Founded in 2008, Factual provides highly customizable location-based audiences and geofencing capabilities.
As the VP of Agency and Strategic Partnerships, Ocean is responsible for driving awareness and adoption of Factual's Location Targeting Ad Solutions.
Q: What are some of the biggest benefits you see in cross-device targeting?
Ultimately, real world actions speak louder than web browsing behavior. Cross-device targeting takes into consideration insights from different behaviors to create those contextually relevant opportunities advertisers need to really reach their audience.
With effective cross-device targeting, advertisers can reach new levels of scale by tailoring messaging across multiple devices and formats. They can build their brand story and customize content around specific stages of the consumer journey, helping deliver messaging at the right time to engaged audiences.
Q: Why should advertisers care about device IDs in the desktop environment?
Depending on the type of data you have access to, your needs will be different. Desktop behavior only analyzes someone's browsing history to build insights. But device ID tells a more complete picture, showing movement through the physical world. For example, I love to search recipes and read them frequently. This browsing behavior might indicate to an advertiser that I am probably someone that shops for groceries and cooks often. However, I travel a lot for work and probably haven't cooked a meal in months.
On the one hand, my device ID would have accurately given you the indication that in fact I do not frequent locations of someone who typically likes to cook, but rather I am a business traveler and frequently eat out at restaurants with friends and clients. However, on the other hand, If you observed my actions through my browsing behavior, I would have been incorrectly bucketed and targeted as someone who cooks a lot and regularly shops for food and household groceries, which as we know, is (unfortunately!) very inaccurate.
Q: Beyond the desktop and mobile phone, what other channels and screens are emerging as important for marketers to reach their customers?
Having a single view of the consumer is critical because today's consumers often interact in a variety of ways and are more connected than ever before. It's important that we understand how consumers behave across all channels, at every touchpoint. It's no longer just mobile and desktop that should be considered for crosAs-screen efforts, but also channels like TV and Out of Home are increasingly important.
With device matching, a marketer is able to recognize the same consumer when they interact with their brand, and target that consumer with relevant messaging at scale, across each touchpoint. For example, marketers can use cross-device targeting to understand if someone has passed by their digital elevator or highway billboard, and target that same person while online, on their mobile device, or with an advertisement on television later that day.
Q: When should real-time location be used instead of or in conjunction with past location targeting? Which is the best strategy for a cross-device campaign?
Tactics are really dependent on the goals of the campaign and the audience the advertiser is trying to reach. When advertisers craft their campaign, they need to have an in-depth understanding of a consumer's behavior relevant to their brand, so they know what will drive the greatest ROI.
For example, Factual's Geopulse Proximity is used to target people based on where they are in real time, using their latitude and longitude. This opens the door for broader targeting tactics to reach people at or near a place and can drive them in store to make a purchase. You can also optimize using targeting based on real world behaviors of people who visit a place frequently. Cross-device targeting allows you to message them wherever they may be, whether that's in-app or mobile web on a smartphone/tablet, or at home or work on a desktop computer.
Q: Anything exciting on the horizon?
Yes! Something exciting for both Factual and Adelphic is that we recently completed a new component of our integration that enables Adelphic to cross device target any Factual mobile location audience. This means that Factual audiences can run on Adelphic across desktop, tablet, and mobile, using Adelphic's patented cross-device solution. This allows for greater scale and reinforces mobile marketing with coordinated messaging across all devices.
For more information or to activate an audience for cross device, contact Viant today or reach out to Factual at strategy@factual.com
STAY IN THE LOOP WITH OUR NEWSLETTER
Sign up to get Viant news and announcements delivered straight to your inbox.
Sign up to get Viant news and announcements delivered straight to your inbox.