DOOH's Breakthroughs Shine New Light On Customer Journeys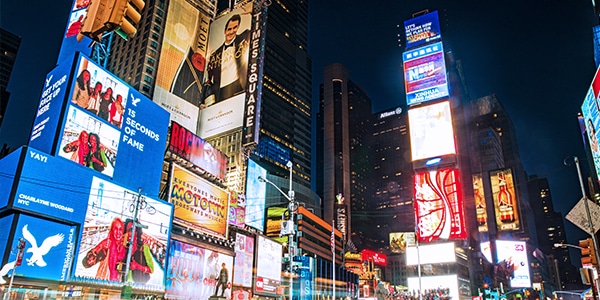 As we swap sweatpants for officewear and resume commutes or long-distance travel, out-of-home advertising is steadily picking up steam. Marketers are discovering how digital out-of-home (DOOH) technology and the consumer intelligence propelling it has come of age.
DOOH is poised for a rebound. With companies reopening their doors on a hybrid basis, a boost in air travel bookings and a tapering of public event restrictions, we're seeing a resurgence of interest from inventory providers and vendors.
Over the past two years or so, OOH inventory providers were evolving their offerings to ensure engagement. DOOH signage expanded creatively via electric vehicle charging stations, grocery store refrigerator screens, taxi top LED displays and innovations such as digital billboards that can optimize their brightness with the sun.
DOOH's capabilities have never been more timely. Amid so much change in our personal and professional lives, digital outdoor enables marketers to adjust their messaging to reflect real-time events.
But what's most exciting to us is how marketers can now create sharper and more effective campaigns. For instance, knowing the proximity of people's mobile devices to DOOH signage enables marketers to execute truly omnichannel campaigns that engage consumers across multiple platforms.
That means marketers can assess the impact of DOOH exposure on driving conversions, sales and store visitations. Before the pandemic, you might have known your reach, but you never knew the true outcome of OOH exposure.
DOOH measurement is gaining converts just as ad spending levels rebound. One reason DOOH ad spending is rising is that 62% of senior advertising professionals believe "advances in technology mean the DOOH market will be able to provide more analysis on campaigns," according to an eMarketer study last year shared by Alfi, Inc. DOOH ad spending, pegged at $2.17B in 2022, is projected to rise to $3.17B in 2025, adds eMarketer.
We've known for years that better measurement can drive more advertising spending. Marketers tell us that the more accountability they can bring to their media spend, the more it validates their efforts. The interoperability between DOOH and other channels makes it easier for CMOs to show they're moving products off the shelves and driving successful business outcomes.
Finding a DSP for DOOH
To accomplish all of this, marketers need the support of a robust DSP for processing data points from supply-side platforms (SSPs) that are specific to OOH. The DSP must also geofence DOOH displays so marketers can retarget mobile devices on other channels. 
The next step is perhaps the most crucial: the DSP must provide comprehensive, data-driven attribution for store visitation and sales.
DSP technology has steadily evolved to process much more granular data. DOOH was once a one-to-many medium, but now, with tracking, marketers know when an actual device is exposed to an ad. For instance, Geopath audience location data can tell us the proximity of an Android phone to a DOOH impression served at 8 a.m. ET. We can then identify whether the person walked into an advertiser's place of business and made a purchase.
Marketers want a DSP that enables them to shift gears and optimize a campaign in-flight if necessary. With DOOH, that's not just a theoretical possibility — it's a reality. The DSP can look at user-based location data or time-of-day and enable marketers to adjust based on known consumer exposure.
A digital billboard of any size can be used for public or commercial activations. For instance, an entertainment client promoting a tour could reallocate dollars from sold-out markets to locations where tickets are still available. Similarly, a car dealership could promote a holiday sale featuring up-to-the-minute inventory and a drug brand could target allergy sufferers by displaying the area's pollen count.
Marketers consistently tell us they need more resources to explore emerging opportunities like DOOH. Viant offers a service layer that bridges these resource gaps, giving marketers the flexibility to personally manage as much or as little of the campaigns they desire.
Just as Connected TV altered the TV landscape, improvements in DOOH advertising give marketers much more to consider. Viant's omnichannel DSP, Adelphic, contains new DOOH vehicles, more advertising opportunities and better supporting data than before. If you haven't checked out DOOH in several years, see how it can strengthen your cross-channel programmatic media mix.
Learn more by reaching out to our team today.
STAY IN THE LOOP WITH OUR NEWSLETTER
Sign up to get Viant news and announcements delivered straight to your inbox.
Sign up to get Viant news and announcements delivered straight to your inbox.