4 Things to Know Before Including DOOH In Your Marketing Mix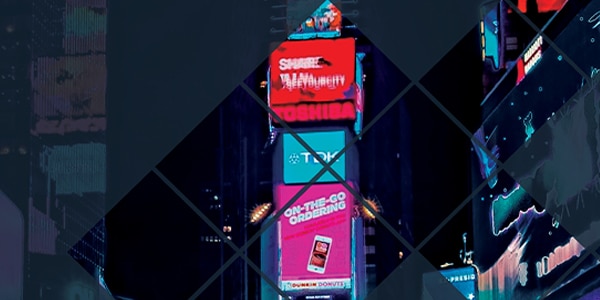 Technically speaking, digital out-of-home (DOOH) refers to any digital advertising found in a public location – a screen outside of home. It's a reimagining of the classic advertising experience, through captivating creatives and streamlined ad delivery. And today, DOOH advertising has grown from just roadside billboards to screens in elevators, on taxi cabs, in airports and plenty more.
But what, exactly, does that mean for marketers?
According to MediaPost, the DOOH market is on track to grow to more than $26 billion by 2023, a trend justified by the medium's reach and engagement. On top of that, thanks to programmatic technology, marketers can personalize their DOOH advertising to location, time of day, weather and traffic conditions, as well as leverage targeting and measurement capabilities.
DOOH FAQs
To many marketers, however, DOOH remains a novel concept. And as with any new technology, it comes with many benefits, but also a learning curve. Questions like the following abound:
What's the difference between digital and traditional out-of-home?
Traditional OOH serves static content, meaning you see one piece of creative per billboard, while digital OOH can serve multiple impressions from a single billboard. DOOH allows for shorter lead time as well. However, one advantage of traditional OOH is that advertising space is not shared by multiple plans.
What types of DOOH inventory are available?
Digital Billboards
Digital Screens at Bus Shelters
Mobile Billboard Trucks
Automotive Roof Top Signs and Mobile Billboards
Ad Screens at Gas Pumps
Indoor Screens (At Malls, Sports Arenas)
What should you look for in a DSP when focused on DOOH?
Reach, Inventory Quality, Platform Efficiency, and Flexibility are all key factors when choosing a DSP. Additionally, platform cost and support quality and availability are important as well. You can read more about how to choose a DSP here.
How can marketers access the best DOOH inventory?
Attracting audiences and driving brand awareness in high-traffic locations has never been easier for marketers – with the right tools and understanding. To learn the answers to the above questions and more, and garner the knowledge needed to get started with DOOH, download Introduction to Digital-Out-of-Home now.
STAY IN THE LOOP WITH OUR NEWSLETTER
Sign up to get Viant news and announcements delivered straight to your inbox.
Sign up to get Viant news and announcements delivered straight to your inbox.