CTV Ad Engagement Behaviors: Data and Measurement Strategies for Marketers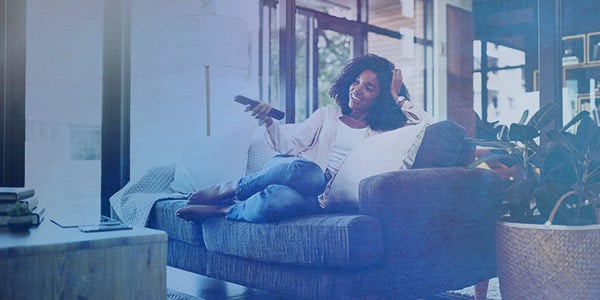 The vast majority of people in the U.S. are watching streaming content on Connected TVs (CTVs)
Like they do with traditional TV, consumers often watch CTV with roommates or family, meaning unlike other digital ads, CTV ads can't be taken for granted as a 1:1 experience
The Adelphic software makes it easy for marketers to reach CTV audiences programmatically
---
By now, it's widely known that viewership of connected TV (CTV) and over-the-top (OTT) content is increasing significantly, aided in part by a year during which consumers spent much more time at home than usual. As a result, CTV advertising climbed 25% in 2020 according to eMarketer, with ad-supported video-on-demand (AVOD) revenue up 31% even in the face of decreases in traditional TV revenue.
Now, we're learning more about what CTV ad engagement behaviors actually look like.
The Most Common CTV Ad Engagement Behaviors
Streaming is Taking Over
A recent study by Integral Ad Science (IAS) reported that 88% of Americans – or nearly nine in 10 people in the U.S. – watch streaming content on CTV. Many of them are seeing CTV ads on smart TVs, while others rely on external hardware like Roku, for example. Per eMarketer, YouTube, Hulu and Roku lead the way in net revenue among streaming providers, accounting for about half of all CTV ad revenues.
Learn more about the differences between CTV and OTT
Most People Watch Ad-Supported Streams
The IAS study also reported that 91% of CTV viewers watched at least some ad-supported content, which is great news for marketers looking to get in on the increasingly popular channel. While paid streaming services like Netflix have been popular for a while, ad-supported services are gaining ground for one big reason: Consumers are looking for ways to save on costs.
Viewers Watch CTV with Others
Watching CTV is generally a shared experience. As opposed to other forms of digital advertising like mobile ads, CTV ads can't be taken for granted as a 1:1 experience – after all, just as with traditional television, CTV viewers may be watching with family or roommates. Thus, a household-based approach to identity resolution and measurement for CTV is key for marketers to truly understand the effectiveness of their CTV ad campaigns.
When it Comes to CTV Ad Engagement, Consumers Prefer CTV to Linear TV
Not only are an increasing number of people watching CTV, according to the IAS study they also enjoy the CTV advertising experience more than the linear TV ad experience. In fact, 90% of those surveyed said there are "features of the CTV ad experience that make it better than linear TV." Some of those features included seeing ads that were personally relevant, knowing the length of ads as they were watching them and seeing fewer repetitive ads.
Learn more about how marketers can get the most ROI from their CTV ads
Adelphic Can Help Marketers Reach Target Audiences with CTV Ads
With Adelphic's CTV advertising software, marketers can reach streamers and cord-cutters even when traditional TV can't, which is key in today's climate. Adelphic's direct integrations with premier suppliers make it easier than ever for advertisers to programmatically executive CTV campaigns.
Ready to learn more about CTV advertising with Adelphic? Reach out to an Adelphic representative today.
STAY IN THE LOOP WITH OUR NEWSLETTER
Sign up to get Viant news and announcements delivered straight to your inbox.
Sign up to get Viant news and announcements delivered straight to your inbox.