Clear Channel Outdoor on How Location Data Helps Brands with OOH and the Future of OOH Measurement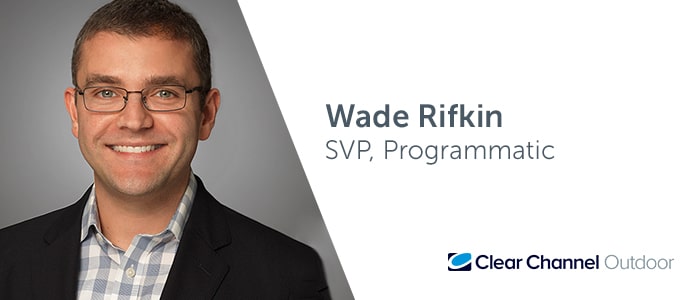 Adelphic's Q&A series shines a spotlight on the biggest challenges, questions, and trends in the programmatic marketplace with commentary from industry experts, clients, and partners.
Today's Q&A is with Wade Rifkin, SVP of Programmatic at Clear Channel Outdoor. Founded in 1901, Clear Channel Outdoor (CCO) is one of the world's largest outdoor advertising companies, with more than 675,000 displays in more than 40 countries.
As SVP of Programmatic, Rifkin is responsible for leading the strategy and execution of Clear Channel's programmatic OOH strategy.
Q: How does location data help brands with their OOH advertising – both targeting and measurement?
Our media locations have been used historically and successfully to target key markets, neighborhoods or zip codes of interest to advertisers. However, one of the most compelling things to happen to OOH in the recent past was the advent & proliferation of mobile data. Through, Clear Channel Outdoor RADAR, our attribution solution, we've been able to leverage anonymized mobile data to understand how consumers move throughout the world, including past our displays. With that, we understand the types of consumers we reach for more sophisticated behavioral targeting, and we can also measure what consumers do after exposure to our boards through post-exposure attribution. This is all powered by persistent location data & device IDs, and deployed in an anonymous, consumer-friendly and privacy-compliant fashion.
CCO RADAR is something we've been offering through our direct channel for two years, and as of last year, we began offering it through our programmatic private marketplace offering as well.  That allows our clients to tap into our powerful targeting and attribution toolkit, holistically, across both direct and programmatic transaction with us.
Q: What are the biggest measurement challenges for marketers and how is Clear Channel Outdoor helping to solve them?
One of the main challenges we're given by brands is proving ROI for OOH. That was a key driver for the development of the attribution component of CCO RADAR, and it's gotten a lot of positive feedback from brands, reinforcing what we've intuitively known for some time – that OOH works. From a metrics standpoint, we've evolved and diversified what can be measured, and we're now able to showcase lifts in store visits, brand metrics, and tune-in, with more capabilities to follow this year.
Q: Are there different advertisers or verticals for traditional OOH buying versus programmatic OOH?
Much like our direct sales channel, we're seeing a broad range of verticals that are finding value in programmatic buying.  Some of the first brands that dipped their toes in the water programmatically are those with physical locations: dining, retail and auto.  This is due to the ability to target against those locations (both behaviorally and through physical proximity), but also because CCO RADAR allows us to measure the lift in visitation to their stores to demonstrate ROI.
However, now that we're over a year in, we've seen plenty of other verticals enter the mix. To name a couple: entertainment has become an important category, with the flexibility of our programmatic solution allowing advertisers to heavy-up around show premieres to drive tune-in. Enterprise services are also picking up for us, tapping into our airport footprint to reach the affluent business and frequent leisure traveler audiences.
Q: What new and emerging types of formats and screens are going to be part of programmatic DOOH inventory?
We started off with just our roadside inventory, offering a sub-set of our digital billboard units. Shortly after we started piloting, we got feedback from buyers on new inventory to include, and we've since scaled up to include the lion's share of our roadside units (both digital billboards and bus shelters). Ninety percent of our roadside digital units are now programmatically-enabled.
We've also rolled in our airport screen footprint, and have ramped that significantly – we now offer 40 airports with video-capable screens across a variety of concourse and baggage claim in some of the largest airports in the US. Last month, we also lit up a network of private aviation lounges, which reach c-suite, high net worth & highly influential fliers, which is an exciting touch-point for a very hard to reach audience.
Q: Where do you see OOH measurement three years from now?
I think we'll see more integration into cross-channel measurement than ever before. OOH has existed in somewhat of a silo because it was historically very different to buy than other channels, and measurement presented a very real challenge. Now that digitization has settled in to OOH, connecting it to the broader advertising software ecosystem, and mobile has unlocked measurement for the channel, we're in a much different place. Over the next few years, I expect that marketers will endeavor to evaluate OOH to gain a better understanding of the effects it has on both driving upper funnel metrics and playing an 'assist' role in feeding the rest of the funnel.
Q: Anything exciting on the horizon for Clear Channel Outdoor and Adelphic?
With critical technical integration work & testing behind us, Clear Channel Outdoor and Adelphic are poised to ramp up meaningfully in 2018. We're activating with and fielding strong interest from blue chip clients who recognize that they can now buy digital OOH like display: in a real-time, biddable, data-driven fashion, via enterprise-level cross-channel platforms like Adelphic. Suffice it say, we're excited about continuing to grow our partnership this year!
If you would like to learn more about OOH advertising, view our whitepaper, an Introduction to Digital Out-Of-Home.
STAY IN THE LOOP WITH OUR NEWSLETTER
Sign up to get Viant news and announcements delivered straight to your inbox.
Sign up to get Viant news and announcements delivered straight to your inbox.