Focused on OOH? Here's What to Look for in a DSP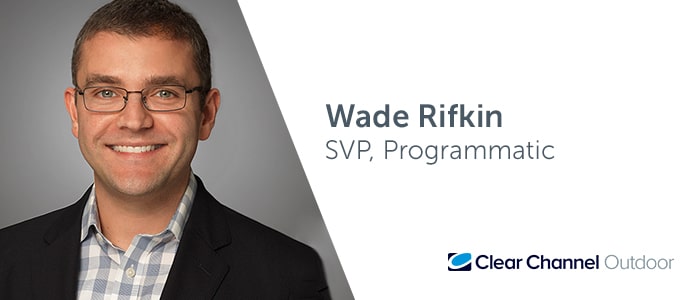 According to AdExchanger, out-of-home (OOH) advertising spend is projected to grow almost 12% by 2020 – but to many, buying OOH programmatically remains a novel concept.
As with any new technology, programmatic OOH comes with its own unique set of challenges and benefits. So, if OOH is a priority, what, exactly, should you be looking for in a DSP?
To answer that question, we spoke to Wade Rifkin, SVP of Programmatic at Clear Channel Outdoor, one of the world's largest outdoor advertising companies that has more than 675,000 displays in more than 40 countries.
Q: OOH is rather new to the programmatic sphere, how important is it for brands to understand the differences between traditional OOH buying and programmatic OOH buying?
It's critically important, much in the same way that brands needed to recognize that programmatic in display/mobile wasn't just about cheap, biddable CPMs – it's about affording more buying control and flexibility, with greater optimization potential relative to a direct buy. For a channel to truly go programmatic, the paradigm must change, and that has happened here in DOOH.
So, the key questions to ask are: 1. How can these new capabilities let me buy the same DOOH formats I'm used to, but in a complementary way to the contracted, guaranteed buys I'm doing? 2. What can I do with this medium that was previously very difficult or not even possible?
That's what's exciting, unlocking new possibilities from one of the oldest media channels in existence. We're working with buy-side partners to come up with new use cases on a consistent basis.
Q: What are some of the biggest challenges in choosing a DSP when you're prioritizing OOH?
The reality of adjusting a DSP's 1:1 set up for targeting, reporting and even counting impressions is that there's real technical work that's required to accommodate a one-to-many channel like OOH. While some DSPs, like Adelphic, have invested the time and effort to champion that development, not all DSPs have. So, when you're interested in adding DOOH into your cross-channel programmatic media mix, it's important to vet the quality of the integration work the DSP has done to ensure they're offering the end user features that'll let them effectively transact DOOH.
Q: What, specifically, should you look for in a DSP when focusing on OOH?
When we advise buyers on which DSP to choose, some of the points we advise them to consider are:
1. One-to-many impression counts and reporting: Can the DSP process some of the data points that SSPs pass that are specific to impressions in the OOH space? Can they use them for dynamic bidding, as well as for reporting in their UI?
2. Targeting: Can your DSP decision the media and creative against things like daypart, day of week and geo data points that come through in the bid request?
3. Connectivity to mobile: Can the DSP geofence OOH boards and retarget devices with mobile display or other channels? Can the DSP layer on mobile data-driven attribution for store visitation or other metrics?
Q: How key are targeting and measurement capabilities?
Targeting and measurement are both critical. Programmatic buyers expect a variety of targeting mechanisms, as well as accountability and ROI. We've taken this to heart, through the development of our CCO RADAR suite of solutions, which offers up proprietary targeting, retargeting and attribution against multiple KPIs (foot traffic, tune-in lift, brand surveys and more), powered by high fidelity, privacy-compliant mobile data. This is available today, and supplemental to any of the capabilities our DSP partners offer for targeting and attribution. The latter piece, DSP productization around the use of data for DOOH, is one of the most exciting things to come on the horizon for our channel.
Q: What has made your integration with Adelphic work so well for you?
Adelphic's done the necessary integration work to accommodate a one-to-many medium in a sophisticated way. Adelphic can ingest and decision off of the unique data fields and open RTB extensions for DOOH, along with offering geo-targeting and geo-reporting that's necessary based on the location-centric nature of the medium. The development work has paid off, as we're seeing seamless and effective transaction happening on campaigns that buyers activate with us through Adelphic. I'm excited about what's to come as we continue to evolve to better serve advertisers in this traditional-gone-emerging programmatic channel on the world's largest screens.
If you're interested in learning more about DOOH, view our guide on Intro to DOOH.
STAY IN THE LOOP WITH OUR NEWSLETTER
Sign up to get Viant news and announcements delivered straight to your inbox.
Sign up to get Viant news and announcements delivered straight to your inbox.