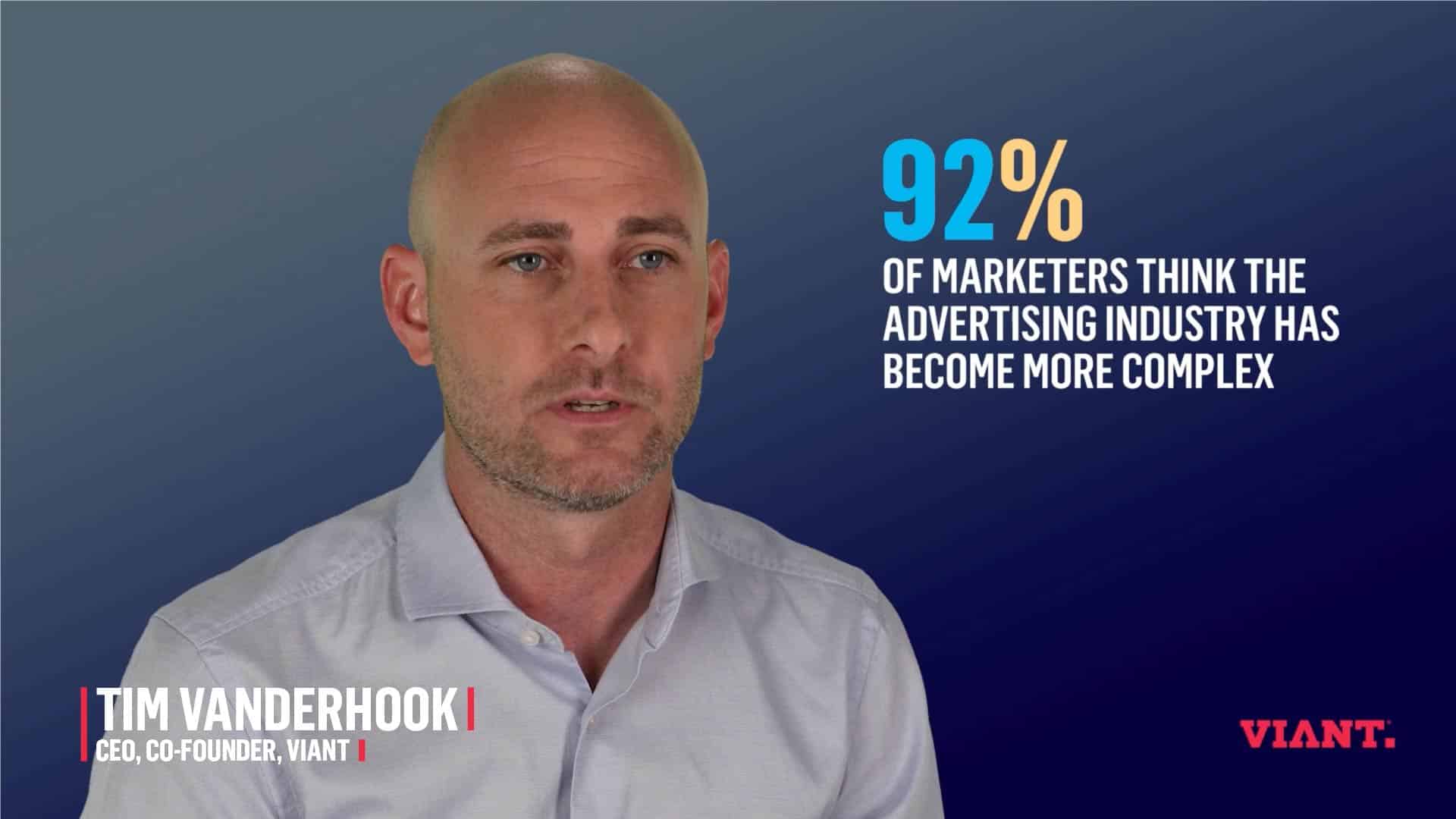 Optimizing Programmatic Technology for the Future of Digital Advertising
The advent of programmatic technology removed many of the repetitive tasks associated with digital advertising and freed up time for marketers to enjoy less mundane, more fulfilling work.
But the programmatic universe is growing more complex by the day, according to Viant's CEO and Co-founder Tim Vanderhook, and current programmatic technology has reached a plateau.
"There are millions of websites and apps and a ton of streaming channels. Now multiply all those combinations with hundreds of thousands of different audience segments," explains Vanderhook. "You quickly get to an ecosystem that is too much for any human, even if they had all the time in the world."
That's why Viant is building an autonomous advertising solution to fix this problem — and optimize digital advertising as we know it.
"This is the dawn of a new era in programmatic," shares Vanderhook. "And it will dramatically simplify buying, slash the time commitment and improve results — all at the same time."
AUTONOMOUS ADVERTISING IN ACTION
Like other autonomous-driven inventions, autonomous advertising will be simple to use — just enter your budget and expected ad spend, then press the proverbial 'start' button.
From there, says Vanderhook, the system takes care of the rest.
Vanderhook also assures marketers that there is no reason to think autonomous advertising will put jobs at risk. Far from it. Instead, autonomous advertising will do what it is designed to do — remove busy work and free up time to devise the next great marketing campaign.
"That's what marketers are best at," highlights Vanderhook. "Let the software take care of the mundane bits."
That's not the only improvement.
"Autonomous advertising will also introduce marketers to audiences they hadn't considered, augmenting the best media planning instincts with artificial intelligence to find new areas of opportunity that cost-effectively grow your target audience," explains Vanderhook. "Kind of like recommendations from your streaming TV service."
To build its autonomous advertising engine, Viant is combining the power of machine learning to reduce or remove repetitive tasks with artificial intelligence's predictive intelligence capability. Even though the final product is still in development, Vanderhook points out that many of the foundations of autonomous advertising exist today in the Viant platform.
"Traders can already rely on our Adelphic DSP to automatically deliver ads with a high potential for return on ad spend. Machine learning is addressing fraud and viewability as well," shares Vanderhook.
"Once it's mature, autonomous advertising will be like having a powerful AI analyst at your side, uncovering patterns, surfacing trends and helping you make decisions faster."
THE HUMAN TOUCH TO AUTONOMOUS ADVERTISING
To truly optimize digital advertising, marketers need a partner ready to seize the future of autonomous technology. That's why Viant is designing the autonomous advertising solution to fit within its people-based advertising model.
"The people-based spine is critical to the more decentralized, fragmented future of the web and media consumption," explains Vandherook. "People-based data sets are highly accurate, persistent and enable our DSP to measure in-store sales — not just e-commerce transactions."
Matched with Viant's people-based approach, autonomous advertising will streamline reaching consumers in the fast-approaching post-cookie world of the New Open Web. In the New Open Web, what some people call Web 3.0, marketers need a tool to seamlessly connect with consumers across their devices and measure the impact of their campaigns — without the third-party cookie.
"And that's exactly what autonomous advertising will deliver," concludes Vanderhook. "By putting this better tool in the hands of media planners, we can make it easy to buy an ad — anywhere — and measure its impact, letting advertisers reach new heights of creativity underpinned by newfound speed and agility."
Learn more about Autonomous Advertising in the video above.
Learn More About Viant & The New Open Web
"*" indicates required fields
Note: By filling out this form, you agree to the Viant Privacy Policy and to join Viant's mailing list from which you can unsubscribe at any time.
STAY IN THE LOOP WITH OUR NEWSLETTER
Sign up to get Viant news and announcements delivered straight to your inbox.
Sign up to get Viant news and announcements delivered straight to your inbox.