The Impact of Streaming Service Market Fragmentation on Advertisers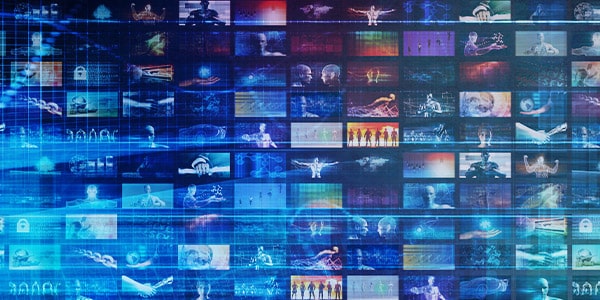 You've probably noticed that streaming services are having a moment. Since the end of 2019, seven new streaming services have launched — HBO Max, Peacock, Discovery+, AMC+, Binge, Allblk and WeTV+ — and several more are planned for the future.
For marketers, this is largely good news. As studies show, most purchasing decisions happen at the household level, and connected TV (CTV) advertising is one of the best ways to engage members of a household with meaningful messaging. As CTV continues to grow in popularity, access to more inventory from more streaming providers means more opportunities to reach the right households. However, streaming proliferation is also creating new challenges.
Read on for a breakdown of the impact of streaming service fragmentation on viewers, marketers and brands.
How does the proliferation of streaming services impact marketers?
Simply put: Streaming content is exploding.
As ComprarAcciones details, streaming content currently holds a 68% share of TV viewing, while linear TV comes in at just 28%. According to Leichtman Research Group, 49% of households have at least three streaming services, and 40% of people ages 18-44 view content on a streaming service every day. In addition, eMarketer reports that CTV has had an 83% household penetration this year.
(For our purposes here, we'll talk about streaming content and CTV content interchangeably – but for a more thorough breakdown of the differences between CTV and over-the-top streaming content, read our in-depth explainer.)
The data above underscores the need for marketers to not only comprehend the different services and the options they provide, but to also know their audience and adjust their messaging based on who they're trying to reach.
Social media is a good parallel to streaming services. At first, most companies were only on one or two platforms. They may have had a Facebook page or Twitter account and shared the same content across both channels. Today, though, marketers must have approaches that allow them to reach audiences across multiple platforms and speak to those audiences appropriately.
As with social media, marketers don't have to be on every streaming service, and in the case of services that aren't supported with ads, sometimes we don't even have the choice. Understanding your audience and your objectives can help you better align on the platforms that will deliver the best results. With a people-based platform like Adelphic, you can understand the differences between Hulu viewers and viewers of other services, for example, to ensure you're reaching the right audiences whether you're running ads on CTV, mobile, digital audio or anywhere else.
What challenges do the "streaming wars" present to marketers?
All these new services are leading to streaming service fragmentation. A decade ago, you could have run ads on one platform and gotten in front of a wide audience. Today, with more options, it's harder to reach as many households because of the variable usage of each platform. This underscores the importance of working with a demand-side platform (DSP) like Adelphic, which can help you ensure you're reaching the right audiences no matter where they are.
On top of that, some streaming services eliminate advertisements in exchange for a monthly fee. As a result, many consumers have cut their cable entirely, eliminating a key tool for marketers who have relied on linear television. Cutting the cord, however, may simply be a gateway to adding more streaming services – a big part of why connected TV ad spend continues to grow.
Adding to the streaming service fragmentation, many services offer snippets of their content on social media or the open web. For example, Netflix includes clips from comedy specials on YouTube as part of its Netflix Is A Joke series. This highlights the importance of understanding who your audience is, and how to reach them, on CTV or wherever they're consuming content.
How can marketers benefit from consumers' increasing appetites for streaming content?
Consumers have largely underestimated how much they spend on monthly subscriptions to streaming services. As of early 2021, Americans are spending $47 each month on streaming services – an increase from the $38 they were spending monthly at the start of the year.
That type of spending can become a financial burden, which is why ad-supported streaming content is such an appealing concept — and plenty of services have already adopted it. On Hulu, for example, viewers can pay a lower cost for access to shows with ads. WarnerMedia plans to do the same with HBO Max.
Streaming ad inventory allows marketers to be more targeted with their advertising while replicating the compelling experience of traditional TV ads. Instead of a block of ads with little or no relevance to a specific audience, viewers experience fewer ads that are better aligned with their interests, thanks to the digital nature of all CTV advertising. Because the ads are less frequent and more relevant, a consumer is more likely to engage with the ones they do see.
Streaming service fragmentation also means the content on these platforms is improving. Streaming services know they're competing for eyeballs, so they're delivering thoughtful, well-produced shows, movies and other video content.
That provides a nice opportunity for advertisers. Viewers are more locked into this quality content. Streaming ads avoid some of the pitfalls of linear TV, like consumers changing the channel or fast-forwarding through ads on content they have DVR'd.
How does working with a DSP like Adelphic help marketers in this fragmented streaming world?
Studies show that most purchasing decisions are made at the household level, which has helped further position CTV as a critical component of today's media plans – after all, CTV viewing is often a shared activity between members of a home. And as a people-based DSP, Adelphic enables marketers to translate all key aspects of targeting and executing CTV ads to real individuals within the household, as well as measuring campaign results.
In addition to offering access to quality CTV inventory, Adelphic's real-time retargeting capabilities help marketers message viewers and deliver a call to action on a companion device, grab attention from consumers that have seen competitors' ads and learn more about a viewer's journey from streaming to online or in-store purchases.
Don't guess where your audience might be amid streaming service fragmentation. Learn how Adelphic can help you battle the streaming wars head-on to reach the members of target households with confidence.
STAY IN THE LOOP WITH OUR NEWSLETTER
Sign up to get Viant news and announcements delivered straight to your inbox.
Sign up to get Viant news and announcements delivered straight to your inbox.