The 4 Truths About CTV and Ad Fraud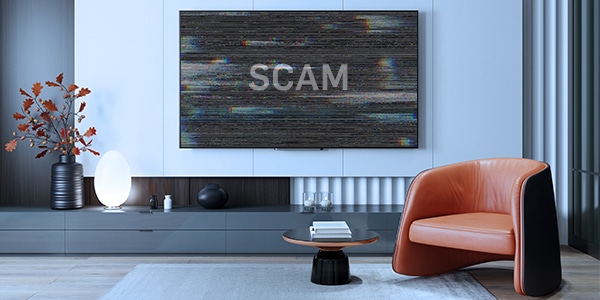 In this article:
How big of a concern is ad fraud, really?
Is CTV at greater risk of ad fraud compared to other channels?
What should I know about preventing ad fraud for CTV campaigns?
---
The recent headlines have been enough to give any marketer pause:
CTV Fraud Costing Advertisers $20 Million Per Month
Largest CTV Ad Fraud Scheme To Date
Google, Roku and others take down CTV ad fraud botnets
In fact, it's quite reasonable to have lots of questions about fraud and the fast-growing CTV space. How risky is it? Will my current fraud protection tools protect me? Is this going to be as hard to stamp out as it is in the rest of the digital space?
Our hope here is to provide some "real talk" about CTV and fraud – while helping to better equip brand managers as they look to take advantage of one of the most exciting and promising ad vehicles the industry has seen in quite some time.
Here's what you need to know:
1. Yes, ad fraud in CTV is a legitimate concern. But it's far from rampant, and can be managed
Let's start with some perspective. Take the recently uncovered scheme that is estimated to be costing brands $20 million per month. According to eMarketer, CTV ad spending is set to approach $4 billion this year. Per BMO Capital, CTV ad spending will explode over the next few years, reaching $100 billion by 2030.
In this particular case, $20 million per month is based on average industry price estimates, which are likely to be on the high side. Regardless, while losing millions is not something any brand wants to be part of, collectively this figure does not represent anything close to a substantial portion of the market.
That's not to say that fraud shouldn't be taken seriously; wherever there is big money to be made, bad guys usually show up. It's just that brands can take measures to protect their investments without missing out. That starts with understanding the unique dynamics of the medium.
2. The way ads are delivered in CTV is fundamentally different from ads on the web, making it potentially more vulnerable to fraudsters
It's important to understand that when brands buy ads that run on desktop and mobile devices – generally speaking – they have visibility at the browser level. Meaning, advertisers and verification providers can "see" where ads run given greater interoperability with a user's browser.
This tracking occurs when the user's browser (client) allows data to be exchanged at the time of an ad rendering. Ad ops people refer to this as "client-side tracking."
In CTV — again, generally speaking – there is no traditional browser, and in many instances much of the ad transaction happens on a server to make way for a seamless user experience. Thus, what fraud protection tools have access to is fundamentally different. (We call this "server-side tracking").
In other words, unlike client-side buying, ads are pre-stitched with content prior to delivering to the user's TV screen, allowing for a high-quality bufferless experience. This means that potential fraud happens behind the scenes, which requires a different level of detection and different timing.
3. Not every fraud protection company is built for CTV
In fact, not surprisingly, many leading fraud protection vendors were built for the display or desktop video market – and their tools were designed to detect fraud in a browser-based environment.
That doesn't mean they can't adapt to CTV, it's just that marketers need to ask some tough questions about just how they've made the shift. For example, marketers should expect that an anti-fraud partner can explain how they validate what data is passed in a CTV bid request and what percent of the CTV market they can substantiate.
Plus, even more importantly, these ad fraud protection firms need to be able to articulate how they measure what ads were actually delivered, the validated devices they were delivered to and the state of the device in question (active/background/powered off), and connect that information to what was provided in each bid request. How do these companies know the source of ad inventory, for example?
The how and why of CTV ad verification is everything, and the answers brands get back (or don't) could end up saving them millions of dollars.
4. Brands need to proactively optimize their supply chains
If the maturation of the programmatic market has taught brands anything, it's that it is crucial to have a full accounting of just who you are actually doing business with throughout a given ad transaction, and it's quite possible that too many companies are involved.
Indeed, as digital advertisers overall seek to reign their supply paths after years of perhaps being too open, CTV advertisers can enforce a more rigorous approach from the start. That also may require asking partners tough questions, and demanding reports on where their inventory comes from, and how their deals are prioritized. Some brands may need to refine their purchasing paths, for example.
Relationships are crucial in this fast-emerging sector, particularly if your ultimate goal is to gauge where your money is going, ensure all partners are adding value and making sure it's spent most efficiently and effectively.
This need for caution doesn't necessarily mean that brands should not cast a wide net. In fact, we've found that given the current stage of CTV advertising, it makes sense for brands to work with a range of partners and then narrow things down as they proceed. The key is to take the approach that each partner in a campaign is adding tangible value.
At a base level, it's important for brands to demand transparency, but also gain a clear understanding from their platform of the appropriate context, as buyers have different philosophies and goals.
The takeaway? CTV is well worth taking a measured leap
Of course, just as spam still persists in email marketing, and the open web is still vulnerable to scam artists, it's not realistic that the CTV ad industry will ever completely rid itself of fraud. Technology will continue to change on both the consumer and programmatic sides of the equation – and fraudsters will keep innovating as well.
But if marketers are able to take these guidelines into account, they'll become more educated and more about the space. At that point, they should be able to take full advantage of the medium's many strengths.
Fraud, of course, isn't the only important facet of CTV to understand these days. To learn more about what marketing executives must understand about the channel in order to put it to work, read 5 Things CMOs Need to Know About CTV – which will help you understand everything from who the key players are today to how this medium is being measured, whether you're a CMO or looking to get a CMO's buy-in.
STAY IN THE LOOP WITH OUR NEWSLETTER
Sign up to get Viant news and announcements delivered straight to your inbox.
Sign up to get Viant news and announcements delivered straight to your inbox.