Success Story: How Viant's Extensive Household Reach Helped a Pizza Chain Drive CTV Viewers to Order Online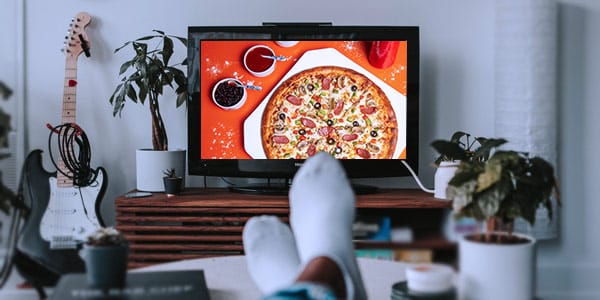 As the COVID-19 pandemic led Americans to spend more time at home – and less time dining out at restaurants – one of the largest pizza chains in the U.S. ran a Connected TV campaign through Adelphic encouraging consumers to order from them online.
The pizza chain was able to use its own CRM audiences to target consumers across the country who had Smart TVs in their homes. But on top of that, they were in search of a solution that would be able to help them understand whether their CTV ads were actually leading viewers to place orders on their laptops, tablets or phones. Most cookie-based demand-side platforms can't report on such cross-channel actions, which is a big reason why the pizza chain elected to work with Adelphic in the first place.
How They Did It
The pizza chain utilized Adelphic, and its Viant Household ID technology, to purchase CTV inventory, enabling them to see precisely how many households they reached and how many times those households were shown an ad. Through Adelphic's advanced measurement tools, the pizza chain was also able to tie back other exposed devices within the households that placed an order for pizza.
Present in nearly 80% of bid opportunities today, the Viant Household ID has more proven scale in reaching cookieless devices like CTV than any of the identifiers currently available.
In this instance, the pizza chain was able to show an increase of return on ad spend (ROAS) by over 16x for their CTV campaign, something cookie-based DSPs cannot do.
"We are seeing that marketers are experiencing greater results in campaign performance when utilizing our scaled Household ID versus relying on cookies or other upstart identifiers," said Chris Vanderhook, Viant's co-founder and COO.
How Any Brand Can Prove CTV is Driving Sales
As a people-based DSP, Adelphic allows marketers to understand actions taken on another household device after a CTV ad exposure. This means brands of any kind can show true ROI and prove without a doubt the effectiveness of their CTV spending.
Recently, Adelphic instituted an update to the software called World Without Cookies. In addition to improving campaign performance, this release means marketers can ensure business continuity and avoid interruption when cookies are officially phased out. (To learn more about the technology that fuels the World Without Cookies feature, visit Viant's World Without Cookies interactive dashboard.)
Adelphic's CTV solution breakdown can help you learn more about whether CTV advertising is a fit for your needs or set you up with an expert to discuss.
STAY IN THE LOOP WITH OUR NEWSLETTER
Sign up to get Viant news and announcements delivered straight to your inbox.
Sign up to get Viant news and announcements delivered straight to your inbox.