IAS's Mike Kim on the Art and Science of Finding the Best Inventory for Your Campaign in 2018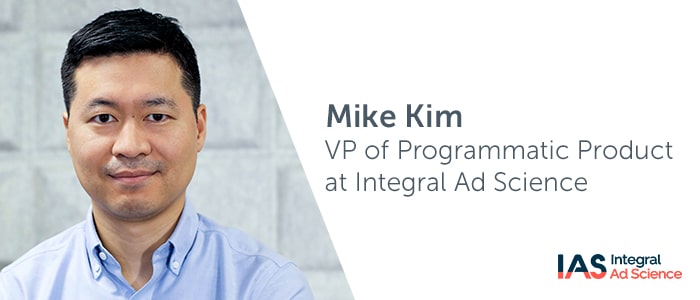 Adelphic's new Q&A series will shine a spotlight on the biggest challenges, questions, and trends in the programmatic marketplace with commentary from industry experts, clients, and partners.
Today's Q&A is with Mike Kim, VP of Programmatic Product at Integral Ad Science (IAS). Founded in 2009, IAS is a global measurement and analytics company that provides leading verification and analytics solutions for digital advertisers.
As VP of Programmatic Product, Kim oversees the product strategy and initiatives for IAS' programmatic technology.
Q: What should be top of mind for marketers in 2018 as they plan their brand safety strategy?
Brand marketers need to keep one eye on the news cycle and continually update their custom brand safety parameters accordingly. Too often we see set-it-and-forget-it strategies, but the savviest marketers are staying engaged by changing their targeting parameters in response to breaking news and consistently updating their blacklists and whitelists to prevent being associated with unsafe content.
Along with customizing brand safety settings, marketers need to develop a holistic strategy that incorporates and synchronizes campaigns running in programmatic, direct, and walled garden environments to ensure that their ads are not being associated with controversial websites and content.
Q: How has the rise of in-app mobile changed IAS's product roadmap from a programmatic perspective?
Our goal is to help our partners transact with confidence wherever they're buying media, and that includes mobile app environments. We currently offer mobile in-app brand safety protection, and we're looking forward to rolling out viewability targeting and in-app ad fraud prevention by the end of January. We believe that it's essential for brands to be able to target and report on all the types of media that they buy, and to enhance their strategy with data-driven targeting regardless of environment.
Q: What will be the next big trend for programmatic video?
The next big trend for video is going to be the growing focus on OTT. Advertisers' have increased their spending in this area year-over-year. It's still in the early stages of development compared to other areas of programmatic video, but we're confident that it's poised to continue growing exponentially as marketers look for more media that's fully addressable. It's also a space where the duopoly isn't fully dominant, so while we don't expect this space to explode overnight, it's definitely a sector that we see gathering steam.
Q: Should marketers be alarmed by all of the recently publicized fraud reports in publications like AdExchanger?
Ad fraud should always be taken seriously because ultimately marketers need to protect their investments. That said, if you're working with a quality tech partner there's no reason to panic. Instead, educate yourself on ad fraud as a whole and understand how it could impact your ad campaigns.
In terms of recent industry fraud claims, marketers should do two things: evaluate if the claim is true, and quantify the size of the problem. In many cases, these bots are statistically insignificant. In other cases, "new" types of fraud are in fact not new at all. Our wrapper based fraud prevention solution and bot ID solution both protect against the type of ad fraud mentioned in the AdExchanger article.
Ultimately, no ad fraud solution is perfect since fraud tactics are constantly evolving, but you can make sure you're covered by working with tech platforms and partners who are leveraging both predictive and real-time solutions that enable the targeting of fraud-free inventory. For more information on Fraud, check out our Fraud Lab's holistic approach to combating fraud.
Q: How have viewability standards and expectations evolved over the last year?
Industry standards for viewability definitely got tougher in 2017. Previously, most marketers were happy to rely on the MRC standard, but increasingly we've seen traders targeting high-viewability inventory, in both display and video, that exceeds those standards. At IAS we're tackling this by releasing new viewability segments aligned with holding company viewability standards. DSPs will start to expose these segments to clients in 2018.
Q: Do you expect PMPs to play a larger role in the programmatic exchange?
Yes, PMPs will continue to play a bigger role in programmatic exchanges. There are a few factors that are going to drive that increased adoption, but the most significant is probably the scarcity of specific types of inventory, such as video, which can only be sourced through PMPs.
Brand safety also remains a concern for advertisers and the promise of safer premium inventory offered by PMPs is going to be attractive to marketers. That being said, it's possible that the widespread adoption of ads.txt may slow growth in PMPs somewhat by ensuring that publisher inventory is accurately represented on the open exchange.
Q: Anything exciting on the horizon?
We're really excited about our pre-bid mobile in-app targeting segments. Consumers continue to shift their attention to mobile, and advertising dollars will continue to follow. We want marketers to be confident that their brand stories will be met with brand safe, fraud-free, and viewable impressions. For marketers, the ability to confidently buy and report on mobile in-app inventory programmatically is going to be critical for minimizing waste, achieving scale in mobile environments, and aligning their brand with the most desirable content.
STAY IN THE LOOP WITH OUR NEWSLETTER
Sign up to get Viant news and announcements delivered straight to your inbox.
Sign up to get Viant news and announcements delivered straight to your inbox.