Helping Consumers Buy Well: A Q&A with Aaron Brooks of Compass Marketing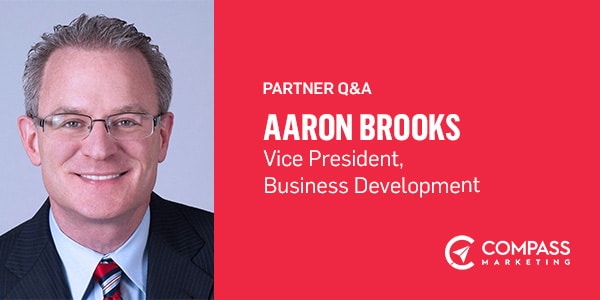 People don't want to feel like targets. That's been the case since the advent of digital advertising, but it's even more pronounced as technologies grow and change – and as our lives and circumstances do too. But how can marketers use that knowledge when building relationships with consumers?
To find out, we spoke to Aaron Brooks, author of Sincerity: The Recipe for Living Your Best Personal and Professional Life and vice president of business development at Compass Marketing.
A forward thinker with a less traditional marketing background, Brooks breaks down why 2022 is the year brands should be focusing on how they can help consumers buy well.
If 2020 was the year of staying home, and 2021 was the year of getting back to normal, what do you predict 2022 might be about?
If you had asked me that question a couple months ago, I would have said it's a continuation of getting back to normal as much as possible. But things have changed, and we now need to learn to work within where we are. We're being bounced around like ping pong balls in our personal lives – and I think that gives brands even more of a responsibility to create the right customer experience for those that they would like to buy their products.
People are already dealing with enough in their lives. Marketers should be thinking about how we can provide consumers a more seamless and feel-good experience, to truly be helping them and not make them feel like we just want to sell them more stuff. I think this may be the year of understanding your "why" (which will sound familiar to those who know Simon Sinek's work) – and your why can't be the outcome you're looking for, it can't be "I want to sell more stuff."
It sounds like you see customer experience becoming prioritized in advertising as we get deeper into 2022.
Absolutely. People don't want to feel like they're targets. They want to feel like they're being helped to buy well. I often say this: People don't like to be sold to. They're happy to buy well, buying well is a feel-good experience.
Imagine we're sitting and we're watching a TV show on a streaming platform, and I happen to be a customer of a certain insurance company. If I get an ad from that company that says, "Buy our insurance!" that's a wasted ad. This is a waste of my time. They have my eyes, so why not advertise something to me that actually matters to me? That's also going to matter to them? If instead that ad said: Refer somebody and you'll get a 10% discount, well, why wouldn't I do that if I had someone to refer? We think a lot about this at Compass Marketing as we work with our clients and help them to reach their consumer at the right time and place to create a more feel-good purchasing experience.
Is this idea of focusing on consumer experience more important for certain verticals or types of marketing?
No, it is important for all types of marketing – whether you're marketing a CPG product, for example, or a service. And to be honest with you, a service is just as important as a product in this situation. It is on us as marketers to provide some type of uncommon value to engage consumers, no matter the brands we're working with.
Beyond customer experience, what other trends do you foresee in 2022?
Data. There's so much rich data that can be mined. Not just digital data – data that extends to the brick-and-mortar world. Those worlds are coming together and converging in ways we never imagined. Mining data is a big part of what we do at Compass Marketing; we help our clients understand what people are really looking for in their category, and how they can effectively advertise to them what they're truly looking for, not what you think they're looking for because you've been in your particular category for 25 years. Let's let the data guide us. Utilizing the data that's out there is more imperative than ever.
What about channels? Do you see any particular channels growing and changing, anything marketers should be investing in or experimenting with?
I think a huge opportunity is to be more effective in some of the things we are already doing.
For instance, one area to which marketers must pay better attention to is mobile commerce, sometimes known as "m-commerce." In 2021 mobile retail sales were over $220 billion, and are expected to go beyond $400 billion by 2024 according to Statista – however many brands are simply not mobile ready. This is an area where we are spending a lot of time helping our clients at Compass Marketing.
CTV is tapped so to speak, but it still has so much opportunity. One other that is near and dear to my heart, but I also think it's viable: digital audio. Honestly, I think digital audio may be a bit untapped at this point.
STAY IN THE LOOP WITH OUR NEWSLETTER
Sign up to get Viant news and announcements delivered straight to your inbox.
Sign up to get Viant news and announcements delivered straight to your inbox.