FreeWheel's Justin Beere on trends in Connected TV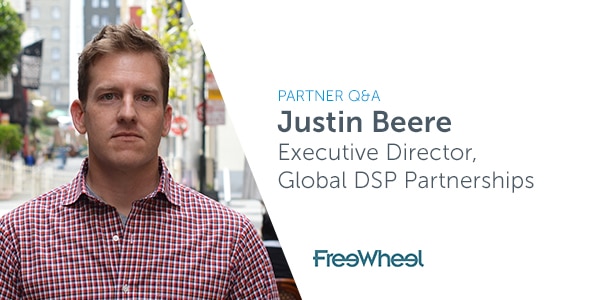 Our Q&A series shines a spotlight on the biggest challenges, questions and trends in the programmatic marketplace with commentary from industry experts, clients and partners.
Today's Q&A is with Justin Beere, Executive Director of Global DSP Partnerships at FreeWheel. FreeWheel, a Comcast company, provides a comprehensive advertising management solution focused on the New TV ecosystem.
As Executive Director of Global DSP Partnerships, Beere focuses on DSP TV partnerships.
Q: CTV (Connected TV) advertising spend has increased significantly over the last year. Do you see this focus as a complement to linear TV buys?
There's a clear opportunity to reach audiences via CTV advertising as consumers mix and match how they access television content. While many people still watch TV in traditional ways – eMarketer states that four of five TV hours watched per day is linear – there's no question that over-the-top (OTT) share is increasing. Interestingly, FreeWheel data indicates that audiences treat CTV just like they do linear TV: watching large amounts of live-streamed content and tuning in during primetime hours. As a result, we're seeing linear buyers adopt CTV as they seek to capture large TV audiences for their campaigns. When working in tandem, we've seen CTV deliver incremental reach on top of net-direct buys, as well as help brands drive frequency amongst light TV viewers. And, as the supply chain for CTV becomes more standardized and consistent, we also see digital buyers gravitating towards the reach, quality and targeting that CTV offers.
Q: The increase in spend is largely due to dramatically increasing audiences. Are there any trends in, or observations about, CTV audiences that advertisers would want to know?
When I started at FreeWheel four years ago, CTV accounted for 3% of the ad inventory flowing through our system – the lowest share of any inventory type. CTV now has the highest share of ad inventory at 34%, and it's growing at a rate of 20% year over year. We refer to this, along with the advent of STB VOD inventory, as "The New Living Room."
When it comes to reaching consumers in "The New Living Room," advertisers want to know if they are delivering ads to a new audience, and data from FreeWheel's OTT Signature Insights report indicates the answer is yes. The median CTV viewer is 23 years younger than the traditional TV viewer, and they have a median annual household income that's $10,000 higher. The other thing to note with respect to CTV is the level of engagement. According to our Q1'18 VMR, 97% of CTV content consumed is either live-streamed or full-episode (FEP) inventory, which means viewers are opting in and leaning in to the experience.
Q: There isn't necessarily a consensus on how best to evaluate the efficacy of CTV ads. What do you think are the most meaningful KPIs?
Generally speaking, there are a couple of performance metrics associated with CTV that are quite compelling. As an ad server, FreeWheel measures completion rates for every ad impression we serve across every type of device. The completion rate on CTV inventory is 98%, meaning almost every single ad we serve is viewed to completion, which is an important KPI to brand marketers. Another stat I love that doesn't get talked about enough is co-viewing. It's largely understood that desktop, tablet and mobile ads are only seen by one user at a time, but the average viewership of a CTV impression is higher. According to Nielsen, 34% of CTV impressions are viewed by two or more people, which means there's a much greater likelihood that multiple people are exposed to your ad when it runs on CTV.
Q: The ads.txt initiative has helped buyers ensure they're purchasing authorized digital ads. Do you see this program extending to CTV, or do you envision a similar initiative being established specifically for CTV?
Yes, in the long run we believe some form of supply-chain verification will make its way to every inventory type as more media is transacted programmatically. At the moment there's not a tremendous sense of urgency for such an initiative because CTV is a less open environment, and I mean that in a couple of ways. First, because premium CTV inventory is in high demand, there's very little volume being made available via the open exchange. That means buyers are taking the extra step of seeking out private marketplace access to inventory from known suppliers. Second, the ecosystem is far smaller and more tightly controlled. The web has billions of display ads on hundreds of millions of websites, with thousands of advertising software intermediaries to service all of it. In contrast, the entire AppleTV app ecosystem is ~15,000 apps, all of which had to be approved by Apple itself before being made available to consumers.
Q: With competition increasing in the CTV space, what is the most ideal way to create a unique value proposition as a premium video platform for publishers?
We think it's important to keep it simple and think about the ultimate goal: driving results for marketers. This means providing access to high-quality CTV inventory, at scale, with targeting and measurement capabilities that satisfy the needs of the brand.
STAY IN THE LOOP WITH OUR NEWSLETTER
Sign up to get Viant news and announcements delivered straight to your inbox.
Sign up to get Viant news and announcements delivered straight to your inbox.