Why it's Time to Unify Linear TV and CTV Buying: A Q&A with Beachfront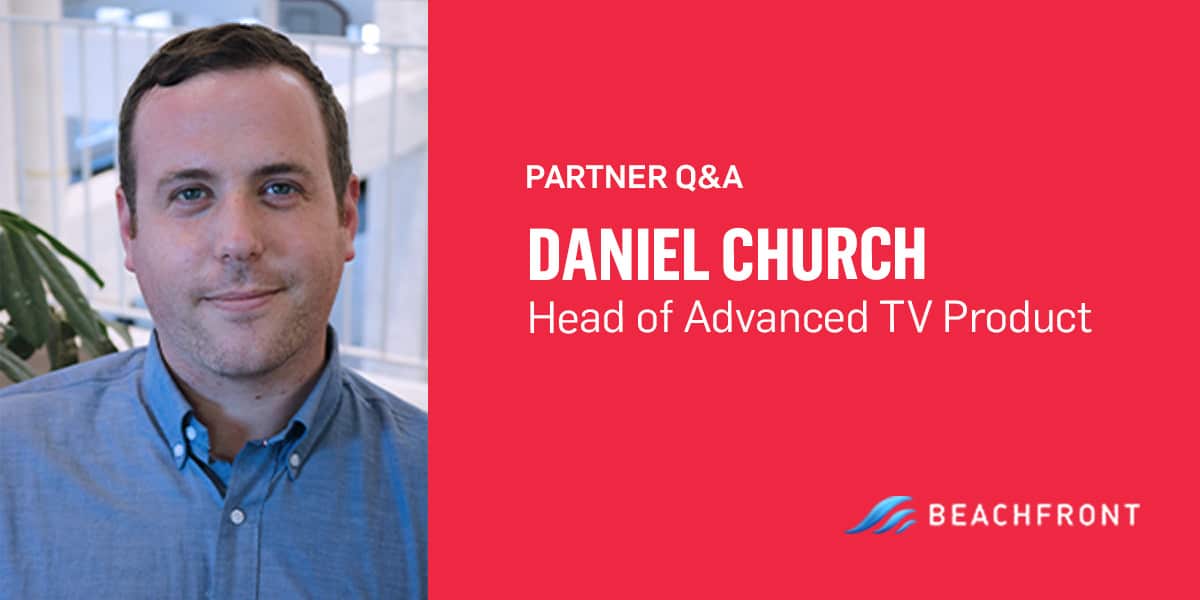 By Daniel Church
Head of Advanced TV Product, Beachfront
As Daniel Church, Beachfront's head of advanced TV product notes, it's far from a secret that TV viewing has picked up over the last 18 months. This growth has many upsides, but also means it's become more of a challenge for brands to plan, buy and measure the effectiveness of TV ads – across both linear TV and connected TV (CTV).
To break down how Viant's partnership with Beachfront can help marketers get the most out of their TV ad buying, we asked Church about the growth of linear and CTV viewing, why now is the time for marketers to unify their linear and CTV ad buying and what the year ahead promises for the industry.
1. The broad adoption of linear TV and CTV ad buying is evolving at a rapid pace. Can you tell us about the increased need for unified linear and CTV ad buying?
It all starts with the consumer. It's no secret that connected TV viewership has grown considerably over the past 18 months, and a lot of those new habits will likely remain unchanged in the years ahead. Cable and broadcast TV, however, are still garnering the lion's share of consumer attention and ad spend. Even with cord cutting, the number of pay TV households in the U.S. will remain north of 60 million through 2025.
These viewership habits — those that are shifting and those that remain steadfast — create a lot of fragmentation and complexity for media buyers. It's become more challenging to plan, buy and measure TV advertising, which is why unification is such a critical need today.
By bringing linear and connected TV together, we're making it much easier for media buyers to plan and execute TV ad campaigns and understand delivery on the back end. In addition to efficiency gains, this unification unlocks strategic advertising applications. For example, advertisers running a linear TV campaign could reverse target (or exclude) exposed audiences from their connected TV buys, to ensure unique audiences are reached across each environment.
2. Given these trends, what kind of brands should be jumping into TV advertising – either linear or CTV or both?
It's a great time for brands of all sizes to jump into both CTV and linear TV advertising, whether it be established category leaders or DTC disruptors. The rise of connected TV has really paved the way for more brands to access TV inventory, and deliver ads on the biggest screen in the home. As an example, from Q3 2020 to Q3 2021, our marketplace saw a 100% YoY increase in the number of advertisers bidding on CTV and VOD avails.
Specific to linear TV, we've spent the past few years at Beachfront integrating real-time buying technology into cable and broadcast environments. These efforts have had a similar effect in democratizing access to TV supply, as more brands can now buy into these traditional ecosystems in an efficient and precise manner.
Overall, the time is right for national, regional, and local advertisers to start running TV ads (if they aren't already), and there are new, faster ways in which media buyers can manage and execute their campaigns.
3. We recently announced the integration of Beachfront's premium linear and CTV inventory into Viant's Adelphic advertising software, with Adelphic becoming the first DSP to fully support this linear supply. Tell us more about the partnership, and what makes it stand out.
We're really excited about our partnership with Viant, which provides Adelphic users real-time access to premium linear and CTV inventory. The integration makes it much easier for programmatic traders to activate campaigns on the big screen, bringing the speed, simplicity and addressability of digital to TV advertising.
There is certainly an abundance of advertising opportunities in CTV right now, which is exciting in and of itself, but what really makes this partnership stand out is the linear component. Historically, cable and broadcast inventory hasn't been as accessible to most brands, and it's taken advertisers a significant amount of time to plan and activate TV campaigns. Through this partnership, we're making premium episodic content more accessible to a much wider set of media buyers, and dramatically accelerating the time it takes to activate TV ads.
4. This integration unlocks more efficient, uniform campaign executions for Viant's brands and agencies. What other challenges does this integration solve?
Simplifying and accelerating the TV ad buying process is certainly a big challenge for which this integration solves. Beyond these benefits, there's a tremendous opportunity for brands and agencies to use data more strategically in TV environments, both from a targeting and an optimization perspective.
On the targeting side, Adelphic clients can deploy people-based data (including first-party data) in a digital-like manner across Beachfront's premium TV inventory, to reach and influence key audiences.
Regarding optimization opportunities, it has historically taken advertisers weeks to understand the delivery of their linear TV campaigns. This delay limits the degree of changes that can be made on the fly to drive performance. In enabling traditional TV for real-time buying, we're also speeding up the reporting process, allowing advertisers to understand delivery in real-time and optimize allocations as needed.
5. When you look at television advertising in the year ahead, what changes do you expect or hope to see?
Over the next year, we're excited to see more scale in addressable TV advertising. The industry has made great strides recently in bringing these capabilities to bear. CTV is of course addressable in most cases since it is IP-based. On the more traditional side, technological advancements coupled with standards like OAR — for which Beachfront is a certified partner — are unlocking cable and broadcast environments for addressable advertising as well.
As more TV inventory is made addressable, establishing standards and enabling interoperability across inventory pools becomes critical for achieving scale. The TV landscape after all is very fragmented. There are various cable systems, smart TV environments, addressable consortiums, and a rapidly fragmenting CTV landscape.
In order to give advertisers and media buyers the scale needed to execute an addressable TV buy, we have to unify these disparate environments, making them interoperable through a consistent set of standards. This is something that we're razor-focused on at Beachfront, working in close partnership with our leading OEM, MVPD, and consortium partners.
STAY IN THE LOOP WITH OUR NEWSLETTER
Sign up to get Viant news and announcements delivered straight to your inbox.
Sign up to get Viant news and announcements delivered straight to your inbox.