Viant's Internship Program: Strong Starts for Great Careers
The first experience in a professional environment can define a career trajectory. Throughout the tenure, an understanding emerges of likes, dislikes and, most importantly, what drives passion in everyday activities. This happens in internships or in first jobs right out of college.
Last summer, Viant's internship program brought together 16 college students nationwide and placed them in our Los Angeles, New York, Chicago and Irvine offices. Interns were placed in various departments across the company, including Legal, Sales, Marketing, Business Development, Operations and Technology.
Viant's 2022 summer internship program was designed to tailor to each individual intern's career growth and professional interests. Here are some highlights and testimonials about the program:
Welcoming Tomorrow's Workforce to Viant
Viant's internship program goal is not only to provide soon-to-be college graduates an introduction to the everyday professional life of a Viant team member, but also to personalize the experience to help define their future career path. So, as interns arrived at their selected office, they were matched with projects and groups based on interest and skill set.
After orientation and placement, interns were connected with a supervisor who assigned them projects and provided feedback. They also met a Buddy (i.e., a Viant team member) to assist in guiding their experience.
Viant interns gained learning opportunities to expand their expertise further. Interns participated in a "Meet the Founders" discussion with Viant founders Tim (CEO) and Chris Vanderhook (COO), and spoke to Executive Vice President of Operations Paul Oronoz, Vice President of Human Resources Peter Kilmarx and Regional Vice President of Sales Irina Katnelson to learn about the Advertising Technology industry and receive career advice.
Each intern also defined their internship goals by developing a personal "Why" statement based on the concept featured in Simon Sinek's book, "Start With Why: How Great Leaders Inspire Everyone to Take Action."
Experiencing the Everyday with the Viant Team
To fully embed our interns into the professional experience at Viant, supervisors engaged candidates with one-on-one weekly meetings, projects and inclusion in team stand-ups.
Each intern's supervisor also worked with the intern to develop a final project due at the end of the program. At the end of the internship program, the interns presented their "Why" statement and final projects to Viant's founders, Tim and Chris Vanderhook, and other company leaders.
Here's an example of a final project from Nick Melamed, a UC-Berkeley student and 2022's Automation and Analytics intern: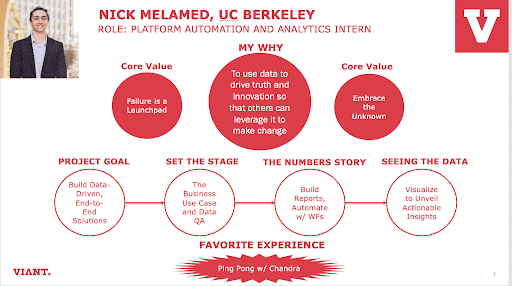 Testimonials from Interns and the Viant Team
Since the end of this year's intern program, Viant has collected feedback from interns and supervisors about their experience.
Intern Feedback:
"The people I worked with were friendly, intelligent and easy to talk to. My boss helped me with anything I asked and made it their goal to take me under their wing so I could learn a lot about this industry and business at Viant."
"I was so unaware of this entire side of advertising and did not know that ad tech was a giant component of being in advertising. The experience I gained is so appreciated, and I hope to come back next summer to continue learning and growing.
"I really enjoyed all of the intern activities because they made the experience at Viant feel like a real program. It really created a sense of comradery amongst the interns, which I think is really important to have that bond being young people in the office."
Supervisor Feedback:
"We enjoyed having an intern take on new projects and show us how someone brand new to ad tech digests core Viant concepts to help us refine our own pitch."
"The program created development opportunities for our sellers to act as coaches for the interns."
"The Legal interns were able to assist not only with projects for our department, but were also able to collaborate with other departments across the company."
Ready to Find Out More About the Viant Team
This year's Tech intern, Christian, has accepted a full-time position upon completion of his studies, and fellow interns Holly (Legal), Celeste (Business Development) and Nick (Operations) have accepted an extended internship with Viant.
Would you like to become a Viant intern in 2023? Email Emma Khachikian (ekhachikian@viantinc.com) for more information.
Are you ready to make your next career move? Follow this link to see our open roles.
STAY IN THE LOOP WITH OUR NEWSLETTER
Sign up to get Viant news and announcements delivered straight to your inbox.
Sign up to get Viant news and announcements delivered straight to your inbox.