TV Advertising Trends 2020: The Role of TV in Our Omnichannel World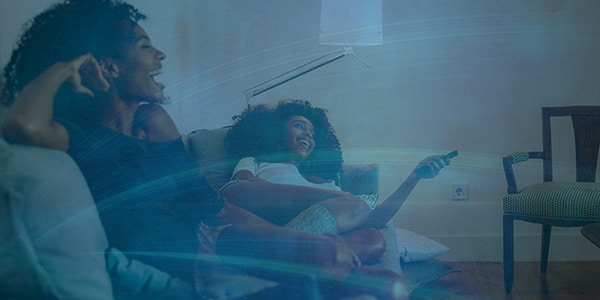 Watch our on-demand webinar, featuring experts breaking down TV advertising trends here.
COVID-19 stay-at-home orders led to an increase in time spent with linear TV and CTV.
Marketers who succeed today will embrace "the new face of television."
---
As we all know, the way viewers watch TV is changing – and was changing, even ahead of the COVID-19 pandemic. Cord-cutters and cord-nevers are increasing in number, while linear TV viewing has also experienced what is likely a temporary boost thanks to stay-at-home orders.
This year, according to eMarketer, U.S. adults will consume two hours of digital video a day, a 19-minute increase over 2019. While time spent with traditional TV has also increased, analysts expect it to decrease next year, thanks to the growth of streaming and subscription services.
Effects of COVID-19 on TV Advertising Trends
In a way, COVID-19 has proven to be a double-edged sword. Linear TV viewing has increased over the course of 2020, but the pandemic also led to decreases in linear TV ad spend. Estimates from eMarketer suggest TV ad spending in the U.S. decreased by 30% in the first half of 2020. Analysts expect it will be down 15% for the full year.
During the same timeframe, however, digital video ad spend increased by 8% – further proof that marketers are realizing the return on investment of connected CTV (CTV) and over-the-top (OTT) advertising.
The Future of TV Advertising
The good news is, most marketers believe their budgets will eventually return to pre-pandemic levels. The vast majority of those surveyed in a recent report from Pulse said they believe that will happen within the next nine months.
Marketers also said they'll no longer be planning more than three to six months ahead. Thus, going forward marketers will need to be flexible, but will also need to work with advertising platforms and channels that can allow them to be more nimble than in the past.
This follows our own survey findings, in which 84% of marketers said they plan less or the same on linear TV advertising this year as they did in 2019. That's a 47% increase from 2018, when we asked the same question. 
The Importance of TV Advertising Success
The growing number of channels and formats available has marketers' jobs more challenging. Today, in order to succeed, marketers must embrace what we're calling "the new face of television." But what does that mean, exactly?
On Sept. 16, we convened a panel of industry experts to discuss current TV advertising trends, the future of the industry, omnichannel measurement challenges and more. By clicking here, you can watch an on-demand version of our webinar, "Exploring the Role of TV in Our Omnichannel World."
STAY IN THE LOOP WITH OUR NEWSLETTER
Sign up to get Viant news and announcements delivered straight to your inbox.
Sign up to get Viant news and announcements delivered straight to your inbox.