Three Ways to Reach Online Gamblers More Efficiently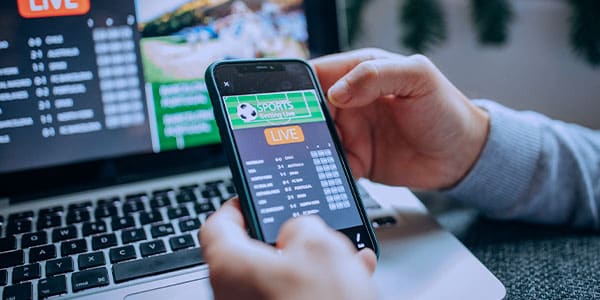 Online gambling is in a high-stakes advertising battle — and that's just the competition to get laws on the ballot and in the books.
Today, 31 states plus the District of Columbia allow live sports wagering, and 21 enable mobile, but the gaming industry is eyeing the big prize, California, where two initiatives are on the November 2022 ballot. The golden state is a $3 billion-plus market, according to gambling analysts, and backers and opponents of the propositions have already spent $424 million with under eight weeks remaining in the contest.
California notwithstanding, legal sports betting is booming, whether online or in person. "Sports betting revenue grew 63% year on year last quarter, while online casino revenue rose 34%," The Wall Street Journal reported on August 22nd. Data Bridge Market Research predicts that the sports betting market will jump from $76 billion in 2021 to $167 billion in 2029, a 10.26% CAGR. 
Despite the influx of investment capital, brands competing in this rapidly growing space must become highly opportunistic and flexible, tapping the best available data to evaluate their competitors, pinpoint audiences and determine their most efficient advertising opportunities. A clear voice and a consistent approach can help advertisers cut through the noise and eliminate waste.
The sports gambling purchase cycle is brief, even spur of the moment. For marketers, this means staying top of mind without becoming intrusive. An agile approach enables marketers to adjust budgets, target across channels seamlessly and switch data providers as needed. And most significantly, they can continually demonstrate the performance of their return on ad spend (ROAS)/return on investment (ROI) to company stakeholders. 
Improving Outcomes With Insights
Gamblers do not need to be sold on the marvels of gambling, but many have never tried legal wagering online or on their mobile devices. In-person "sportsbook" gambling may always hold a certain allure. But the target audience for online and mobile gambling is evolving and skews younger than traditional in-person gamblers. In the article linked above, Data Bridge Market Research reports that online sports gamblers are typically 38 — seven years younger than their in-person counterparts.
Getting to know these new online and mobile sports wagerers, and knowing where to reach them, can make all the difference between effective and wasteful ad spending. Here are three ways we think marketers can master the present and future of advertising in the online gambling space. 
Cross-channel measurement and attribution.
Can you apply the same currency across channels to ensure that measures such as closed-loop ROAS or lift are accurate, actionable and statistically significant? For instance, Connected TV (CTV) uses different targeting identifiers than those identifiers present in mobile in-app conversion. How do you link the channels to give proper attribution? We know the goal of every marketer is to target and measure with accuracy, no matter the tactics, efficiently and at scale. However, to work in the current digital ecosystem, you need the same identifier present across as many devices and channels as possible. This identifier would allow for the seamless continuation of data-driven audience targeting at scale, with the ability for omnichannel execution and holistic measurement. For instance, the rapid growth of CTV has revealed inconsistencies in the cross-pollination of identifiers to measure performance. While the need for a solution to cross-channel attribution isn't unique to the gambling industry, finding a partner that can offer a scalable, turnkey product beyond walled gardens provides marketers and ad planners the best foundation to build their advertising strategies.
Deterministic data insights and reach.
Are your target online gamblers hiding in plain sight? It is tricky for marketers to find without accurate insights about online consumption habits or pathways to reach them most efficiently in an omnichannel environment. Are the gamblers you want to reach sufficiently affluent? Reaching consumers labeled as "sports fans" is one thing, but ensuring that when your message is delivered and they have the discretionary funds to convert is another. Partnering with someone with extensive experience within this vertical is critical to your success. Not only should your partner offer a wide array of data partnerships, but there should also be the capability to leverage the most vital data — first-party data — for your brand. A solution for leveraging first- and third-party data will provide marketers with demographic and behavioral insights to streamline their search for valuable consumers. Accurate attribute targeting is yet another critical success factor in the cookieless world.
Accessing the latest and greatest inventory.
A partner without premium inventory is like a winery that makes only one wine. The better alternative for ad planners is teaming up with a partner with a deep portfolio of easy-to-access, premium publishers backed by a team with extensive experience utilizing pre-approved sources. If your ad planners and marketers can't reach consumers across the latest and greatest publisher sources, it creates inefficiencies and reduces brand relevance. Offering a vast array of inventory where brands can pair consistent and accurate measurement is the premiere '1-2' punch needed for repeated results. Considering how the content world evolves along with the programmatic landscape, remaining nimble about onboarding preferred or direct deals gives marketers higher control over their media results. The combination of leveraging desirable inventory across all programmatic channels provides marketers greater flexibility and confidence to ensure they maximize the effective ROAS through precise reach and measurement.
Many gamblers scan numerous information sources to find an edge in sports wagering. There is wisdom in studying the market because with the right insights comes reduced risk. Finding the right measurement, data and inventory is crucial to marketing success even in this burgeoning ecosystem. 
Viant's Adelphic DSP can be a great tool to help decision-makers, media teams, marketers and traders determine their areas of greatest need and identify which data sources will boost their ad spend efficiency and effectiveness. The Adelphic DSP can equip marketers with the best available data, tools and expertise to solve their biggest ad targeting challenges — improving an ad planner's odds of achieving sustainable success. 
STAY IN THE LOOP WITH OUR NEWSLETTER
Sign up to get Viant news and announcements delivered straight to your inbox.
Sign up to get Viant news and announcements delivered straight to your inbox.