TargetSpot on the Rise of Digital Audio, Consumers' Growing 'Addiction'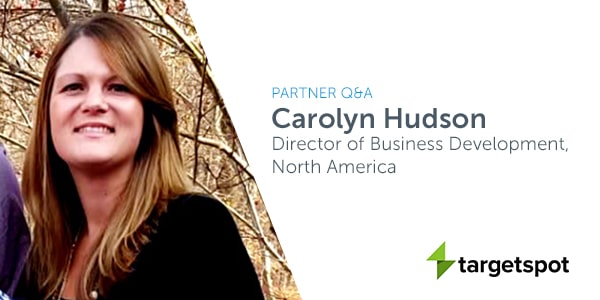 Today's Q&A is with Carolyn Hudson, Director of Business Development, North America, at TargetSpot. A supply-side network of audio brands, TargetSpot is a division of AudioValley and is the second-largest audio inventory supplier in the U.S., specializing in music, sports, news, multicultural content and podcasts. In her role, Hudson is charged with spearheading publisher supply partnerships in programmatic streaming audio and podcasting.
Q: AdWeek reports that more than half of all audio content will be shared digitally by 2020. What do you think are the reasons for digital audio's rapid growth?
Digital audio is growing increasingly pervasive in our lives, just as the mobile channel was over a decade ago. Digital audio is an engaging, entertaining and informative medium. Further, it is highly portable for wherever and whenever a consumer can listen. And the consumer can listen in so many interesting and innovative ways now – it's not just in their hands via a mobile device, it's everywhere from their smart TVs in their living rooms to smart speakers in their kitchens to the connected dash in their cars. For all of these reasons, it is a growing "addiction" for consumers.
Q: Where are most people listening to digital audio – on mobile devices, in their cars, or elsewhere? Are certain demographics more likely to be tuning in on different devices than others?
Overall, today and in relation to our platform, most listening is occurring on a mobile device. However, consumer engagement with technologies that feature digital audio is rapidly changing. Connected device listening is an area of tremendous growth, and connected cars will get there quickly, too. With 98% of cars coming off the line being connected in 2020 according to Accenture, the uptake can be easily imagined. Currently, we find success in targeting demographics based on the type of content listeners consume.
Q: Reach is an obvious benefit of digital audio advertising, but what are some of the other differentiating strengths of the medium?
Digital audio is a very engaging medium. Consumers develop a valuable affinity with personalities delivering or narrating audio content – from sports to news to their favorite podcasts. And in turn, this is a powerful and influential relationship for brands to be a part of. Additionally, digital audio is a brand safe and relatively fraud-free environment to advertise within.
Q: Podcasts, especially, have seen their popularity continue to increase. What makes podcasts such an appealing option for marketers who wish to build relationships with their audiences?
Podcast personalities have become influencers themselves in their topic of coverage, point of view and expertise. Content delivered by an influencer can be a very powerful proposition for a brand to contextualize its message within this environment.
Q: What is unique about TargetSpot's partnership with Adelphic?
Adelphic and TargetSpot's partnership has scaled up significantly over the last few months and will continue to do so. Viant also takes full advantage of TargetSpot's global audio supply in marketing different content and capabilities, including streaming audio and podcasts, to its clients.
Q: As we look to the future of audio advertising, what do you predict will be the biggest developments, trends or changes in the space?
We are in the midst of a pivotal evolution within the audio space – currently and for the near future. I think two of the top trends in the space will be accelerated consolidation within the industry and a proliferation of connectivity that will have to drive a marketing strategy.
STAY IN THE LOOP WITH OUR NEWSLETTER
Sign up to get Viant news and announcements delivered straight to your inbox.
Sign up to get Viant news and announcements delivered straight to your inbox.