Shaping the New Normal — Viant offers unlimited PTO, hybrid work model and additional benefits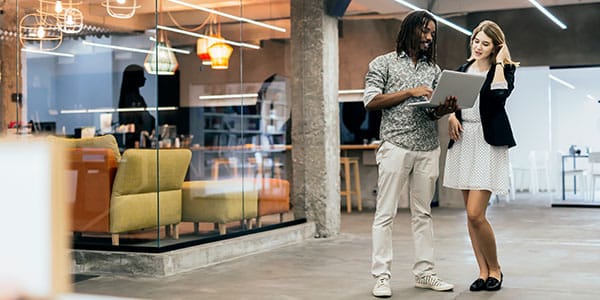 Over the last couple of years, we have worked harder than ever. When the Covid-19 pandemic ripped across the country, our customers and our company were forced to fundamentally rethink business models.
In most cases, that meant more digital everything, including how we live, work and play.
Fast forward two years later, we have learned to be agile, flexible and live in a more integrated world where success is dependent on managing all facets of life — being a parent, teacher, leader, employee, caregiver — at the same time. As a result, we have leaders that are more empathetic, and new workplace policies designed to allow flexibility to work from anywhere or anytime in order to get the job done.
What we have also learned is that this flexibility comes at a price for both leaders and employees.
Leaders have had to learn to entrust their teams, establish more frequent touchpoints (Zoom mania!) and develop new methods for setting goals and tracking results. Employees have had to figure out how to 'do it all' from home, resulting in long days and leaving little time to unplug.
Consequently, burnout has become a real issue.
A recent survey by Monster.com found that 69% of employees are experiencing burnout symptoms while working from home. In addition to managing normal work pressures, many employees also have kids, partners and/or roommates which can cause interruptions, delays and increased stress.
I would bet for many people that a commute to work or brainstorming with colleagues in person might sound like a nice break. Perhaps, even having a coffee or happy hour with teammates is appealing.
The good news is we can have the best of both worlds in a hybrid model — balancing personal flexibility with getting work done while having fun together.
New Unlimited PTO Plan
Study after study shows employees that use all of their vacation time tend to be more productive, more creative, less stressed and in better health. To that end, we've recently implemented unlimited PTO at Viant. This new policy is an opportunity for team members to choose how they want to achieve balance and recharge their batteries, whether it's a friend's destination wedding, family road trip, care for a family member or simply a day off to enjoy some personal down time. 
We hire responsible professionals, and we trust them to manage their priorities and deliverables while also getting away for some R&R when they feel it's needed. And new hires don't have a waiting period — they have just as much of an opportunity to take PTO as tenured employees.
Enhanced Paternity Leave
We expanded paid parental leave to 16 weeks to primary caregivers of newborns or newly adopted children, which was previously 12 weeks. Additionally, secondary caregivers have paid leave up to 6 weeks, which was previously 4 weeks. These enhanced benefits provide even more flexibility for employees to enjoy their time as new parents without significant financial burden or additional stresses of work.
Free Wellness and Mental Health Benefits
We recently rolled out some fantastic (and FREE!) wellness programs for all employees and their households. We understand the added stress our employees are dealing with, from blurred lines between home life and work life, isolation of working remotely and/or the lack of resources available to help manage parent-elder-child needs. We are committed to fostering a supportive workplace that includes a variety of free and easy-to-access mental health and well-being resources, including:
Headspace:

Be kind to your mind mobile app for meditation and sleeping, with 1000+ hours of mindfulness and sleep content, and mini exercises for busy schedules.

EAP: With Aetna Resources For Living℠, employees and household members have access to confidential support services, 24/7/365, at no cost.
Talkspace: Online therapy platform makes it easy and convenient to connect with a licensed behavioral therapist — from anywhere, at any time. With Talkspace, you can send unlimited text, video and audio messages to your dedicated therapist via web or app.
Guidance Resources: This enhanced EAP benefit is provided by an award-winning, comprehensive, interactive service that offers expert content and unique tools to assist in every aspect of your life from child / elder care, to legal, financial, scholarship, wellness and more.
Hybrid Work
A recent Gallup survey found that hybrid work is the future for most offices.  Nearly 60% of respondents prefer hybrid work because they want the flexibility to manage their week while still feeling connected to their coworkers and company culture. The challenge for leaders is to make coming to the office a productive, engaging and fun experience.  
At Viant, we have been leaning into hybrid work since the pandemic, with all offices open to ensure productivity while maintaining the safety and well-being of our employees. Now many teams are in the office 3 days per week to onboard new hires, conduct team and peer coaching, collaborate with other departments and simply enjoy time together.
Every Viant office kitchen is fully stocked for employees to enjoy while they are in the office with healthy snacks, breakfast and lunch food, plus a variety of beverages, including a few libations to celebrate and cheer our teamwork. Leaders are intentional about the time their teams spend together to strengthen relationships, solve problems and establish shared goals. Employees are able to meet "in person" with their colleagues and manage their schedules to do 'me work' at home and plan for 'we work' in the office.
From my perspective, being in the office together has enhanced the comradery, trust and productivity of our teams. Communications are easier, decisions made faster and social networks expanded outside immediate teams. Hybrid truly is the best of both worlds.
Company Culture to Match Your Lifestyle
I am proud of the investments being made to enhance our employees' experiences at home and in the office. We have extraordinary benefits, incredible values and a leadership team committed to the success of our employees.
As I reflect on my own experience as a working parent that rose through the ranks in a traditional 8am to 5pm office environment, I'm enthusiastic about the possibility of building a different model for the next generation. Having flexibility and ownership of your calendar matters.
Our new normal allows us to focus on outcomes and results, to trust people, to foster work and life integration and, ultimately, attract and hire the best talent. I know that many of my colleagues see the opportunity as well.
Here's to shaping the future of work, together!
These policies included herein are made at the sole discretion of Viant and may be subject to change at any time at the sole discretion of Viant.
Viant is proud to be an equal opportunity employer. To provide equal employment and advancement opportunities to all individuals, employment decisions at Viant are based on merit, qualifications, and abilities. We do not discriminate in employment opportunities or practices on the basis of race; color; religion (includes religious beliefs, observance or practice, religious dress or grooming practices); creed; sex; sexual orientation; gender; gender identity or expression; transgender status; pregnancy, childbirth or related condition (including breastfeeding); marital status; national origin; citizenship; military status, veteran status; ancestry, age; physical or mental disability; medical condition (includes cancer or a record or history of cancer), genetic characteristics; or any other characteristic protected by applicable federal, state, or local laws, and Viant prohibits harassment based on any such protected basis or characteristics.
STAY IN THE LOOP WITH OUR NEWSLETTER
Sign up to get Viant news and announcements delivered straight to your inbox.
Sign up to get Viant news and announcements delivered straight to your inbox.