Q&A with IRI's CBD and Cannabis Expert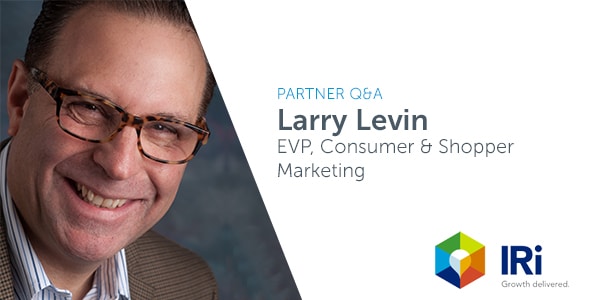 Our Q&A series shines a spotlight on the biggest challenges, questions and trends in the programmatic marketplace with commentary from industry experts, clients and partners.
Today's Q&A is with Larry Levin, Executive Vice President of Consumer and Shopper Marketing at data and insights company IRI.
What do marketers need to know about the cannabis industry?
We asked Levin to break down everything marketers need to know about the burgeoning cannabis industry.
Q: How big is the current cannabis market?
In a word: Blossoming! IRI's cannabis research partner BDS Analytics projects a global market of approximately $45 billion in total cannabinoid sales by 2024. For 2019, we're estimating sales of $14 billion. In our CPG world, we see growth of 2-3% if we're lucky; the opportunity for cannabinoids is unprecedented.
Q: How can marketers best approach the challenge of educating consumers about cannabis?
As products move mainstream, education is needed throughout every level of the consuming landscape. In recent research published BDS Analytics, it's clear that the vast majority of consumers in legal states ― where you would think confusion would be less clouded ― is still extremely confused.
BDSA's research shows that over half of all respondents either don't know the difference between CBD and THC or are wrong in their perceptions of what each is. While it's down from 63% nearly a year ago, it clearly shows how much confusion rests in the market and is a signal that education is needed and could be most critical at the "final decision point" as retailers have to be sure their staff is aware of market differences between THC and CBD. In fact, the survey results from BDSA also show that consumers believe that any product that contains hemp will have an "altering experience," which is simply not the case.
Q: Who is the typical cannabis consumer – if one exists?
Stereotypes need to be trashed when it comes to the mindset of who a typical cannabis consumer might be. Consumers mirror the U.S. population with young and old, the haves and the have nots, as well as urban and rural consumers. If there's any demographic bent toward hemp use, it's that it skews a bit more male. And hemp users are finding the products provide great relief for a number of ailments from anxiety to depression to pain and stress, which poses a threat to the over-the-counter medication market.
Q: What do marketers need to know about the regulations and laws regarding advertising cannabis products?
We are still at the very early stages of marketing for any cannabis products. As with alcohol, legislation varies from state to state, and even with counties and cities within those states. Legislation is changing and will continue for some time, so marketers will need to do their homework.
Social responsibility should be at the forefront of importance in messaging and its impact, especially with all of the press around the vape market and recent deaths. It's apparent from our consumer data that education is clearly needed, and first and foremost it could be educating the consumers about the differences between THC and CBD as leading cannabis products available today.
Q: U.S. cannabis retail ad spend increased 24% in 2018 to $4.12 million, most of which came from out-of-home advertising, according to eMarketer. What is it about OOH that is particularly appealing to cannabis brands?
It's a testimony to the "out of home" nature and active lifestyles that a number of consumers are engaging in, including exercise, living outdoors, and attending social events. Consumers' ability to easily acquire THC and CBD products in legal markets gives them alternatives to consider that were not available a few short years ago.
Q: Data has become a key factor in driving growth in every vertical. What role can data play in the cannabis industry?
Data is simply "an ingredient" to understanding this market. Data continues to show how consumers are gaining more understanding and increasing their positive consideration to trying CBD and THC products. As the market becomes more mainstream in consumer adoption, it will become more mainstream in the general CPG market. Data will help quantify the size of the opportunity and where marketing and sales efforts should be concentrated. And, while more than half of today's market connects sales through dispensaries, the channel will see much greater competition in the coming years as CBD goes mainstream. BDSA and IRI predict that in less than five years the dispensary channel will see share shrink to 25% of the market even though channel sales are forecasted to grow 2.5 times their current rate, showing that the market will be more competitive as consumers purchase "here, there and everywhere!" Data will be at the forefront to understand the who, where, how and why to win in this incredibly opportunistic market; it's the most disruptive change we have seen in CPG in years, if not ever!
Q: What is unique about IRI's partnership with our DSP Adelphic?
While this doesn't speak to cannabis currently, IRI's ability to understand the consumer and create activation plans is a perfect complement to Viant's measurement of its 1.2 billion registered users; we have a matched universe of 83% unique profiles. An additional benefit is we can track offline dollar sales on a weekly basis to drive campaign optimization across a variety of tactics, including device delivery, shopping behaviors, audiences, inventory or campaign creative.
For those ready to really dig in and understand marketplace trends, I recommend a webinar I recently conducted with BDS Analytics just on this topic.
Q: What are the terms marketers should know when talking about the Cannabis market?
Check out our Cannabis "dictionary" for marketers here . Or learn how to leverage Adelphic's data partnerships with IRI and BDS Analytics for your own CBD advertising efforts.
STAY IN THE LOOP WITH OUR NEWSLETTER
Sign up to get Viant news and announcements delivered straight to your inbox.
Sign up to get Viant news and announcements delivered straight to your inbox.