Navigating a Time of Transformation in Digital Marketing: A Q&A with Epsilon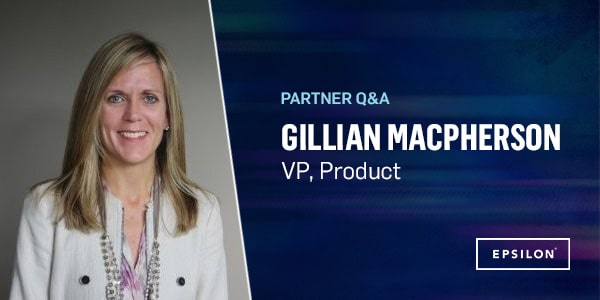 By Gillian MacPherson
VP, Product at Epsilon
As we've written about many times before, much of the world is already cookieless – despite Google's decision to move back the "official" end of the last browser supporting third-party cookies to 2023. That means that agencies and brands need to be testing new cookieless options and a mix of tactics now, in order to ensure they'll be able to continue to reach audiences with scale without interruption.
To break down how Viant's partnership with Epsilon helps marketers succeed during this time of digital marketing transformation, we spoke to Epsilon's Gillian MacPherson. A veteran of the marketing world, MacPherson leads the strategy to drive revenue of Epsilon's industry-leading data assets. We asked her for her perspective on the end of third-party cookies, the best ways to optimize CTV campaigns and more.
1. Tell us about what makes the relationship between Epsilon and Viant unique?
Our integration with Viant is based on a direct, deterministic PII match, which ensures a higher quality match. All Epsilon data is directly tied to real people, not cookies. Viant also has an ID graph based on households, not limited to cookies. With consistent IDs between us, there is no probabilistic matching, expansion or inaccurate linkage of data. There are no cookies involved in the integration, future-proofing this match and reach from third-party cookies deprecation, which although delayed, is still coming.
2. How do our two solutions come together to drive more customer value during this digital transformation?
Marketers are looking to efficiently identify and reach their ideal target at scale. Epsilon has 1,000+ data points on 240 million consumers, all sourced from offline partners, including demographics, financials, interests and purchases based on real people and households. Using all of this data, brands and agencies can identify the ideal target based on their campaign objectives. Viant's DSP Adelphic offers accurate reach across all channels as well as frequency management – at the same household and individual level. This ensures customers are reaching the right people in the ideal channel for optimal campaign performance.
3. How can this partnership help customers looking to optimize their CTV campaigns?
The majority of CTV inventory originates with PII information based on how consumers access the content via their TV's and streaming services. And while inventory is still growing, due to consumers switching from traditional TV services to streaming at rapid rates, it is a cluttered landscape with many different providers and platforms. That means scale is critical, both in terms of national coverage of consumers and partnership with all the disparate platforms. Both Epsilon and Viant have people-based ID graphs across virtually every marketable individual and household in the U.S., and Viant has partnered with major CTV providers to ensure that scale can be reached. Viant's Adelphic DSP also provides advanced reporting including the effectiveness of campaigns linking conversion and sales, giving brands the ability to track return on ad spend (ROAS), continually improve performance and optimize spend.
4. Let's talk about the phaseout of third-party cookies. What are the biggest impacts of deprecation to the digital channel? And who are those most impacted?
Like it or not, third-party cookies are a critical piece in the current digital ecosystem. Deprecation will impact reach, personalization, campaign management and performance measurement. It really touches everything in digital advertising. A lot of folks have pulled back on testing new options or rolling out new capabilities based on the current reprieve until 2023. To me, this is foolish, given the widespread impact to digital advertising. Agencies and brands should be testing more options and a mix of tactics now, in order to be prepared. They would benefit from pushing their partners to be ready with new capabilities and scale.
In terms of who is affected, it's everyone: data providers, ad tech, publishers, brands and agencies. There will be a shift in data providers as a lot of behavioral inventory will disappear but historic offline data will remain and emerge stronger. This will improve the quality and accuracy of the data left for targeting. There is a proliferation of IDs emerging in ad tech at an individual level, with a critical need to ensure they are interoperable. Publishers with a strong value proposition are well positioned to grow with authenticated traffic while others will focus on contextual targeting. There has been a lot of talk about brands increasing first-party data, which carries a host of implications, but little about filling the void for unknown customer and prospect identification and targeting. This is critical for brand growth. And agencies really need to step back and understand all the moving pieces to be able to counsel their brands and push testing sooner than later.
Highly recommend reading this Adweek summary report.
5. Channels, such as connected televisions and some browsers and mobile apps, are already in cookieless environments. How are you helping brands and agencies navigate the cookieless world today?
We are working with brands on a few fronts and so when I hear third-party data is dead, I firmly disagree. As mentioned above, first-party data is becoming more important. We have always enhanced our customers' data to improve their understanding of their customers beyond the purchases and interactions they can see. It helps with personalization and segmentation. This is a growing area of our business as we can help better profile their customer using our demographic and lifestyle data, but also show how their customers are spending with their competitors, which is revenue opportunity, and across different categories using our transactional data.
We are also talking to brands and agencies to test sooner than later the new digital options, including contextual versus ID-based targeting. It's important to understand the different reach and ROI of these methods, plus what may work for one brand and category may not be ideal for another. In the interim, take advantage of the old and the new while cookies are still around – scale and reach will actually be better for the next year or so.
It's important to explore new channels that offer one-to-one targeting that is not reliant on cookies. Advanced TV is a big one for addressable, data-driven linear and CTV, but also look at digital out-of-home, gaming, podcasts and digital audio. The landscape keeps growing and the dollars committed to digital need to shift and continue to be optimized.
STAY IN THE LOOP WITH OUR NEWSLETTER
Sign up to get Viant news and announcements delivered straight to your inbox.
Sign up to get Viant news and announcements delivered straight to your inbox.