Marketers Take Note: Travel, the Great Nostalgia of 2020, is Poised for a Big Rebound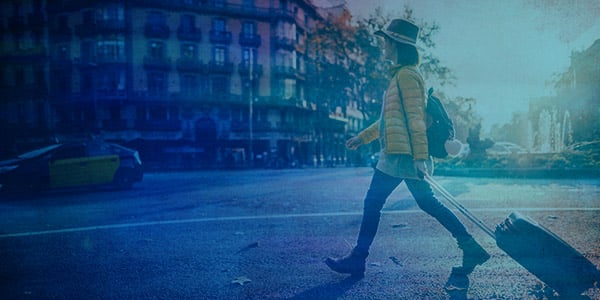 By Evan Barclay
Senior Director, Sales
If you asked almost anyone what they missed most in 2020, it's likely they replied with some form of: "Traveling!"
For most people, no amount of Amazon packages or other retail therapy could fill the void left by the absence of travel and experiences due to the pandemic. According to a report by Airbnb, travel for pleasure was the out-of-home activity Americans have missed the most – even surpassing going out to restaurants and bars or cheering on their favorite teams at live sporting events. And as of Feb. 1, two-thirds of American travelers reported doing some kind of travel planning activity in the preceding week, according to Destination Analysts.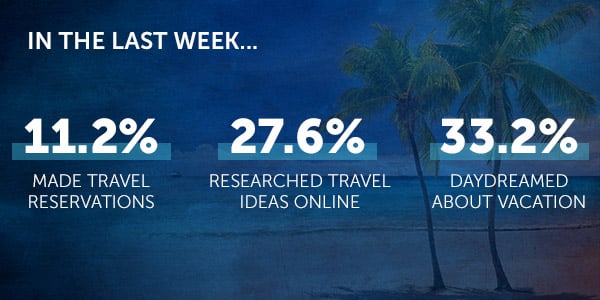 Source: Destination Analysts
With all this pent-up demand and record levels of unused vacation days, as well as trends we're already seeing, travel brands should be optimistic about a strong recovery and a new appreciation for their industry. But where does that leave marketers?
Travel marketers have an opportunity to capitalize on existing demand and adapt to current conditions to support their businesses and accelerate the impending recovery. Staying top of mind with those who intend to travel, providing flexibility and helping customers navigate the inevitable curveballs, as well as tailored targeting and messaging, will be key components of a successful marketing strategy in 2021.
Trendspotting: Loyalty, Spontaneity & Luxury Lead the Way
Loyalty prevails. Brands that have earned the love of their travelers in the past and have invested in their customers during the down time will reap the rewards as we phase out of lockdowns. One clear example of this is avid cruisers; they can't wait to return to the sea and are signing up in record numbers (as high as 3,000+ a week!) to volunteer for test cruises, a crucial step in clearing boats to sail again.
Another trend we've been seeing is a rise in spontaneity. Early in 2021, "spontaneous vacations," trips that require less advance planning, are increasing in popularity. Travelers are making more impulsive decisions regarding their vacations and are booking much closer to their travel date than they would have previously.
Finally, we're noting that average order values are increasing – especially in the home and villa rental market. This is in part because of the pandemic and vacationers opting for more private vacation space. But ultimately, people are willing to pay more for their vacations these days, placing a premium on their ability to get away as opposed to holding out for a great deal as they might have in the past.
Takeaways: How Travel Marketers Can Capitalize on Demand
Building on those aforementioned trends, there are a few ways travel marketers can set themselves up to succeed as the industry rebounds. That starts with being top of mind to consumers – with travel bookings becoming less planned and more spontaneous, reaching audiences with enticing experiences at just the right moment could be just the nudge they needed to book a trip. In fact, the week this post was written, 56.6% of people say they're in a "readiness mindset" when it comes to travel. Be sure to partner with a vendor like Adelphic that's capable of reaching travel intenders in a seamless and scalable way.
There's also an advantage to being an early mover. Travel brands that advertise first will do so in a less competitive environment and benefit from a higher share of voice. Those looking to ramp up their advertising now should consider offering consumers flexibility. Flexible booking and cancellation options are increasingly important considerations for today's travelers, considering the current climate of uncertainly. Marketers should do their best to put travelers at ease. They can do so by tailoring their creatives and messaging to highlight not only safety precautions, but the flexibility they afford their customers.
While operations and occupancy might be down, there's still a lot that can be learned from travel brands' existing customers. The right advertising software partner should be able to provide travel brands with real-time insights about those who are traveling, highlight shared traits and provide smart expansion strategies for capturing additional bookings. Real-time measurement and reporting capabilities are also key, as most travel brands have less budget available for testing or trying out unproven strategies as they work to recover from 2020's losses.
The biggest takeaway, though, is that early 2021 is rife with opportunity for travel brands. But to make sure they're in the best position to succeed, marketers must be sure they're leveraging the right tools and technologies, like Adelphic, that empower them to be strategic in their reactivation efforts. To learn more about how Adelphic can help travel brands deliver the right message to the right audience, reach out to a representative today.
STAY IN THE LOOP WITH OUR NEWSLETTER
Sign up to get Viant news and announcements delivered straight to your inbox.
Sign up to get Viant news and announcements delivered straight to your inbox.