In-Housing Your Programmatic: Top Five Interview Questions for Prospective Talent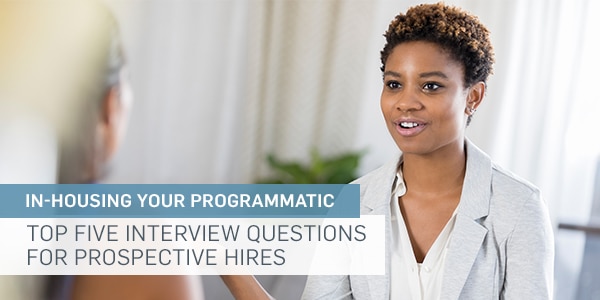 So, you're considering bringing your programmatic efforts in-house. That's great! In-housing can help you save on costs, increase ROI and keep control of your data – and that's just a few of its benefits.
But it can also raise some important questions, starting with a big one: How do you build your programmatic team? Attracting top talent is often one of the biggest hurdles brands face after making the decision to in-house programmatic. We're here to help.
Below, the top interview questions to ask any prospective programmatic hires, and what can be learned from their answers.
Q: What kind of ad execution experience do you have, and was it on the demand side or supply side?
Why ask: You want to make sure, first and foremost, that any experienced programmatic hire has expertise in running media, either at an agency or in-house at another brand. Qualified candidates will understand auction dynamics, including supply and demand economics and real-time bidding.
Q: Which platforms are you comfortable with?
Why ask: Your interviewee should be able to talk competently about the DSPs, SSPs and ad servers they have worked with in the past. This will help you get an idea of the breadth of their experience and whether it matches up with your plans.
Q: Have you had experience working with a data management platform (DMP) or handling data in any way?
Why ask: Data is often extremely important in digital advertising, and must be handled securely as it is transferred between multiple entities (client to DMP to DSP, for example). You should be certain any hire has the capability to effectively manage large pushes of data so that no data loss occurs in the process, that way you can ensure the deterministic nature of your data remains intact.
Q: What kind of reporting experience do you have?
Why ask: Reporting is going to be very important as you bring your programmatic efforts in-house. Make sure any hires understand reach and frequency management, so that you can effectively make data-driven decisions – including making optimizations on the fly.
Q: Do you have experience managing creative?
Why ask: Managing creative is so much more complex these days because advertisers no longer work with simple JPEG or GIF files. Instead, most display ads are JavaScript or HTML, and most video ads come in the form of VAST URLs/VAST tags. Make sure your prospective hire has a working knowledge of tag and pixel management so there are no issues with the creative flighting process.
STAY IN THE LOOP WITH OUR NEWSLETTER
Sign up to get Viant news and announcements delivered straight to your inbox.
Sign up to get Viant news and announcements delivered straight to your inbox.