Identity Resolution Software and Marketers: Examples, FAQs and the Viant Household ID's Role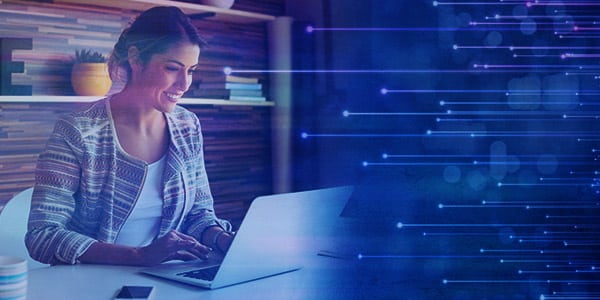 Identity resolution takes various streams of data and links them back to specific individuals or households – essentially "resolving" online activities and identifiers back to specific consumers or homes, rather than using buyer personas or lookalike profiles, or relying on a device graph.
For an example of what identity resolution makes possible, let's say a family is exposed to an ad while watching a show on Hulu, then a device in the household is later retargeted with an ad for the same brand while a member of the family is surfing the web on their iPhone. Only sophisticated identity resolution software can enable you to reach those consumers across their devices in succession to deliver those messages.
Identity resolution is on the minds of marketers today as third-party cookies are phased out. Read on for frequently asked questions about identity resolution software and marketers' top takeaways.
How Does Identity Resolution Work?
Identity resolution helps brands reach their target audiences with certainty and deliver relevant advertising to their devices. It can also allow marketers to measure their campaign performance with confidence by providing an identifier that doesn't rely solely on cookies or device IDs.
Historically, to attempt to resolve individuals back to their devices, marketers relied on device graphs. A device graph uses digital identifiers like website visits to track probable actions based on individual but anonymous web users. It often relies on device IDs or cookies, which can present challenges as we increasingly become a cookieless world.
These days, marketers need to rely on the power of an identity graph or direct match table with a true identifier in order to make targeting decisions or recognize a user for measurement purposes. Different demand-side platforms and identity resolution providers rely on different identifiers, however. Adelphic leverages the Viant Household ID, made possible by Viant's Household Patent, in order to use the IP address as its people-based identifier.
Viant's patent covers the linkage between IP address and physical address, and also looks at the devices associated with each address to create the singular Viant Household ID. We'll dive into this more below.
Why Is Identity Resolution Important?
The ability to know with confidence you're reaching the right audiences is a non-negotiable these days, making identity resolution foundational for uncovering customer insights and keeping your brand ahead of competitors.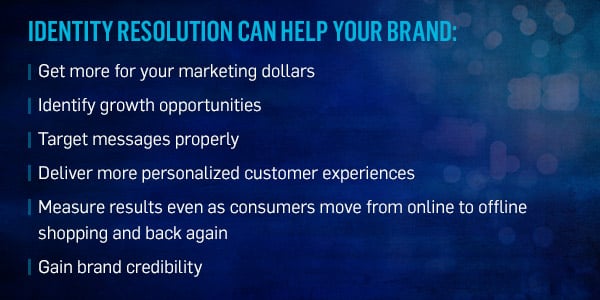 As we embrace the reality of a world without cookies, however, marketers are realizing that old solutions may not work as effectively. This is underscoring the importance of a future-proof identity resolution strategy. That's a big part of why Adelphic leverages the Viant Household ID to help marketers know with confidence they're reaching the right consumers, as discussed above.
What Questions Should Marketers Ask Their Possible Identity Resolution Provider?
As demand for identity resolution marketing grows, both identity resolution software providers and marketers face increasing challenges. Knowing the questions to ask your identity resolution provider, as VP Adam Paz recently explored in AdExchanger, can help you hone in on an organization that can deliver accurate results for your ad campaigns, even without the use of cookies.
Here are some key questions to ask identity resolution software providers:
How does your software approach identity resolution?
Understand whether the software platform uses probabilistic data or deterministic identity resolution. In the absence of cookies, does the demand-side platform you're considering use scaled, compliant capabilities to match personal and digital identifiers? Or is it relying on less accurate data gleaned from device graphs?
Do you take a holistic approach to identity resolution?
It's one thing to track and evaluate an individual's actions across the web, but the most successful solutions account for both the consumer household and the individual. Your DSP should not neglect the use of both television and streaming ads to reach consumers. In the absence of cookies, the household and its television, along with offline purchase data, become reliable predictors of a consumer's behavior. What's more, the television becomes a reliable digital identifier.
In the absence of cookies, what are you using as the primary personal identifier?
Some DSPs believe email addresses are a good first step in tracking user activity online, but true future-proof identity resolution requires more. The IP address, which Adelphic uses as an identifier, is the most prominent identifier in the bid stream and has long-term viability.
What Sets Adelphic's Identity Resolution Software Apart?
First, it's important to note that Adelphic's identity resolution capabilities are completely built into its software and users don't need to rely on any third parties or additional software to be confident they're targeting and measuring appropriately.
Many DSPs are now moving toward an email-based identifier to replace the cookie, but there are numerous hurdles to relying on an email address, for example the hesitancy of some users to provide their email addresses when visiting websites and, conversely, publishers not wanting to create barriers to accessing their content. That's a big part of why Adelphic's offering, which relies on the Viant Household ID, is different.
Adelphic's identity resolution capabilities are also directly aligned with the rise of connected TV advertising. Cookie-based DSPs haven't been able to deliver addressability and measurement even as TVs have become internet connected. A household-level identifier like the Viant Household ID empowers marketers to measure outcomes from TV exposures.
Adelphic hosts a centralized identity direct match table for more than 70 data providers, with the Viant Household ID as its connective tissue. This allows Adelphic users to unlock audience insights, make audience data actionable across all channels and measure the results. Reach out to get started with a demo today.
STAY IN THE LOOP WITH OUR NEWSLETTER
Sign up to get Viant news and announcements delivered straight to your inbox.
Sign up to get Viant news and announcements delivered straight to your inbox.