Everything You Need to Know About Hispanic Millennials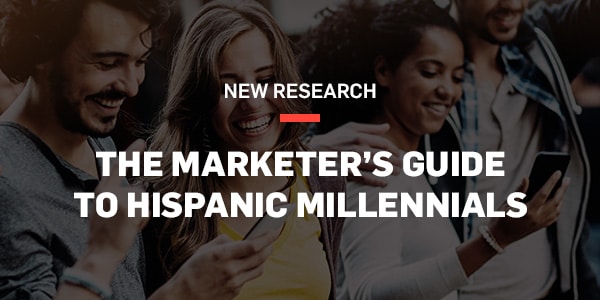 Millennials are one of the most inherently multicultural consumers in the U.S. Of the 75 million Millennials in the U.S. today, more than 42% are multicultural. And while Hispanic Millennials may be one of the biggest buzzwords in the advertising industry today, behind all the buzz is a wealth of opportunity for brands and agencies.
In fact, there are 24 million U.S. Hispanic Millennials today, comprising almost half of the total U.S. Hispanic population.
Our new report, The Marketer's Guide to Hispanic Millennials provides a multidisciplinary look at this unique bicultural group, driven by data from the Viant Advertising Cloud. As one of the leading people-based advertising technology companies, Viant has access to a rich database of more than 1.2 billion registered users through the Viant Identity Management Platform (IMP), as well as a strong roster of deterministically matched data partners.
With insights like how Hispanic Millennials interact with brands on social media, who their biggest influencers are for beauty purchases, and what their top TV networks and shows are, this new research offers rich insights for marketers on understanding the fastest-rising consumer segment.
Take a sneak peek at the some of the key findings and insights from the report:
#GetSocial
Hispanic Millennials are a digital-savvy group, increasingly embracing mobile and social media platforms. We first uncovered this in our 2016 report, "Hispanic American Auto Buyers." In this research, we found that 36% of Hispanic shoppers found in-app mobile ads persuasive in the buying process versus 16% of non-Hispanic shoppers.
Hispanic consumers are also more open to interacting with brands on social media. We found nearly 50% of Hispanic shoppers reported they had either discussed a brand online with others or used a brand's hashtag in social messaging compared to 17% of non-Hispanic shoppers. In addition to this, 58% of Hispanic Millennial women follow beauty brands on social media compared to just 14% of the general population, according to People en Español's "The Millennial Latina" report.
Retail Spending Behavior
In looking at department store shopping behavior, we found that Hispanic Millennials are 26% more likely to shop at JCPenney and Nordstrom and 21% more likely to shop at Macy's. They spend the most money at JCPenney, outspending non-Hispanic Millennials by roughly 10%. Given that Hispanics are a much more social, multigenerational cultural group, retail stores could experiment with changes in store layout to accommodate larger groups or facilitate social shopping experiences.
In addition to traditional brick and mortar stores, we examined spending behavior at the nation's biggest online retailer, Amazon. One out of five Hispanic Millennials shop at Amazon, and they shop at Amazon 1.6x more often than at Nordstrom, one of this segment's top department stores. However, non-Hispanic Millennials are a significant 39% more likely to shop at Amazon, and spend 12% more there.
Disney Networks & Kardashians Dominate TV
While it may not be surprising that Univision and Telemundo are two of the top networks among Hispanic Millennials, Disney is among their top networks as well. Hispanic Millennials are about 10% more likely than non-Hispanic Millennials to watch Disney's flagship network, the Disney Channel, as well as Disney XD and Disney Junior US.
In addition to Disney, America's obsession with the Kardashian clan is especially strong for Hispanic Millennials. They are 11% more likely than non-Hispanic Millennials to watch "Keeping Up with the Kardashians". Overall, Hispanic Millennials have a diverse mix of top TV shows, as you can see in the chart, but one consistent theme was the focus on family and celebrity culture with shows like "Phineas and Ferb" and "TMZ Live."
Interested in learning more? Get the White Paper here.
STAY IN THE LOOP WITH OUR NEWSLETTER
Sign up to get Viant news and announcements delivered straight to your inbox.
Sign up to get Viant news and announcements delivered straight to your inbox.