Cuebiq on Location Data Advancements and How Privacy Plays a Role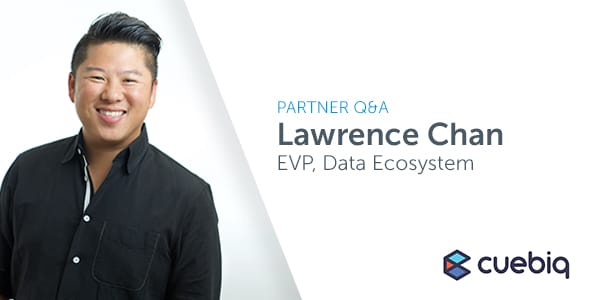 Our Q&A series shines a spotlight on the biggest challenges, questions and trends in the programmatic marketplace with commentary from industry experts, clients and partnerships.
Today's Q&A is with Lawrence Chan, EVP, Data Ecosystem at Cuebiq, a location intelligence and measurement company that specializes in offline consumer behaviors.
A 10-year veteran of mobile advertising and marketing, Chan focuses on identifying innovative opportunities and strategic partnerships to drive Cuebiq's expansion.
Q: There have been numerous advancements in location data quality in recent years. What stands out most?
Marketers are now able to leverage location data that is much higher quality than what was available even just a few years ago. That's due in large part to the development of new data collection methodologies, such as Cuebiq's proprietary location-based SDK (software development kit), which brings marketers location data that is both accurate and high-scale and collected with a forward-thinking privacy framework. The combination of these three factors is critical for location data to be representative of the population and lead to meaningful insights.
Q: The phrase "SDK data," which you mentioned above, is significant when it comes to evaluating the quality of location data. What exactly does it refer to and why is it important to understand?
Location data can be collected in several ways, one of which is through a software development kit – an SDK. In layman's terms, Cuebiq's SDK is a line of code that our mobile app partners embed in their apps, which collects first-party data from anonymous users who opted-in to the location data collection. Through an SDK like Cuebiq's, you know exactly where the data is coming from and can ensure users are providing consent to data collection. This is why SDKs are the recommended methodology to collect data that is high-scale, accurate and dense, and follows a forward-thinking privacy framework — all of which are necessary for quality location data.
Q: Measuring travelers' physical visits seems to be the best way to close the loop for marketers in the travel vertical. Is that the case, and if so, how does dwell time factor in?
Yes, measuring visits is the best way for travel marketers to close the loop, since it enables them to understand whether their campaigns are actually driving consumers to locations or not. Dwell time is key for marketers to consider, since it tells the difference between real versus fake visits to a location. For example, one user location data point (or as we call it a "ping") near a hotel does not mean that users actually vacationed there — they could have been just walking by. In order to determine whether or not anonymous users spent time at any given location, you need to consider how long they spent there. At Cuebiq, we verify all visits to locations using dwell time, to distinguish actual visits from non-relevant data points.
Q: User privacy is extremely important for brands and agencies, especially when it comes to leveraging location-based data. What should marketers keep in mind as they evaluate different location data partners?
User privacy has moral and ethical implications, which should be key drivers for all players in the ecosystem. But user privacy is also a business imperative for brands and agencies as they identify the data sets and data partners for their stacks. In fact, in today's data-driven landscape, brand safety is no longer just about the environment in which ads run, it is also tied to the origin of the data that brands use for their initiatives. For this reason, it is vital that both brands and agencies be aware of and screen their partners' data collection practices to ensure that they themselves are in a safe position.
When evaluating potential partners, marketers need to consider their approach to user privacy. Does the partner require user consent to collect location data, and enable users to opt out if they so choose? Is the partner transparent in how they're using the data? Has the partner been certified by industry privacy organizations? These are some important questions to ask.
Q: How does the value of location data differ for brands who have physical locations versus those that do not?
Brands with a physical presence typically use location analytics to map and measure the real-world behaviors of their consumers and understand whether their campaigns are working. Take, for example, a grocery chain that runs an OOH campaign to drive consumers to their stores. Location data will enable them to measure if the consumers who saw those ads actually visited the stores.
For brands that don't have a physical presence, location data can still provide a trove of insights. On a tactical level, it allows them to target consumers based on intent. For example, an online retailer can target consumers who shop at a brick-and-mortar competitor of theirs. On a strategic level it can shed a light on consumers' behaviors for a specific vertical or a set of competitors. Think of direct-to-consumer brands that may want to expand from e-commerce to a mixed model including brick and mortar, a trend that we see more and more today. By understanding offline consumer behaviors for their vertical or a specific set of competitors, these brands can expand their consumer knowledge beyond what happens online.
Q: What stands out about Cuebiq's integration with Adelphic?
Viant and Cuebiq's partnership is rooted in Viant's commitment to bring clients the best solutions to drive their marketing efforts. Both Viant and Cuebiq are equipped to deliver actionable insights and measurement leveraging high-quality data. Additionally, Cuebiq's forward-thinking privacy approach to collecting location insights provides clients with the precision and safeguards they desire as key integration benefits from our two worlds at their fingertips.
STAY IN THE LOOP WITH OUR NEWSLETTER
Sign up to get Viant news and announcements delivered straight to your inbox.
Sign up to get Viant news and announcements delivered straight to your inbox.