Case Study: How CBD Advertisers Can Drive Six Figures of Additional Sales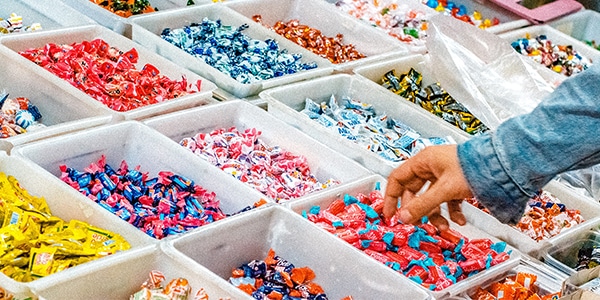 Despite the proliferation of CBD products, advertising them remains a challenge. However, CBD advertisers can learn a lot from those in consumer packaged goods (CPG), especially the ways in which CPG advertisers leverage targeting and measurement tactics. With Adelphic, CBD advertisers now have the capability to identify current CBD purchasers or those who are open to purchasing CBD products in the future.
The below success story from a top candy brand that partnered with us demonstrates how CBD advertisers can drive hundreds of thousands of dollars in additional sales.
OBJECTIVE:
A top candy brand sought to generate in-store sales of their product by running a cross-device video campaign.
APPROACH:
Adelphic's parent company Viant measured in-store sales against three different targeting strategies: demographic targeting (ages 18-34); contextual targeting of lifestyle sites; and behavioral targeting. Through one of Viant's direct and deterministic integrations, the candy brand was able to behaviorally target both loyal brand buyers and general chocolate buyers.
Leveraging purchase data metrics, Viant matched the campaign's targeted identities to generate custom daily sales reports, which allowed the candy brand to granularly analyze and optimize throughout the campaign to drive higher in-store sales based on total offline product sales and total household trips.
RESULTS:
In a five-week campaign, $673,000 in total in-store sales over 184,600 trips were attributed to Viant's advertising efforts.
Behavioral targeting of loyal candy brand buyers and general chocolate buyers proved to be the key driver, accounting for 69% of sales and trips despite the lowest media spend and fewest impressions. In fact, behavioral targeting outperformed contextual and demographic targeting by a 2:1 ratio.
While this case study involves a large candy maker, CBD brands that are newer to the advertising market can learn a lot – if they know where to look. Check out our other CBD resources to learn more about how to reach the right audiences.
STAY IN THE LOOP WITH OUR NEWSLETTER
Sign up to get Viant news and announcements delivered straight to your inbox.
Sign up to get Viant news and announcements delivered straight to your inbox.