Balancing Linear TV and a CTV Approach for Pharma Advertising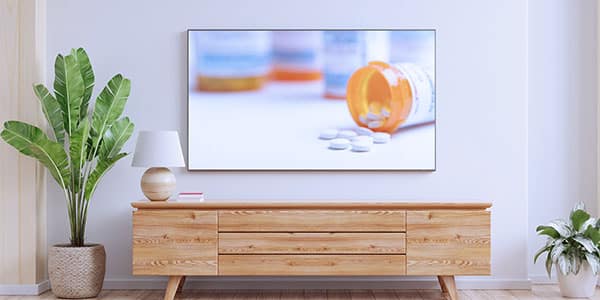 The programmatic ecosystem continues to evolve and disrupt yesterday's playbook. This year marked the debut of new streaming platforms, the rise of Web3 and updated privacy constraints. These changes have created a more complicated and competitive digital landscape for marketers.
In the pharmaceutical advertising space (Pharma/Rx), marketers are wrestling with convoluted creative advertising requirements (ISI: Important Safety Information; PI: Prescribing Information; and MLR: Medical, Legal and Regulatory Review) and increasingly stringent data compliance laws. But those measures haven't derailed pharma's steady and inevitable turn to digital.
Yet, linear TV remains instrumental in pharma's advertising strategies and won't go away overnight. Linear TV has always been a major source of upper-funnel marketing, given the scale of live sporting events and TV shows. According to iSpot, the Pharmaceutical Linear TV advertising budget increased by nearly 5% in 2021 as brands spent $3.91 billion promoting prescription medicines.
Pharma's digital presence in emerging channels, such as connected TV (CTV), continues to gain budget market share. What's driving this appeal? Digital provides insights unmatched by linear TV, enabling marketers to analyze the value of each channel and learn how it can inform video optimizations and measure reach. CTV allows for in-platform reporting, niche audience targeting, reach and frequency management and compatibility with third-party measurement partners through programmatic pipes. In 2022 alone, CTV spend is expected to rise to $21.2 billion.
But it is not a zero-sum game. Let's look at how pharmaceutical marketers can use CTV to elevate a linear TV buy and complement a brand's linear TV strategy:
CTV: Getting Started
Advertisers can reach their core audience through programmatic technology on many platforms, including CTV. Some use the terms CTV and OTT (over the top) interchangeably. Even though there are nuances between the two, let's refer to CTV as any TV content streamed via the internet on a device. Campaign activations can be bought through the open exchange, private marketplace (PMP) and programmatic guaranteed (PG) deals.
CTV is not simply hitting your linear TV audience in a streaming environment — it has the crucial advantage of providing incremental addressable reach to niche pharma audiences. As the cord-cutting trend continues, you can reach people who miss your linear TV campaigns. More than half of US consumers will have cut the cord by the end of 2022. A reason for this is the availability of linear content from new and proven ad-supported streaming platforms such as HBO Max, Discovery+, Paramount, Netflix and Hulu.
Measurement is where CTV shines, which has been a black box historically for linear TV. Through CTV, advertisers can measure script lift, AQ (audience quality) and media metrics like CPM, CTR, VCR and CPA to optimize in real time while maintaining HIPAA compliance. A household approach not only aligns with linear TV's role in a pharma brand's media mix but also establishes a unified currency to understand holistic reach against a brand's audiences.
Pharma marketers may tap CTV for high-funnel activations like new drug launches, adherence, unbranded campaigns (indication awareness) and general branded awareness campaigns. Marketers can activate CTV campaigns quickly, knowing that upfronts are unnecessary and CTV inventory is available through real-time bidding.
CTV: Stronger Audience Targeting
In addition to reaching cord-cutters, CTV allows pharma marketers to target the same audiences as endemic partners, other programmatic channels and social partners. That is why CTV should be seen as a complement to linear TV buys rather than as a competitive channel. When most people think of linear TV, they think of immense scale and awareness. However, there are limitations of demo and DMA-level targeting. While CTV has scale, it offers a much more robust targeted approach for activating video campaigns. With standard video inventory and full ISI and long-form video capabilities, marketers can leverage HIPAA privacy-compliant audiences as a targeting parameter to ensure their media dollars are spent efficiently and in a brand-safe environment.
Viant's people-based DSP, Adelphic, can measure audience overlap. We conducted a custom analysis for a pharma brand that found linear TV reached only 5%* of the brand's core DTC Crossix audience. While linear TV is great for general brand awareness and adherence, programmatic can complement this with niche-efficient targeting, in-flight optimization and measurability to reach your desired audience.
Insight into these core audiences gives marketers a more effective media strategy with persistent messaging and measurement. Marketers tap CTV to successfully build full-funnel campaigns and align different activations to ensure they're not executing in siloes — unifying the healthcare professional (HCP), patient and caregiver journey.
How Viant Helps Pharmaceutical Advertisers
As CTV becomes an integral channel in pharmaceutical advertising, marketers may identify a need for a DSP with precise audience-targeting capabilities, in-platform reporting and frequency management features. Through Viant's DSP, Adelphic, marketers can deterministically target healthcare professionals, patients and caregivers, all in a more HIPAA-compliant manner. Viant has a unique deterministic ID matching process with data partners such as IQVIA/MedData, Veeva Crossix, AdStra, Epsilon, Neustar, Health Rankings and more. Viant's people-based approach enables pharmaceutical advertisers to build scalable, high-quality audiences in premium, biddable environments. This capability produces less waste and higher results in key Rx performance metrics (AQ, Script Lift, NBRx, for example). Our deterministic-matching process and proprietary identity graph eliminate the need to additionally model cookie-based audiences to target your audience in a CTV environment.
Viant's patented Household ID  targets core audiences with a true 1:1 omnichannel approach, seamlessly bridging the gap between household and individual-level devices and channels. As all impressions map to a single Household ID, in-platform reach and frequency management across the different streaming providers and online publishers is possible. 
Lastly, measurement is critical when understanding the effectiveness of a DSP in any vertical; pharma is no exception. Rx brands need to understand performance across all digital touchpoints across the different patient's and healthcare professional's journeys — with a persistent identifier across each funnel phase. Viant's Adelphic DSP equips pharma advertisers with a measurement suite built on identity and incrementality to understand critical metrics such as brand lift, online conversion lift, TV vs. Digital Incremental Reach, Cross Channel reach/frequency reporting and full MTA.
Tapping a DSP built on people-based pharma identifiers and with omnichannel reach will help brands optimize in the most efficient way possible to work in tandem with a brand's linear buy.
*Please reach out for further information on the case study.
STAY IN THE LOOP WITH OUR NEWSLETTER
Sign up to get Viant news and announcements delivered straight to your inbox.
Sign up to get Viant news and announcements delivered straight to your inbox.