Recharging the EV Automakers' Advertising Playbook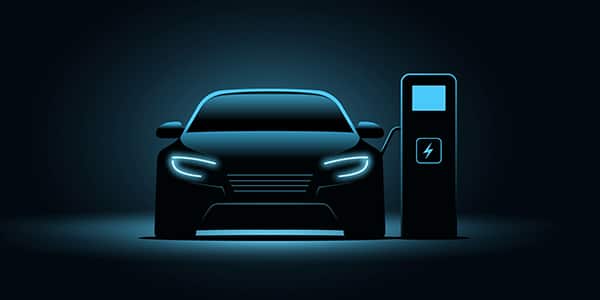 For years, the automotive industry has geared up for mass adoption of electric vehicles (EVs), and now the shift is finally happening. But the advertising industry can't take much credit or run any victory laps.
While Tesla, the industry leader, has been a dominant and disruptive force in the EV space, it surprised many when it opted to forego traditional paid advertising. Instead, Tesla focused its resources on making the best product and earning massive word-of-mouth publicity (often on social media, not so coincidentally). But by 2025, U.S. drivers will have 170 EV models to choose from, across an array of body styles and price points. That's a five-fold increase from 2021! (See chart below.) With the likes of Mercedes-Benz, Ford, GM and other well-respected brands launching new EV models, the market is about to become a lot more competitive. In this environment, can EV manufacturers afford not to advertise?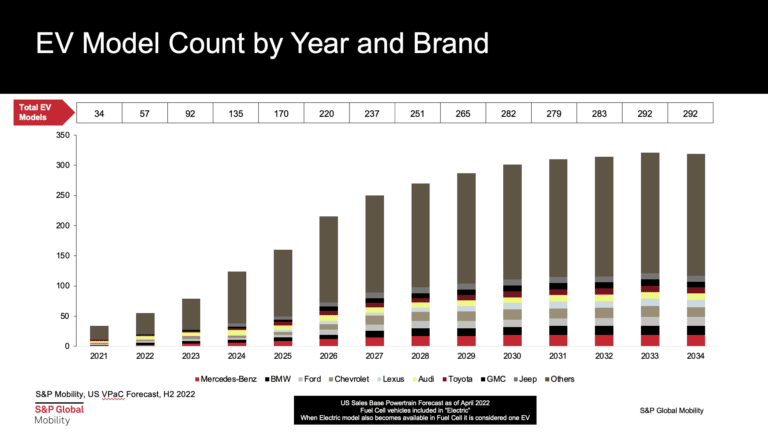 At the very least, the EV industry's new, non-advertising playbook may be a riskier approach for companies not named Tesla. According to Nielsen, marketing accounts for 10-35% of a brand's equity, it takes an average of three to five years to recover equity lost because of halted advertising, and long-term revenue can take a 2% hit for every quarter a brand stops advertising. Without mass-market brand advertising, how will these contenders build awareness, tap into a stream of qualified, in-market prospects and acquire new customers?
Experience Matters
An exciting group of new brands including Rivian, Lucid and Polestar, is joining legacy automakers in the EV market to challenge Tesla's dominance. What we find especially interesting about this new group of automakers is that, like Tesla, their retail strategy is not bound to the traditional franchise dealer model. It's direct-to-consumer.
Experiential marketing is taking center stage. Consumers can learn about, build and order vehicles online, or visit showrooms dubbed "Spaces" (Polestar) or "Studios" (Lucid). Opting not to sell cars through dealerships is controversial and affects not only the purchase experience but also ownership, service and customer support. It also impacts marketing, which is fully controlled by the brand when it bypasses a dealer network.
Traditional automakers are betting heavily on alternative, primarily digital experiences to attract shoppers who prefer to conduct their research and purchase online. For example, GM recently launched EV Live, a digital showroom where consumers can interact with an EV specialist in real-time. GM intends to drive consumers to that destination for an educational and positive brand experience. We believe it is only a matter of time before augmented reality (AR) enlivens digital showroom experiences and customers take EVs out for a digital spin.
The shift to digital sounds bold, but it suits an industry attempting to transform customer experiences and attract increasingly young, tech-savvy vehicle shoppers. Yet brand awareness will still be a critical success factor for consideration and purchase. To accomplish this, what tactics will augment traditional brand advertising campaigns?
Advertising in the EV Market
Sophisticated automotive marketers have embraced new ways to reach and engage target buyers, and EVs require unique considerations. Product education is an important factor when convincing consumers to consider new technology, and addressing concerns such as charging requirements and range anxiety, requires more than eye-catching video ads. To succeed, we recommend that EV marketers take advantage of the latest adtech capabilities including:
Leveraging first-party data: Email marketing is a powerful tool to engage existing customers and prospects. But often 1:1 marketing exists in a siloed environment, disconnected from advertising on the open web. By using the latest identity resolution and onboarding capabilities, within privacy-centric clean room environments such as

Viant's Adelphic DSP leveraging Snowflake Data Cloud

, automakers can coordinate their messaging across all channels while safeguarding consumer data. This is especially important for customer retention campaigns.
Sequential messaging: In the past, nurture campaigns were often limited to a sequence of emails. But now, there are far more sophisticated ways to target qualified audiences across channels,

without relying on third-party cookies

. By tracking the media a given shopper has been exposed to, and presenting them with different, complementary messages over time, automakers can build awareness, education and consideration, while nurturing consumers deeper into the purchase funnel. Dynamic content is another tool to personalize sequential messaging.
Householding: Viant's patented

Household ID

enables marketers to reach individual people, whether at home or away, and associate them deterministically as a single household — without using the fast declining third-party cookie. Marketers can use this information to bridge gaps between household-level devices such as TVs and each individual's desktop, mobile or tablet device. Without householding capabilities, EV marketers lack visibility into the reach and frequency of ad exposures in a household. This is especially important because car-buying decisions are usually made at the household level so advertising should be aligned.
Revving Up EV Advertising
Startup brands gain a fair amount of earned media, which undoubtedly influences their calculations about how much to spend on awareness advertising. But smart marketers should continue, and even expand, their advertising. With the anticipated increase in EV models hitting the U.S. market, opting out of advertising may negatively affect brand equity, sales and market share.
At the same time, EV marketers should always ensure that their investments are tied to business outcomes for growth and retention. From awareness to engagement, consideration, and purchase, advertising is more measurable than ever, especially with the ramp-up of digital retail channels against which campaigns can be optimized, and tools to measure the full purchase journey no matter what path it may take.
The key to success will be selecting the right partners, such as Viant and Viant's Adelphic DSP, who can deliver the message to the right households, at scale, across all channels, in a cost effective way that can be readily measured and optimized to perform. We're ready, are you?
STAY IN THE LOOP WITH OUR NEWSLETTER
Sign up to get Viant news and announcements delivered straight to your inbox.
Sign up to get Viant news and announcements delivered straight to your inbox.