Sales Rising, Automotive Industry Pursues New Opportunities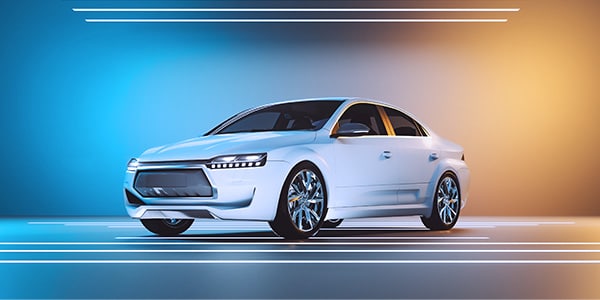 In a year rife with vehicle inventory shortages, automakers are not struggling to market their available stock. General Motors reported a 24 percent gain in domestic sales in the third quarter, leading the New York Times to conclude that dealers can sell "almost every new vehicle they receive, even as prices have climbed higher."

Still, automakers are motivated to see their annual sales return to pre-pandemic levels and to seize market advantages. Yet, according to TD Economics, the industry will not match pre-COVID levels anytime soon.
There are, however, encouraging signs for automotive marketers despite ongoing economic shocks and supply chain challenges. Pent-up consumer demand is driving increased sales, electrification is a bright spot and the red-hot truck space will spur more advertising this quarter.
Here is how we believe these automotive macro trends may play out in automotive advertising.
Trend 1 – Inventory
Vehicle inventory remains constrained by the global chip shortage, which may continue throughout 2023. Overall, on-hand dealer supply has remained below 30 days for 15 consecutive months. The shortages have led to a constant revision of the Seasonal Annual Adjusted Rate (SAAR), trending under 15M for 2022. For context, 2018 and 2019 saw a SAAR of 17M. On the plus side, 2023 forecasts now project 16M in sales — a step in the right direction. Opportunity: Automakers are well aware of the pent-up demand and may improve lending rates and add vehicle incentives to entice consumers.
Trend 2 – Loyalty
Inventory challenges are leaving automotive brand loyalty at an 8-year low. This decline may continue until more inventory becomes available — putting significant pressure on automakers to stay connected to their customers. Consumers who cannot order the vehicle they want evaluate what is available elsewhere. Opportunity: Information is key to customer retention. Now is the time for automakers to leverage their first-party CRM data to deepen customer relationships in more meaningful and relevant ways.
Trend 3 – Electrification
Plug in, and buckle up, EVs are determined to drive themselves into your garage. EVs are steadily gaining ground, with EVs & PHEVs (plugin hybrid electric vehicles) setting monthly records in June. Consumer sentiment suggests these record-breaking sales numbers will only grow in coming years — recent polling shows 55% of registered US voters support EV-only auto sales after 2030. In this case, a new California law may help make this happen, phasing out the sale of ICE (internal combustion engine) vehicles by 2035 in favor of EVs or PHEVs.

Nearly every automaker will participate in the surge of new EV vehicles in the next few years. Marketing budgets are shifting to EVs as well. Still, automakers know that consumers may still have EV-range anxiety concerns, including fears about the lack of charging infrastructure and cost. Yet consumers also appreciate the environmental benefits of owning an EV with little-to-no maintenance. Opportunity: Educating consumers may pay off. Earlier this year, GM launched an EV education portal called EV Live, highlighting the various benefits of EV adoption and will pair users with a live specialist to answer any possible questions.
Trend 4 – Trucks
Ford leads the full-size segment with the F-150, but recently posted their slimmest unit sales lead in 10 years. In June, the F Series' lead over the Chevrolet Silverado shrunk to 10K registrations, down from almost 40K a year ago and nearly 70K two years ago. In Q4, Ford and Chevrolet will most likely be expected to make heavy investments to defend or claim the coveted truck leader position. Opportunity: With the airwaves saturated by Ford and Chevy truck ads, how will other truck marketers and advertisers differentiate their campaigns? The answer starts with deepening access to the available consumer market information.
Gaining the Leverage to Seize Automotive Industry Opportunities
Understanding the role of households in the automotive purchase process is vital to sustained advertising success. New vehicle registrations happen at the household level because purchasing a car or truck is household-based. That is why Viant's people-based Household ID, available directly in Viant's DSP Adelphic, focuses on households for targeting and measurement.
With Household ID available in Viant's Adelphic DSP, media planners are able to tap into our native onboarding tool to leverage customer relationship management (CRM) activation deployed in Connected TV (CTV), as well as full omnichannel touchpoints including Digital Audio and DOOH. With 115M US residential households and 250M US users in our database, we can provide robust targeted and measured insights for media planners to automotive brands about their CRM audiences, such as where buyers shop and what they buy. Insights from our identity direct match table will assist an auto brand to improve reach and communication with their current and potential owners and learn more about them for a more enhanced experience and relationship, but can also be used to pave new roads to reach new audiences and buyers.

With Viant' people-based approach and scaled omnichannel advertising inventory, Viant can be the conduit that enables auto brands to improve retention efficiently and build more-engaged and enduring customer relationships.
STAY IN THE LOOP WITH OUR NEWSLETTER
Sign up to get Viant news and announcements delivered straight to your inbox.
Sign up to get Viant news and announcements delivered straight to your inbox.